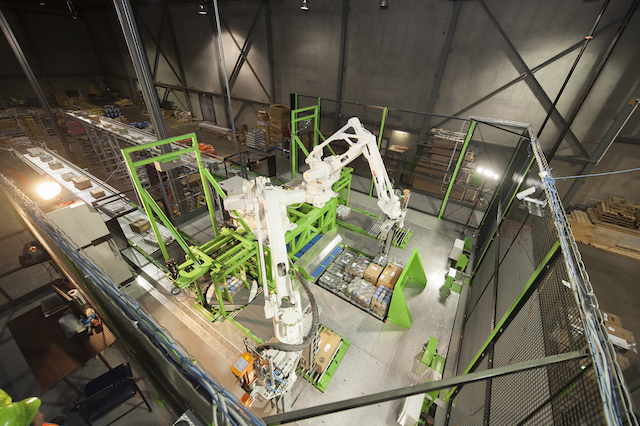 Albertsons Companies invests in automation technology and makes improvements to its distribution centers.
By Kat Zeman, Senior Editor at Knighthouse Publishing
They can work in darkness, eliminating the need for lighting inside a warehouse. They don't sleep or take lunch breaks and can perform difficult tasks with ease and speed.
Inside a warehouse environment, they can randomly access any case at any time in any sequence at speeds up to 25 miles per hour and they come with options for palletizing and depalletizing. They are autonomous robots and they are on the rise.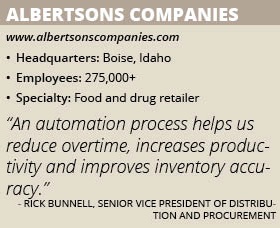 Driven by the rise of e-commerce, labor hiring difficulties for warehouse jobs and technological advancements, more companies are beginning to deploy automation technology in their distribution centers.
"We are adopting new automation technology over the next five to seven years," says Rick Bunnell, senior vice president of distribution and procurement at Albertsons Companies. "It positions us well for the future."
Albertsons, one of the largest food and drug retailers in the United States with more than 2,300 locations in 35 states, plans to make significant investments in automation technology, he says.
The Boise, Idaho-based company operates stores across 20 well-known banners aside from Albertsons. They include Safeway, Vons, Jewel-Osco, Shaw's, Acme, Tom Thumb, Randalls, United Supermarkets, Pavilions, Star Market, Haggen, Carrs, Amigos and a meal kit company called Plated.
Return On Investment
According to the Robotics Industries Association, the industrial robotics industry is growing on yearly average of about 18 percent.
Albertsons first started investing in automation technology in 2008. Last year, the company installed its first fully automated, state-of-the-art Symbotic automation system at its distribution center in Tolleson, Ariz. This year, it is installing its second Symbotic automation system in Melrose Park, Ill.
"We believe that our automated projects will provide a solid return on investment," Bunnell says. "An automation process helps us reduce overtime, increase productivity and improve inventory accuracy."
Aside from delivering business processes and new applications quickly, securely and at scale, automated technology translates into energy savings.
Since robots don't need light to function, the company can keep the automated portion of its warehouse dark. Coupled with the reduced use of material handling equipment that requires charging, this also results in a reduction in kilowatt usage.
In addition, the system saves storage space. "Warehouse space is very expensive," Bunnell says. "And storage is 30 percent greater per square foot in a warehouse that deploys an automated system compared to one with a conventional system. Every cubic foot is optimized."
Merger With Safeway
Aside from automation technology, Albertsons has been making a number of other improvements. The company has grown by mergers and acquisitions over the past few years. Its most significant merger was in 2015 when Albertsons Companies merged with Safeway, an American supermarket chain founded in 1915.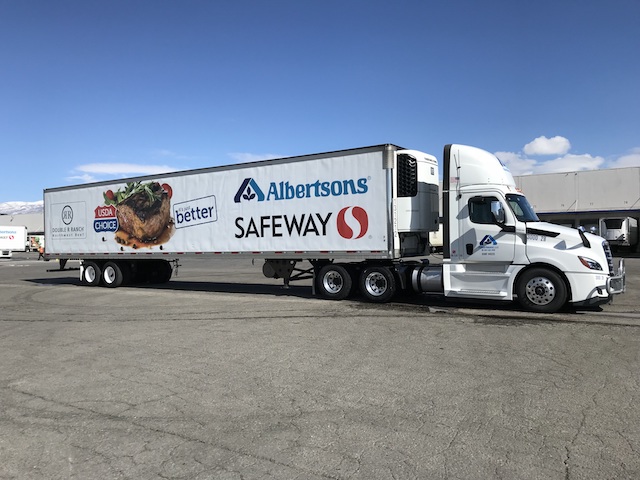 Since the merger, Albertsons has undergone a significant infrastructure change that included converting, consolidating and improving its distribution centers.
"We've made a massive investment into converting all of our distribution centers to a single inhouse system," Bunnell says. "It's been a huge undertaking over the last three and a half years, and we're nearly complete."
After merging with Safeway, Albertsons had a total of 32 distribution centers. The technology infrastructure investment included upgrading 10 distribution centers and streamlining their systems, closing or consolidating nine distribution centers and expanding five distribution centers to accommodate for the volume of the nine that were closed or consolidated.
"We now have a much more efficient footprint for supply chain with the 23 distribution centers we currently operate," Bunnell says.
The company also focused on driving out unnecessary costs. That included revisiting some of its third-party vendor agreements for sourcing.
Additional Partnerships
This year, Albertsons started engaging in a new supply chain management project in partnership with IBM and JDA (its long-standing IT partners) to optimize demand forecasting and replenishment processes across the end-to-end supply chain.
"We'll leverage advanced analytics to forecast shopping patterns, anticipate store inventory needs and track perpetual inventory from the shelf to distribution center," says Amanda Martinez, group vice president of corporate procurement. "The benefit of the program includes optimization of working capital and improved retail in-stock conditions."
Another new technology-enabled process that the company started this year is the sharing of supply chain data with its supplier partners through an IRi Collaboration Portal. "Now our suppliers will be able to plan and service us better by leveraging key supply chain data," Martinez adds.
Shared data includes score cards of key performance indicators like retail fill rate, inventory levels, future demand forecasts, on-time delivery performance and inbound fill rate performance. The supply chain gateway is designed to allow for collaborative planning and mutual efficiency gains.
Neighborhood Markets
One of the things that makes Albertsons unique is its adaptability to the neighborhoods its stores serve. A decentralized organization, the company allows most decisions to be made by its 12 division offices throughout its market area. That allows decisions to be made at a local level, rather than being made centrally by the company headquarters.
"Few decisions are made for all stores at the corporate level," Martinez says. "Our stores are much more unique than they used to be and every store is designed to serve the neighborhood it's in. We do that by putting the shopper at the center of all our decisions."
Bunnell adds: "While we are a large company that can leverage size and scale, the decentralization lets us to focus on the customer. We want to be the favorite local supermarket in every area we operate."
Giving Back
Albertsons Cos. is committed to helping people across the country live better lives by making a meaningful difference, neighborhood by neighborhood.
As a grocer, it's no surprise that one of its greatest charitable causes focuses on hunger relief. Each year, the company is one of the largest corporate donors of food to local food banks, pantries and other agencies that are trying to end hunger in America. Their stores support hunger relief efforts through in-store food drives or through customer fundraising campaigns in conjunction with Albertsons Companies Foundation, the company's nonprofit group.
In 2017, Albertsons Companies Foundation donated nearly $300 million in food and financial support, of which roughly $248 million was food directly to local food banks across the country. These efforts helped millions of people that needed hunger relief and helped fund education, cancer research and treatment, programs for people with disabilities and veterans outreach.
One of Albertsons' most prominent campaigns is called Hunger Is. An Albertsons Companies Foundation charitable program, it raises awareness and funds to end childhood hunger in America.
Since the program's inception in 2014, Hunger Is has raised more than $23 million specifically to provide healthy breakfasts for children. According to the company's website, roughly 50 million breakfasts were served to kids in need last year.
Aside from hunger relief, Albertsons Companies and Albertsons Companies Foundation also are among the first businesses to participate in disaster relief campaigns.
In 2017, after wildfires and hurricanes plowed through the United States, the company's stores rallied their customers to raise more than $17 million in funds along with food and supplies to assist first responders and victims of disaster.
Growing Strong
Albertsons was founded by Joe Albertson on July 21, 1939 in Boise, Idaho. It quickly became known as Idaho's largest and finest food store because it offered goods, services and perks that were not common for a grocery store at the time.
They included free parking, a money-back guarantee and an ice cream shop that served double-dipped, handmade ice cream cones dubbed "Big Joe's" for a nickel. Also, customers were able to buy three pounds of tomatoes, a pound of coffee and a one-pound roast for about 75 cents.
Albertson's grocery store became successful and he invested his profits back into the business. New stores soon opened in neighboring towns and the company grew steadily in the years following World War II.
Although Albertsons was founded in the 1930s, some of the companies that later became its banners have been around much longer. Shaw's Supermarkets got its start in 1860 when its founder, 27-year-old George Clinton Shaw opened a small retail grocery store boasting his name at 285 Middle Street in Portland, Maine.
ACME was founded in 1891 when two friends, Samuel Robinson and Robert Crawford, opened a small neighborhood grocery store at Second and Fernon Streets in South Philadelphia that emphasized quality products, low prices and friendly service.
Another one of Albertsons' well-known banners, Jewel-Osco, started in 1899 with a group of door-to-door salesmen selling tea and coffee from the back of horse drawn wagons. Founded by Frank Ross and his brother-in-law Frank Skiff, the company started with $700, a rented horse and a secondhand wagon.
A few years later, they partnered and named their business venture Jewel Tea Company, for its fineness and stability. Jewel opened its first retail store in 1901 in Chicago.
Today, Albertsons is one of the largest food and drug retailers in the United States, with both a strong local and national presence. The company is made up of more than 2,300 stores and employs roughly 275,000 people.
Albertsons works hard to maintain high standards of environmental stewardship (including sustainably sourced products), workplace excellence and community engagement.
The company says it is committed to advancing diversity and inclusion by helping ensure that everyone — customers, employees, people in the neighborhoods in which its operates and its business partners — are treated with courtesy, dignity and respect and have equal access to resources, products and opportunities to succeed.
Although Albertsons is a large company, it places a high value on its internal culture and accessibility to its corporate leadership team. "From the store level to the manufacturing plant or distribution center, our executives go out of their way to talk to people at every level of the organization," Martinez says. "It's important to our executives that they connect with employees from all levels of the company. As our President and CEO Jim Donald says, 'no one is ever bigger than the front line.'"
SIDEBAR – Albertsons Expects to Double its Rate of Private Label Brands This Year
By the end of the year, Albertsons expects it will have released nearly 1,100 new products across its popular Own Brands private label portfolio. That's a more than two-fold increase over 2017, which further demonstrates the company's confidence in developing exclusive products across all categories.
Own Brands is Albertsons' portfolio of exclusive private label brands that includes O Organics, Lucerne, Open Nature, Waterfront Bistro, Value Corner, Primo Taglio and the Signature line.
"We've got a lot in the pipeline — and we're just getting started," stated Geoff White, president of Albertsons Companies Own Brands in a prepared statement. "With our team's unique insights across the industry, we can react faster than ever to changing consumer trends. The result is a rapid expansion of high-quality products in every department that are exclusive to Albertsons Cos. We've never been more excited about our ability to meet shoppers' needs and sprinkle in new and exciting surprises across the store."
Popular new items introduced this year include Open Nature Scandal-less ice cream, Open Nature granola bars, O Organics spinach and butter lettuce, O Organics sparkling tea, Signature Select cold brew coffee, and Signature Select sparkling French lemonade.
Also, O Organics became a $1 billion brand late last year, a major milestone for one of the nation's largest brands of USDA-certified organic products.