Perry Ellis International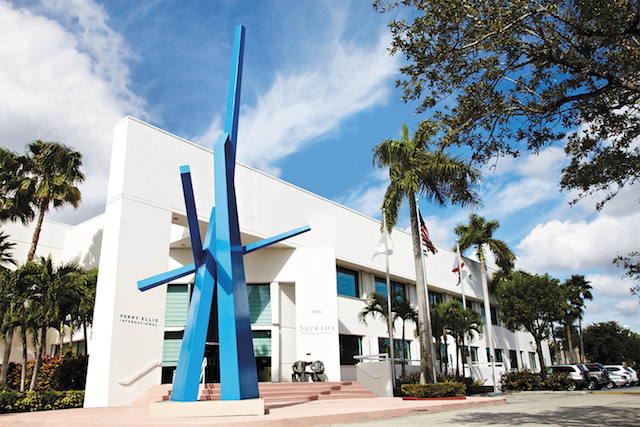 Perry Ellis International is making enhancements to its supply chain to shave time off the production cycle.
By Kat Zeman, Senior Editor at Knighthouse Publishing
In today's day and age, fashion and apparel brands are at the mercy of the consumer. Retailers are under constant pressure to compete with e-commerce and offer quality products and services at reasonable prices. Consumers demand variety, innovation and speed.
If the supply chain fails to deliver, it's the brand's name that is impacted. Now more than ever, retailers and fashion brands need a smooth and effective supply chains.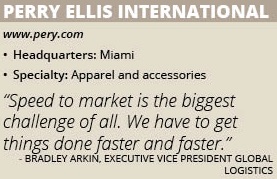 "Speed to market is the biggest challenge of all," says Bradley Arkin, executive vice president global logistics at Perry Ellis International. "We have to get things done faster and faster."
Responding to the consumer's need for speed, Miami-based Perry Ellis is making enhancements to its supply chain. "This year, we have made big strides in streamlining our processes overseas with offices and vendors in order to shave excess time off our production cycle," Arkin says. "But the key improvement is all about putting more and more of the approval process overseas."
Getting Approval
Although Perry Ellis is based in Miami, most of its manufacturing is conducted out of Asia. Before products are released to market, they must undergo an inspection and approval process which has traditionally taken place in the United States.
Perry Ellis places a high emphasis on quality assurance and requires its inspection/approval teams to be well trained and its labs meet specific criteria. For example, color inspection labs must have color-specific walls. Inspectors wear color-specific clothing and must pass eye exams. "And they can't drink coffee because it affects the eyes," Arkin adds.
This year, Perry Ellis established a certified testing lab in China to expedite fabric testing.
"We're trying to empower our overseas offices to make their own approvals," Arkin says, adding that Perry Ellis now has trained technical teams with authority to make approvals in Taiwan, China, Hong Kong, Vietnam and Bangladesh. "This cuts down tremendously on the back-and-forth of sending and reviewing samples in the U.S."
Aside from certified testing labs overseas, Perry Ellis is also making enhancements to its vendor selection process. Vendors must allow Perry Ellis to audit their factories and give its teams of specialist assess a factory's quality assurance and production systems.
"Our vendor selection process is much more organized and stricter than before," Arkin says. "This has helped weed out poor performing vendors, or placing a particular product category or style in the wrong type of factory hence avoiding delivery or quality issues."
Perry Ellis is also looking to form new partnerships with vendors that offer "full packages" – meaning they are able to source their own fabrics, have an in-house design team and are set up to import their goods into the United States.
"Shifting to more of these types of partners is the wave of the future," Arkin says. "They are usually much more sophisticated, quality conscious and have an understanding of trends and the market."
High-Tech Advancements
Other enhancements to Perry Ellis' supply chain focus on technology. This year, the company started training its designers and technical designers on a 3-D platform. Using the new tool, Perry Ellis' technical teams can create fabric samples in 3-D – saving the company money on labor and materials. "We spend millions of dollar per year on samples," Arkin says. "The goal is to try and eliminate making samples. This will be a game changer for us as it will allow us to design faster, fit garments faster and go to market faster as we will not have to wait for samples, which can take up to 80 to 90 days. Of course, this is being done step-by-step and will take some time before all of our brands and products are on board but it's a very exciting development for us."
Perry Ellis' brands are carried by retailers that range from Walmart to Saks Fifth Avenue. The company also has a few major licensing agreements, mainly with Nike and two well-known golf brands. "What sets us apart is the diversity of products we make and the diversity of the markets that we sell to," Arkin says.
Perry Ellis is owned by Supreme International, which also owns many other iconic brands such as Munsingwear, Janzten, Farah, Manhattan and Laundry by Shelli Segal. Perry Ellis has offices in the United Kingdom, Canada and Asia, where it plans to open more offices.