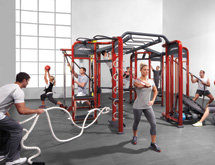 There's more to the supply chain operations of the world's leading fitness equipment manufacturer than just guiding the sourcing and shipping of products. "I think our supply chain is uniquely positioned because of our visibility," says Gary Hirschel, vice president of global operations for Life Fitness. "We interact with so many different operations within the company, and harnessing that information makes a difference," "We have an incredible amount of influence on the overall customer experience and are focused on making sure our touch points are constantly improving this experience."
For the Schiller Park, Ill.-based company, this means working closely with third-party partners responsible for shipping, installing and servicing its products. It also requires close coordination with manufacturing staff to ensure product availability and that customer requirements are met.
"We're seeing a change in the way we're viewed when it comes to supply chain execution," Hirschel says, noting that the company's customers regularly comment on the positive experiences they've had during deliveries and installations. "You can be the best salesperson in the world, but if you fall down when it comes to execution, your customers may not come back.
"The last mile execution is one of the critical activities where customers will judge a company," he adds. "Our job within the supply chain is to ensure our customers will be repeat, loyal customers based on our execution."
The vast majority of the company's customers – roughly 90 percent – are in the commercial sector. Life Fitness' cardio and strength training equipment are staples in most of the United States' top fitness facilities and the company also offers elliptical machines, treadmills, stationary bikes and other pieces of equipment through retailers.
Delivering on Demands
Life Fitness operates four manufacturing facilities as well as one distribution center and a centralized parts warehouse. The company contracts with several third-parties to warehouse, distribute and install its products. All of these fleets are dedicated to distributing only Life Fitness equipment. "We pay for dedication; we want only our product on those trucks and installers dedicated to installing just our equipment," Hirschel says. "This allows us to continue maintaining a touch point with the customer and gives us the flexibility to deliver products when our customers need them."
Many of Life Fitness' customers have complex needs that can only be met through a supply chain that is closely coordinated between manufacturing and distribution efforts.
"I think there's a higher expectation now from customers on installation, availability, support and service," Hirschel adds. "We set out to create a differentiated customer experience and tried to listen very carefully to what our customers want.  We anticipate customer demands and have developed models to satisfy that."
As an example, one of the company's fitness facility customers asked Life Fitness to customize its equipment to fit its interior color scheme. Life Fitness adjusts its manufacturing to deliver products that differentiate this customer's fitness centers from all others, Hirschel says.
Another client – a rapidly growing national fitness chain – requires that its club installations be performed quickly. "We have a model that permits us to to perform installations that normally take up to four days in a single day. Our manufacturing, shipping, delivery and installation all have to be in cadence to satisfy this need," he adds. "For some of our competitors, the size of this sort of installation could be problematic, but we've proven that we're more efficient than anybody, and that's why we get the business."
After-Market Support
Life Fitness' manufacturing plants are closely aligned to the company's vendors and customers through the use of demand planning software, supplier integration tools and kanban systems. The company makes products both to order, as well as to customer forecasts, and has reduced 30 percent of its inventory in recent years.
"These efforts and other lean manufacturing methodologies have helped Life Fitness continue to grow business in the current slow economy," Hirschel notes.
Another significant economy-related change is the shift among many of Life Fitness' customers from purchasing new equipment to maintaining existing machines. "Customers are holding our equipment for longer periods of time and being more selective about making new purchases," he says. "We've needed to step up our service operations to help them allow their equipment run longer."
The company meets this demand through offering replacement parts and after-market service. "We're agile in supporting customers and have the best service within the industry," Hirschel adds.  ­­­