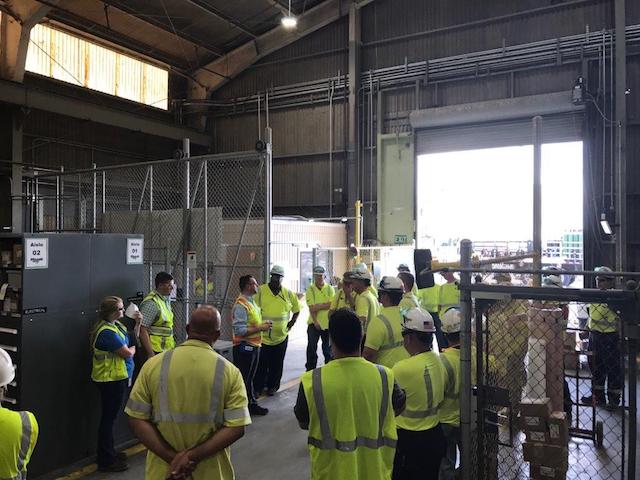 The Mosaic Company strives to increase efficiency by restructuring and automating its warehouses throughout North America.
By Janice Hoppe-Spiers, Senior Editor at Knighthouse Publishing
The Mosaic Company's mission is to help the world grow the food it needs. They do that by producing the highest quality and most innovative crop nutrition products that help farmers rise to the challenge of feeding a growing population. To continue to achieve that mission in a cyclical industry with increasing competition from overseas, the company is in a state of transformation to increase efficiency.
"To stay as an industry leader, we know it's important to focus on continuous improvement," Purchasing Manager JoAnn Speaks says. "We are evaluating everything and how we do it, and making changes and doing things differently when required. That has included using new technology."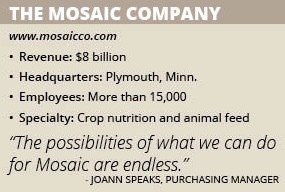 In 2004, Mosaic spun off from Cargill as a standalone company and has grown to become the world's leading integrated producer and marketer of concentrated phosphate and potash. The Plymouth, Minn.-based company has become a competitive low-cost producer with strong customer relationships, and the financial strength to invest in growth and innovation.
Mosaic completed its acquisition of Vale Fertilizantes in January, transforming its business in Brazil and doubling the size of its global workforce. Through the acquisition, Mosaic gained 7,300 employees as well as five phosphate mines, one potash mine and four chemical and fertilizer production facilities, which greatly enhanced the company's global growth strategy and expanded its market access in the fast-growing Brazil agricultural market.
Behind the Scenes
Speaks' is part of a department that oversees the procurement of goods that keep Mosaic's facilities working on a daily basis. One of the biggest challenges for the procurement department has been the management of inventory. "We knew one of the areas of improvement that required focus was inventory access and control," she says.
Five years ago, Chris Martus came aboard as vice president of procurement and made inventory one of his main focuses. "To make sure our warehouse system provides healthy assets to maintenance, it is important that we have well maintained inventory in regards to storage, optimization, organization and security. That has become our focus and it is a strategic move to help improve reliability."
Mosaic's procurement department began negotiating with its big four suppliers that provide about 80 percent of its materials which includes bearings and power transmission, electrical, safety and mill supply to automate its processes. Motion Industries based in Birmingham, Ala., became Mosaic's bearing and power transmission supplier and proposed a technology-driven solution to revamp Mosaic's facilities into RFID-driven warehouses. This was done also in partnership with CribMaster, a global leader in inventory and asset management solutions based in Marietta, Ga.
Total Transformation
Mosaic kicked off its RFID-driven warehouse transformation project two years ago, starting with its warehouses in Louisiana. Since then, Speaks has traveled throughout North America to each of the company's six concentrate warehouses and four mining locations on the phosphates side to implement this change. "I've got one more to go for this year and all the warehouses in Mosaic will be RFID-driven," she notes. "On the potash side, we have three locations and one left to upgrade beginning in 2019."
Mosaic expects the warehouse automation with RFID technology to be completed first quarter 2019 and will then begin its total cost analysis. The company has already seen great returns in the upgraded warehouses. "We are using RFID tracking to ensure we get the inventory issued and returned if when necessary in good condition and in a timely manner if jobs are cancelled," Speaks explains. "The total rollout of our new kitting program will be by the end of next year of 2019."
By implementing RFID technology, Mosaic's processes are also being changed to increase efficiency. "When we begin the preparation process for a warehouse automation project, there are things that begin to stick out to you when you are driving an efficiency train," Speaks says.
To change that operational process, Mosaic is working with Motion Industries to install vending machines and cablock systems where employees can check out safety items and low value mill type inventory. Cribmaster's patented software technology will allow Mosaic to make well-informed inventory decisions based on product use and history. The vending machine rollout is in the first stage of implementation and will not be completed until the middle of next year.
Motion Industries and CribMaster have been with Mosaic every step of the way to implement RFID technology in each of its facilities. "They have really held our hand and we rely on each other," Speaks notes. "Every time we go live at a site, Motion Industries and CribMaster are there and we do it together. We couldn't have done this without them and they like what we are doing and hope to take this program to other clients, so it's a win-win."
In addition to upgrading its facilities with RFID technology, Mosaic partnered with PM2 to restructure its warehouses to achieve optimal efficiency when it comes to inventory management. "They went through the first seven warehouses with us and developed restructuring plans on how to remove inventory and work your warehouse efficiently," Speaks says. "Through the process, we learned how to do it and have completed the remaining warehouses on our own, but PM2 has been instrumental in our success."
Managing Change
The biggest challenge of all these improvements has been managing change and getting the team into a new mindset. "Everyone wants to do a good job, but people have a different vision of what doing a good job means," she explains. "Someone in the plant doesn't always equate the waste of a product with the bottom line for Mosaic. We need to look at this like it's our own checkbook and understand that it is a big deal if we order $5,000 worth of material and it ends up not being needed or incorrect and it ends up being disposed of down the line."
As each site goes live, Speaks works with the team onsite to make sure all processes are aligned. "We are implementing change and keeping that momentum throughout the organization," she notes.
Once the technology has been implemented, Speaks says the maintenance teams love it because they can see the benefits and continue to look for ways to become more efficient. "They are reaching out to us. We got a request from the EHS department in at our Wingate facility recently about utilizing RFID tracking on their fire extinguishers program, and we are in the process of rolling that out now, as well," she says. "The traditional fire extinguisher program has a punch card and missing one punch could lead to violations. Now they can produce an automated report and see if one was missed before the end of the month."
Moving forward, Mosaic plans to increase efficiency throughout its organization using RFID technology in many different ways. "The possibilities of what we can do for Mosaic are endless," Speaks says. "We are working on putting RFID readers at the guard gates to collect entry and exit times. I'm proud that we continue to expand the program."