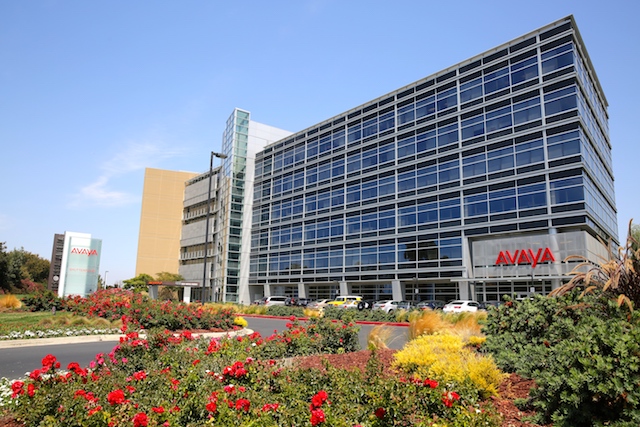 By transforming its supply chain to achieve best-in-class metrics, Avaya remains a leader in the telecom industry.
By Staci Davidson, Senior Editor at Knighthouse Publishing
Avaya is a global leader in digital communications software, services and devices, serving 90 percent of the Fortune 500 and 130,000 businesses worldwide. The company delivers tools and services to businesses of all sizes, enabling mission-critical, real-time communication applications. For example, Avaya's technology has powered Pro Football's draft, and its contact center infrastructure has been recognized as best in the industry. Its supply chain is key in this leadership, and customer satisfaction is Avaya's top priority, according to Benji Green, executive director of integrated supply chain planning.
"We can do on-premise, semi-hosted or fully in-the-cloud systems, with a legacy in large enterprise," Green explains. "Our business serves the top hotels, top airlines and the largest of the largest companies."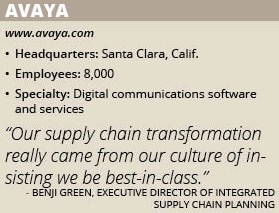 But Avaya was not always winning awards for its supply chain reliability, and that is a problem when it's serving critical business functions for large enterprises. In fact, nearly eight years ago, Avaya's then-CEO was highly critical of the company's supply chain, according to Green, and it has worked hard since then to reach its current best-in-class status.
Avaya started its supply chain turnaround by bringing in new leadership, including Fred Hayes, SVP Supply Chain, each with specific expertise, going through a major acquisition with Nortel and bringing in new talent for most of its functions, Green explains. After taking "aggressive, hard steps to bring in the right people and processes," he says, the company established a strategy to greatly enhance its operations.
"We had to go through our people transformation, set the goal of becoming best-in-class and then created our mission statement," Green says. "Our goal is to exceed customer and employee expectations while fueling profitable growth. We also needed to focus on supply chain collaboration and planning with the sales and operations departments."
Best-in-Class Transformation
At that time, Avaya was "deeply entrenched" in bad relationships with some contract manufacturers, Green notes, and although its supply base was broad, it was inflexible. To change this, the company transitioned its sourcing across the board by consolidating its spend among fewer vendors, making it a much better customer to these partners and allowing it to build relationships with them. Avaya also was able to put more into ocean transit with the establishment of vendor-managed inventory systems, which greatly reduced its costs and increased its on-time delivery.
"This gave us so much more flexibility, and I can't overstate the importance of being able to collaborate with our suppliers," he says. "We worked out incentives with them to get better component deals and did a cost-sharing model where we had incentives to drive-down costs. This took tens of millions out of our product costs each year."
At the same time, the supply chain team built an S&OP team, collaborating across the company, improving communications, and doubled down on the Rapid-Response tool and initiative. This allowed Avaya to have increased supply-demand visibility, driving down Past Dues by 90 percent, reducing air freight by 75 percent, and reducing inventory by 85 percent.
Next the company shifted its work to the on-demand planning process, reduced the number of plannable parts by 40 percent and separated its sales forecast from the delivery forecast, which allowed for honest communication between sales and its supply base, Green says. Additionally, Rapid Response bridged multiple MRP instances, harmonizing and synchronizing the data and automating non-value added work. By monitoring its products' lifecycles, seeing its inventory in real time and adding its CRM data, the company gained the ability to forecast for months in advance and can model its product transitions with almost perfect accuracy.
"We had incredible collaboration with the sales organization," Green explains. "Next we focused on the financial piece of S&OP to create margin by product, margin by region and price barriers. Now, our financial outlooks are 98 percent accurate."
After going through a couple other improvement phases that involved enhanced dashboarding and eliminating inventory burdens on its accounting team, Green notes, Avaya hit all of their external benchmarked best-in-class metrics by 2017.
Now, the supply chain team is focused on helping Avaya move to the cloud and add value-added services for individual customer orders. It also is investing in collaboration tools with its maintenance networks to improve on-time shipping and operational efficiencies in that area. Green stresses that the strength of Avaya's supply chain will allow it to continue improving.
"We are recognized as having the best products in the industry, and that is the reason why our customer base is so loyal," he says. "Our supply chain transformation really came from our culture of insisting we be best-in-class. Someone on our team looks at parts shortages every day – we have rigorous metric management and we are very analytical.
"If we don't have the right culture and right continuous improvement initiatives and rigor, we can't do these things," he adds. "We look at what the data tells us, do what's best for our customers and manage with low ego and high accountability. That allows for ongoing transformation and sustained success."