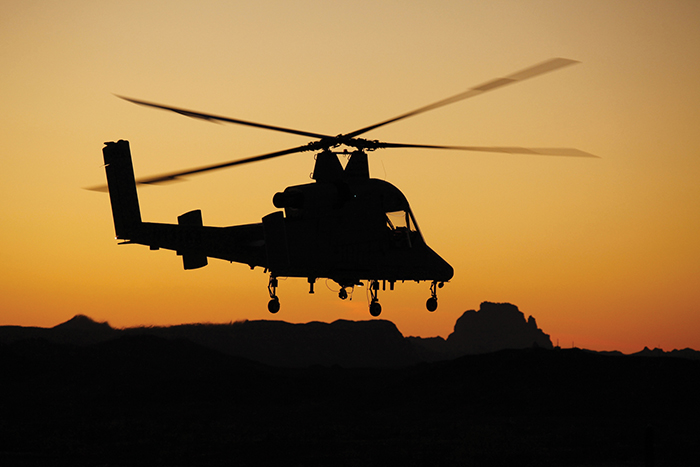 Kaman's innovation and distribution allows it to meet mission-critical aerospace and industrial challenges.
By Knighthouse Editorial Staff
Since 1945, Kaman Corp. has been known as a leading innovator in the aerospace industry, serving global customers in the commercial and military sectors. At the same time, the company's technical expertise and broad solutions have allowed it to become one of North America's largest industrial distributors and system consultants. With these strengths, Kaman serves customers in more than 50 countries around the world with the help of more than 5,300 employees.
"Our people have always sought a better way, from helping clients operate more efficiently to pioneering safer ways to fly," the company says. "We have grown on the strength of the innovation of our people."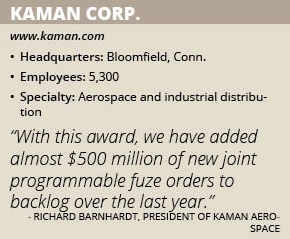 Based in Bloomfield, Conn., Kaman produces and markets proprietary aircraft bearings and components; super-precision, miniature ball bearings; complex metallic and composite aerostructures for commercial, military and general aviation fixed and rotary wing aircraft; safe and arming solutions for missile and bomb systems for the U.S. and allied militaries; performs subcontract helicopter work; restores, modifies and supports its SH-2G Super Seasprite maritime helicopters; and offers engineering, design, analysis and certification services.
On the industrial distribution side, the company operates approximately 220 customer service centers, including five distribution centers throughout the United States and Puerto Rico. Kaman offers more than 5 million items, including electromechanical products, bearings, power transmissions, motion control and electrical and fluid power components, and automation and MRO supplies. Additionally, the company provides engineering, design and support for automation, electrical, linear, hydraulic and pneumatic systems, as well as belting and rubber fabrication, customized mechanical services, hose assemblies, repair, fluid analysis and motor management.
Local Inventory
Kaman is dedicated to ongoing improvement and innovation in every part of its business, and the strength of its supply chain allows it to expand and better serve its customers. In June, for example, Kaman Fluid Power, a unit of its distribution business, opened a new ParkerStore in Peoria, Ill. This is the division's 27th ParkerStore and supports Kaman Fluid Power as one of the largest industrial distributors and service providers of Parker Hannifin motion and control products and integrated systems.
The Peoria ParkerStore provides a variety of services, including on-demand custom hose assemblies and the Parker Tracking System barcoding for asset management. Kaman ParkerStores maintains an array of Parker products such as hose, valves, pneumatic equipment and fluid connector and control devices, as well as a variety of tools, filtration and accessory products. Kaman's state-of-the-art engineering facility and production centers in Illinois build custom power units and control systems, and are certified to make custom compressed natural gas hose assemblies. Kaman Fluid Power carries one of the largest fluid power inventories and offers 24-hour service throughout its network of 36 locations.
"Our new location allows Kaman to have local inventory and experts to serve the market in and around Peoria," said David Mayer, general manager of Kaman Fluid Power. "Our sales team's knowledge of the product and application differentiate us from our competitors. We look forward to helping customers solve their supply and application needs for hydraulic equipment in the Greater Illinois area."
Mission Flexibility
On the company's Aerospace side, Kaman received its first order in June under Option 14 of its current joint programmable fuze (JPF) contract with the U.S. Air Force (USAF). This order has an expected value of approximately $69 million for the procurement of JPFs for the USAF and 10 foreign militaries.
Kaman notes it has been the sole provider of the JPF to the USAF since 2002. In addition, Kaman provides the JPF to 28 other nations. The company explains the JPF allows the settings of a weapon to be programmed on wing in flight and is the current bomb fuze of choice of the USAF. The JPF is qualified for use on a number of weapons, including general purpose bombs and guided bombs that use JDAM or Paveway kits, on U.S. aircraft such as F-15, F-16, F-22, F-35, A-10, B-1, B-2, B-52 and the MQ-9 UAV, as well as on international aircraft such as Mirage 3 and Gripen. Kaman produces JPF at facilities in Orlando, Fla., and Middletown, Conn.
"The JPF continues to provide our customers with increased mission flexibility and high levels of reliability and we look forward to supporting the USAF under this contract," said Richard Barnhardt, president of Kaman Aerospace. "With this award, we have added almost $500 million of new JPF orders to backlog over the last year. Looking ahead, we are prepared to support the USAF on their future JPF needs, while continuing to pursue significant foreign opportunities that will ensure the JPF remains a strong contributor for years to come."
Kaman's Fuzing and Precision Products business unit provides design, development, testing and manufacturing of fuzing, safe and arm, and flight termination products and systems. Additionally, the company designs and builds inductive sensors for operation in severe conditions, as well as advanced data storage and retrieval systems for military applications.