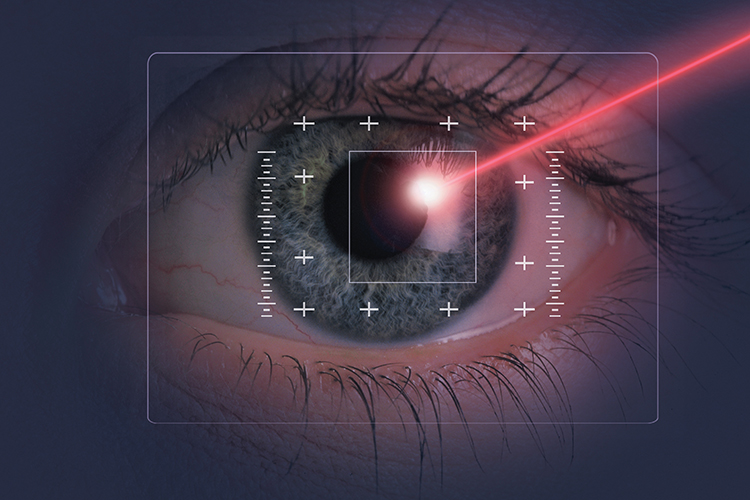 A strong supply chain supports IRIDEX's leadership in innovative laser-based medical systems, delivery devices and consumable instrumentation.
By Knighthouse Editorial Staff
IRIDEX Corp. has a goal of saving sight worldwide through its operations, as well as its extensive charitable efforts. The company is a worldwide leader in developing, manufacturing and marketing innovative and versatile laser-based medical systems, delivery devices and consumable instrumentation for the ophthalmology and otolaryngology markets. At the same time, IRIDEX builds key partnerships with groups that share its mission to fight blindness, improve quality of care and enhance patients' lives.
"We maintain a deep commitment to a standard of excellence, offering superior technology for superior results," the company says.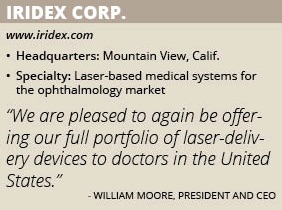 IRIDEX products are sold in the United States through a direct sales force and internationally through a combination of a direct sales force and a network of approximately 60 independent distributors to more than 100 countries. The company's products include the patented MicroPulse laser therapy for the treatment of retinal diseases and glaucoma; laser delivery devices to optimize physicians' views and maximize therapeutic capabilities; retinal surgical instruments; and glaucoma devices. Its product line is used for the treatment of glaucoma, diabetic macular edema and other retinal diseases.
In the second quarter of 2018, IRIDEX shipped the 1,000th unit of its Cyclo 6G laser system, which utilizes the company's proprietary MicroPulse technology. Dr. Ryo Taniguchi of the Taniguchi Eye Clinic in the Kyushu Saga prefecture of Japan, was the recipient of the 1,000th system.
"MicroPulse Laser therapy is a new and very promising technology in Japan, providing an effective and non-incisional treatment for glaucoma patients with a range of stages of the disease," says Makoto Aihara MD, PhD, professor and chair, University of Tokyo. "The earlier clinical research performed in the United States, Europe and Asia showed that MicroPulse is safe and effective in IOP reduction and medication use decrease, and my clinical findings confirm the previous studies' results. As one of the first sites in Japan to use the Cyclo G6 for glaucoma treatment, we have seen significant benefits. Even patients with previous intraocular surgeries experienced positive results."
"In my opinion, MicroPulse Laser therapy shifts the paradigm of glaucoma treatments in Japan," says Dr. Ryo Taniguchi. "It provides a new choice for a safe, effective and non-incisional treatment on various glaucoma patients with mild, moderate and late-stage disease. The MicroPulse procedure can be performed on a wide variety of patients not responding to medications or not qualified for incisional surgeries. Recent industry meetings and clinical presentations of leading physicians using the MicroPulse procedure in the United States, Europe and Asia have demonstrated and proven that fact. My initial clinical experience with it confirms these findings."
The Cyclo G6 system is supported by a growing body of clinical evidence and extensive validation in the field for the treatment of glaucoma. Physicians worldwide have adopted the Cyclo G6 because it is safe, minimally invasive, non-incisional, repeatable and durable. Moreover, the Cyclo G6 provides physicians and the healthcare system a cost-effective solution for the treatment of glaucoma across the full continuum of care – from early to late-stage glaucoma. More than 80,000 patients worldwide have been treated with the Cyclo G6 system.
"We are delighted to achieve this exciting milestone in the commercialization of our Cyclo G6 laser system, as it not only demonstrates the traction the platform is gaining worldwide, but highlights the progress we have made in transforming our business to delivering a compelling and proven treatment alternative for patients suffering from glaucoma," says William Moore, president and CEO of IRIDEX.
Since its launch in 2015, approximately 1,100 G6 systems and approximately 90,000 G6 probes have been shipped to more than 50 countries.
"I have been using the MicroPulse Transscleral Cyclophotocoagulation (MP-TSCPC) procedure with the Cyclo G6 laser and the MicroPulse P3 probe for more than two years," says Dr. Jonathan S. Myers, Chief Glaucoma Service at Wills Eye Hospital in Philadelphia. "MicroPulse mode has proven to be an efficacious choice for many of my glaucoma patients, providing significant reduction in pressure and medication use. I have found that after MP-TSCPC procedures, my patients experience less pain and post-procedural inflammation than after traditional cyclophotocoagulation."
Enhanced Offering
In September, IRIDEX received FDA clearance for its updated TruFocus LIO Premiere laser accessory. This is a light combination and reflection viewing system used with IRIDEX retina laser systems and is worn on the physician's head. The product combines a laser treatment beam from an IRIDEX laser source with the illumination beam of a binocular indirect ophthalmoscope into a mixed-optical beam used by a physician with a handheld ophthalmic examination lens to enter a patient's pupil and to view and treat a patient's retina. It provides a portable alternative to patients who cannot be examined or treated with a fixed-slit lamp adapter. The device can be used to evaluate and treat patients of all ages, including infants, in an office, operating room and ambulatory surgical center setting.
"We are pleased to again be offering our full portfolio of laser delivery devices to doctors in the United States," Moore says. "We would like to thank our team and the FDA for their diligent attention to this matter."