American Tire Distributors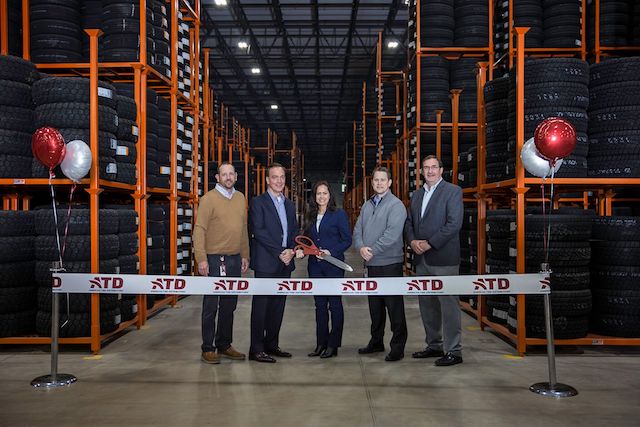 Investments in technology and capital projects help ATD maintain a focus on its customers and develop a great team.
By Staci Davidson, Senior Editor at Knighthouse Publishing
American Tire Distributors (ATD) offers more than 15,000 active SKUs at more than 140 distribution centers, while operating more than 1,500 delivery vehicles that cover more than 80 million miles annually. The ATD operation is substantial, but this is only part of what sets the company apart from competitors. Customers soon realize the "ATD Advantage" is a key part of the company's offering.
"The ATD advantages come down to the fact that we always put our customer first, which innately gives you the right perspective," says Bill Hancock, senior vice president, supply chain operations. "ATD has three primary differentiators from our competition. We offer a better assortment and depth of product. We have the largest distribution network staffed by amazing people making more than eight million deliveries per year. Thirdly, we are driven by an advanced analytics platform that allows us to support our customers in ways no one else can."
Mark Chandler, senior vice president of supply chain, agrees and notes ATD's product and service offering makes it the largest independent supplier of tires to the replacement tire market in the United States and Canada. "In the tire industry, we see competitors offering a very tight assortment of products," Chandler says. "Our offering goes from entry level prices to premium, and we have a huge assortment. We go deep in availability with same-day or next-day delivery. We also have more than 9,000 installation partners in North America to help customers get the tires they need and get them installed. Our infrastructure is built to help our customers go to market in amazing ways."
Strong Systems
ATD's infrastructure is built to support its customers, and the company's supply chain is organized to ensure the support is consistent. Hancock explains the company is investing heavily into advanced analytics to achieve better touch points with its customers and leverage the data to provide greater value to the services it offers. "The best way to drive the business forward is through the platform of advanced analytics," Hancock says.
Other investments include new forecasting and demand-planning systems to manage all of the volume that runs through ATD's business, as well as technology products. "We are using data to develop demand plans which we are sharing with manufacturers," Chandler says. "With every unit they can move through ATD, we all become more efficient and profitable. We've also worked with partners like IMS to create visibility into all in-transit milestones. They've given us real-time reporting necessary to drive down cycle days, thereby reducing accessorial costs."
The company also is investing in capital projects, such as the new 1-million-square-foot Pocono Mixing Warehouse in Blakeslee, Pa., which opened in November. "Many competitors just don't have the capital for a $70 million mixing facility, and this is our fourth," Chandler says. "It can move a tremendous amount of product for our Atlantic coast and Northeastern customers and make us much more efficient because it puts us closer to the port and closer to our customer base. With this facility we are optimizing our supply chain and making it better."
ATD is one of the largest importers of tires in North America, receiving nearly 20,000 containers of tires each year, primarily from the Long Beach, Calif., Charleston, S.C., and Northeastern ports, Chandler adds. As a result, the company has implemented strong visibility tools so customers can use their smart phones to check the status of their container in real time. This allows ATD to manage its availability and prioritize containers, optimizing a difficult area of its supply chain.
"The last-mile supply chain is not immune to challenges of driver availability and fleet capacity," Hancock says. "Through our new ATDXpress program, we have partnered with FedEx and other premium couriers to provide on-demand services to our customers. As our customers demand more real-time availability, we can get tires to a location within two to three hours of the order while also taking pressure off the ATD fleet."
Chandler explains all of this is backed by great systems; for example, every distribution center operates the same version of Oracle WMS. This helps the company standardize operating practices across all of its distribution centers. "It allows us to benchmark the centers against each other and tracks the efficiency KPIs," Chandler says.
"That really speaks to the power of our team," Hancock says. "We have more than 5,000 associates in North America that operate in functionalized environments, gaining a strong set of expertise, which ensures we have professional teams who work together cohesively and uniformly. We recruit the best talent and give people a career path that is very unique in this industry. We are proud of the opportunities we're able to provide, and all that helps us create a great culture."
"We are both passionate about that," Chandler adds. "We want our associates to have a career in supply chain at ATD. We have a transportation organization, so you don't need to go outside the company to get experience with transportation. The same can be said for demand planning experience, procurement experience, or in interfacing with Asian factories – you can do all of that here at ATD. If you're looking for a career in supply chain, we offer that."