The Tecma Group of Companies
The Tecma Group of Companies relies on data analytics to increase efficiencies and cost-effectiveness throughout the supply chain for its clients.
By Janice Hoppe-Spiers, Senior Editor at Knighthouse Media
As the United States trade war with China continues to escalate, goods manufactured in Mexico are expected to become more competitively priced, making the country a more attractive option for manufacturers' shelter maquiladora operations. Because of this, The Tecma Group of Companies is preparing for significant growth having positioned itself over the last 30 years as the go-to entity management company.
Based in El Paso, Texas, Tecma's flexible Mexico business solutions enable manufacturers to configure their operations in ways that will optimize their ability to achieve defined overall strategic and economic manufacturing goals and objectives. CEO K. Allan Russell founded the company with then business partners Dick Azar, Oscar Cantu and Jerry Coleman to design a user-friendly Mexico Shelter Manufacturing Partnership (MSMP) business model that would streamline client's Mexican operations and empower the executives managing them to fix their attention solely on competencies core to their primary mission.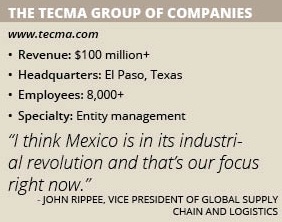 "Our client, Powers & Sons makes steering linkages for Ford and wanted to get offshore with a Q1 rating, and they didn't want to deal with the administrative role of manufacturing in Mexico," Vice President of Global Supply Chain and Logistics John Rippee says. "We offered ourselves as an entity management piece so they could focus on making their product. That's how the shelter concept was born for us 33 years ago and remains our core business model."
Since its humble beginnings in 1985 operating out of 8,500 square feet, Tecma has grown to become a sizable international enterprise that occupies nearly three million square feet of production, warehouse and distribution space on both sides of the border at El Paso and Ciudad Juarez, San Diego and Tijuana, and Mexicali. Its services include human resources, accounting, import/export, logistics, supply chain, facilities management, vendor management, foodservice, certifications, audits, real estate negotiations and material sourcing.
"Our clients bring raw materials, technology and their know-how to focus on manufacturing their goods and we provide services that surround those goods," Rippee adds. "We are vertically integrated and are a service company at heart. We can leverage our 84 clients and pull in purchasing power to drive down the cost of raw materials and services. We are able to build out a transportation network organically to provide services to our in-house clients and negotiate with any brokers in real estate country-wide. We focus on our service model and that separates us ideologically in terms of how remain successful."
Integrating Technology
Tecma's primary focus today is integrating technology into its supply chain and logistics services. "If I can understand what's happening at 2 p.m. every Tuesday, how long bridge wait lines are or how long products take to come in and can start forecasting, we have a pattern of analysis for clients with raw material production," Rippee explains. "I integrate proven technology to run a series of analytics and data. We aren't attempting to develop the next algorithm, but run continuous improvement programs and GeoFensing technology with KPIs running in the background."
Rippee runs the command center where 30 custom specialists oversee raw materials, transportation, dispatch, supervisors and managers. "When our clients hit a button to send us a packing list, we have dynamic efficiency models for everyone," Rippee explains. "Whether its headed southbound into Mexico or northbound, we ensure its legal to cross the border and auditable. Time is money in manufacturing, so if I can make it to a port of entry into the United States and into a city by eliminating the secondary and tertiary effects of shipping, that's incredibly important."
Tecma's front-loaded process, which includes backplanning from the end point through to the starting point, allows it to better forecast needs. "We take the guesswork out of it and run efficiency models," Rippee notes. "There's nothing new about the technology or KPIs; it all comes down to execution and I am pleased with our progress. We went from four hours processing two years ago and now we are down to 90 minutes. That's a drastic difference and all we did was execute."
Mexico's Industrial Revolution
"I think Mexico is in its industrial revolution and that's our focus right now," Rippee says. "We expect to see a dynamic shift to more southern penetration of the country. Everyone wants their operations to be on the border because it's right there – you can throw a rock and hit your building – but from a demographic standpoint that will be unsustainable and at some point, it will be an issue. We will see expansion of those logistical lines and transportation will have to be established down there, so a knowledge transfer will have to take place."
Tecma expects Mexico can position itself to recover the part of the United States market it lost in 2001 when China joined the World Trade Organization. "In 2001, 12.5 percent of the American import market was serviced by Mexicans," the company says. "This number has since decreased to 10 percent with China's ascension to the WTO. Companies that are manufacturing in Mexico will send their products duty-free to the United states, while a portion of the competing Chinese goods will be at an up to 25 percent price disadvantage. For this reason, in many instances, manufacturing in Mexico today is a better option than locating production facilities in China."
Moving forward, Tecma plans to continue creating an environment that its clients and employees never want to leave. "We have employees who have been working here for 25 years and I would argue that's what we are most proud of," Rippee says. "People don't leave the company because it's dynamic, challenging and built as a flat organization. The founders drew an upside-down triangle and showed themselves at the bottom supporting its employees. We integrate ourselves into all these different cultures of business and each one is different and has different needs, desires and cultures. The cultures are what I enjoy integrating into the most because our clients' businesses fascinate me."