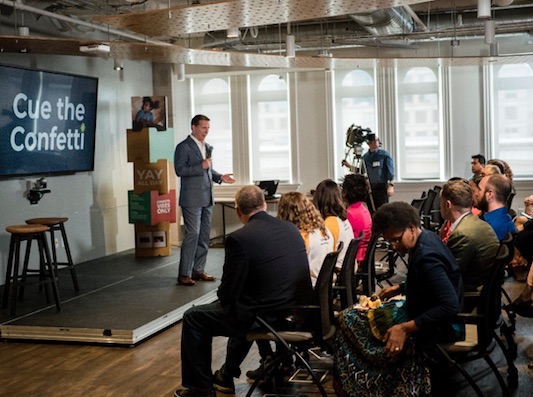 AARP takes a holistic approach to procuring the necessary goods and services to empower people 50 years and older to live their best life as they age.
By Janice Hoppe-Spiers, Senior Editor at Knighthouse Media
AARP is the nation's largest nonprofit, nonpartisan organization dedicated to empowering people 50 years and older to choose how they live as they age. To continue improving the lives of its 38 million members, AARP is refining its procurement strategy to make better decisions and drive efficiencies as it transforms into a more innovative organization.
"Everything we do ties back to empowering people 50 years and older and how they live as they age," Executive Vice President and COO Scott Frisch says. "We work in the communities and advocate at different levels of government for what matters most to families, with a focus on health security, financial stability and personal fulfillment. One of our most recognizable resources is AARP The Magazine, the largest circulated and most widely read magazine in the country, reaching 38 million people."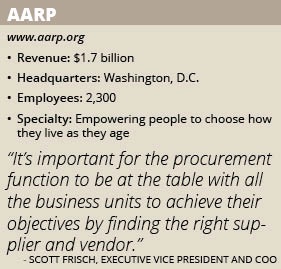 Dr. Ethel Percy Andrus, a retired high school principal, founded AARP in 1958. It evolved from the National Retired Teachers Association (NRTA), which Andrus established in 1947 to promote her philosophy of productive aging and in response to the need of retired teachers for health insurance.
"A little more than 70 years ago, Dr. Andrus went to check up on a former teacher who was having a tough time," Frisch adds. "Andrus found the teacher living in a converted chicken coop and struggling to live on $40 a month pension, which is when she really became a champion for health coverage to retired teachers. She went to 42 companies before finding one that would offer affordable healthcare to seniors. Dr. Andrus is the inspirational spirit behind AARP."
Innovation for a Better Life
AARP is focused on continued innovation to find new solutions for its current and future members. In 2017, the organization created the Hatchery, an incubator to mentor and work with early stage startups. "The Hatchery represents our culture of innovation in a physical space," Frisch explains. "We are starting to develop products, testing them and piloting them to determine whether we launch them into the market. We are bringing in early stage startups to help us think through finding solutions to problems, which helps us stay current and grow in the future."
In 2015, AARP and J.P. Morgan Asset Management formed the AARP Innovation Fund, a first of its kind investment fund with about $40 million in assets that will provide capital to innovative companies focusing on improving the lives of people 50 years and older. The fund is making direct investments in early- to late-stage companies developing innovative products in three healthcare-related areas: aging in place, convenience and access to healthcare and preventative health. "This is us putting money where our mouth is and sparking solutions for 50-plus," Frisch adds.
AARP Brain Health Fund was created this year to invest $60 million in the Dementia Discovery Fund, which invests in research and development of breakthrough treatments for dementia. "The No. 1 concern of our members is maintaining their brain health as they age," Frisch says. "Dementia affects six million people in the United States and that number is expected to grow to 16 million people by 2050 – that's one in five Americans 60 years or older. Globally, 50 million people are impacted and that number is expected to triple over the next generation."
The Big Picture
AARP's procurement team partners with each business unit to ensure they have the necessary goods and services to execute the organization's mission. The procurement team touches about 85 percent of available spend. Over the past few years, the function of procurement has evolved into a more centralized, holistic approach.
"The model they use is very much hands-on where the goal is to experience procurement as a business partner rather than a check the box activity," Frisch explains. "It's important for the procurement function to be at the table, partnering with the business units to achieve their objectives by finding the right supplier and vendor."
The biggest challenge the procurement team faces is finding the right balance between service, delivery, speed and execution versus the needs of the business. To achieve that delicate balance, AARP tracks its inputs in real-time, allowing it to pinpoint where there is a hold up and adjust accordingly. "Data insight was step number one and the most important to transform the procurement function," Frisch says. "With our new ERP system, we now have the ability to access valuable data. In the last four years, we have taken advantage of that data and used it to deliver greater efficiencies."
Using data to drive business decisions is key, Frisch says. "You need to have the data to inform the procurement function and help the business make decisions," he explains. "Data is really important, as well as making sure procurement functions holistically as opposed to silos, taking an enterprise-wide approach."
"Everyone says the big areas of spend are important, but don't forget about the other 20 percent," Frisch advises. "You can find a lot of savings in the small dollar areas that can add up to the big numbers. When you have the data and ability to make decisions, don't be afraid to make the tough decisions."
Diverse Supplier Program
AARP relies on its supply partners for the goods and services necessary to be effective, impactful and successful in the pursuit of its goals and objectives. CEO Jo Ann Jenkins has developed a best-in-class Supplier Diversity Program that is focused on seeking out and engaging the best small and diverse businesses and matching them with AARP's supply needs. For the past several years, AARP has received awards from several organizations for its diversity supplier program.
"I truly believe that age and experience can expand the possibilities in life for every member of our society," Jenkins says. "By working together towards a common vision and goal, we can create a nation where all people – of every background, income or social status – can discover their real possibilities for living a life of independence, dignity and purpose. That's why engaging people of all backgrounds and cultures is not only a vital piece of our community strategy, it is also an integral part of our business model."
AARP provides accelerated payment terms for its small and diverse supply base to help fund growth and job creation. The organization hosts an annual Supplier Diversity Awards and Recognition Program to recognize diverse suppliers that have done outstanding work with AARP, as well as acknowledge internal departments, business units, team members and strategic partners that have demonstrated an organizational commitment to support, engage and sustain diverse suppliers.
Moving forward, AARP plans to remain innovative and continue to refine its processes as needed to support its mission of empowering people 50 years and older to choose how they live as they age. "Thinking holistically, that's why we have been successful for 60 years and hope to be just as successful over the next 60 years," Frisch says. "In my tenure as COO over the past four years, one of the things I am most proud of is the organization's transformation to become more innovative and not just rely on what we've done in the past that's made us so successful."