DEPCOM Power rises as one of the fastest growing private companies in the United States.
By Kat Zeman, Senior Editor at Knighthouse Publishing
Mark Brown inhales freedom and exhales patriotism. Stars and stripes. Red, white and blue. Apple pie. He believes in America and what it stands for. An undeniable patriot, his core values are perfectly aligned with the company for which he works – DEPCOM Power. In fact, he's a member of the founding team that came together in 2013 to form a firm that has become the fifth fastest growing company in the United States.
In September, DEPCOM was ranked fifth in America's 500 fastest growing private companies by Inc. Magazine. The Scottsdale, Ariz.-based company also ranked No. 1 in the energy sector and in its home state.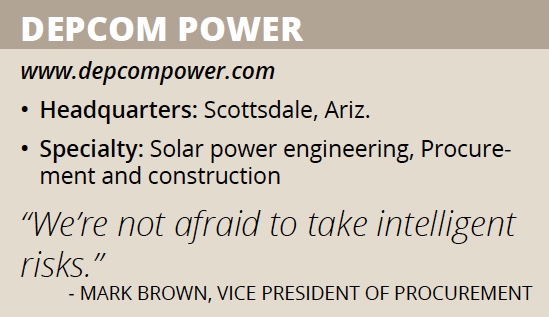 Brown, DEPCOM's vice president of procurement said that one of the company's keys to success is its ability to think outside the box. "We're not afraid to take intelligent risks," he says. "We're constantly validating new technology and have a track record of introducing new suppliers and new technology to the market . . . We may be a new company, but we have a very senior team."
DEPCOM's founding team brings together more than 225 years of conventional and renewable power industry experience. The company – which specializes in the engineering, procurement and construction (EPC) and operations and maintenance of large-scale PV solar power plants – is as American as apple pie.
All American
DEPCOM goes out of its way to support the American economy by buying American-made solar products. "Many of the parts that are produced by the solar industry do not come out of America," Brown says. "We founded the company with the idea that we would buy American. Today, roughly 67 percent of the materials and costs of building our plants comes from U.S.-based sources and we're working constantly to increase that amount."
A patriotic company, DEPCOM is also known for hiring U.S. veterans. "We make a conscious effort to reward our veterans and provide them with a rewarding post military career," Brown says. "The U.S. population in general is only about 6 percent veterans. At DEPCOM, we're proud that 29 percent of our employees are ex-military."
In true American tradition, the company also places a high value on philanthropy. Giving back to the communities where DEPCOM builds and operates its solar power plants is a fundamental core value and a large part of the company's culture.
Since its inception in 2013, DEPCOM has donated more than $3.6 million to outreach organizations supporting the impoverished, veterans, education and solar initiatives throughout the United States.
This year, the company established its own non-profit charity. DEPCOM G.I.V.E.S. focuses on the same causes to which the company has always been dedicated.
"The DEPCOM team is very committed to giving back to the communities we're a part of," Brown says. "From the beginning, we've always donated 10 percent of our net income to charities. Also, with the recent establishment of our own non-profit, our employees can now choose payroll deductions and feed DEPCOM G.I.V.E.S."
Sweet Success
DEPCOM currently has a general contractor license in 39 states – a number that continues to grow. It prides itself on bringing the most up-to-date technology in the market to its customers and building the most cost-efficient plants possible.
Although still a young company, DEPCOM has placed a significant number of megawatts in the ground. "In solar power plant construction terms, we talk about how many megawatts have you put in the ground," Brown says. "To date, we have built almost 800 megawatts of projects."
Solar Power World, which produces an annual Top Solar Contractors list, bases its rankings on the number of kilowatts installed. This year, it listed more than 200 companies. DEPCOM ranked 8thfrom the top with 590,000 kilowatts installed in 2017.
"We've only been in business for five years and we're in the Top 10," Brown says. " Undoubtedly, this growth and success is largely attributed to the trust and partnership from our valued customers."
DEPCOM credits its success to a number of factors. But it believes that one of its key differentiators is the experience and technical knowledge of its team and the ability to perform almost all of its work inhouse.
"Unlike many large solar EPCs that outsource a lot of their engineering work, we do almost everything inhouse rather than farming it out," Brown says. "That means we can respond quicker, and because we have the technical knowhow under one roof, we can have cross functional discussions on how to optimize the plant in its entirety. We can truly customize a project. Our customers appreciate this approach and understand the value that it brings to their projects."
DEPCOM's technical knowledge and vast relationships with Tier 1 suppliers allows its customers access to the industry's most efficient technologies at the best value. Its expert engineering teams research, evaluate and qualify the latest PV Technologies. The company also keeps it focus entirely on the large-scale PV solar power plant utility market in the United States – which is growing rapidly.