Fanatics Inc. uses its supply chain to move quickly when sports fans want their merchandise.
By Mark Lawton, Senior Editor at Knighthouse Publishing
When it comes to selling sports apparel, it's all about speed. "Fulfilling an order quickly differentiates us from the competition," says Helen Artime, vice president of strategic sourcing at Fanatics Inc. "That makes our customers happy."
Take, for example, June 2018, when Cleveland Cavaliers basketball player LeBron James became eligible for free agency. "The world was waiting for word on where he would land," Artime says. "To us, it didn't matter. We had blank jerseys positioned for whatever team he chose."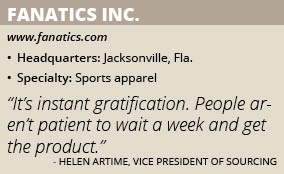 In July, LeBron signed up with the Los Angeles Lakers and Fanatics "sprang into action," Artime says. "In hours we had merchandise on our website and NBA.com. We can react that quickly."
Artime negotiates contracts, works with suppliers and oversees sourcing strategy for Fanatics Inc., a privately held company that started as a single store in a Jacksonville, Fla., mall in 1995. "Fanatics began a transition from an e-commerce company to a vertically based, multichannel company," Artime says. "We manufacture for wholesale and retail through an e-commerce platform."
Fanatics Inc., also partnered with JC Penny stores a year ago and opened a store-within-a-store concept. "It's another venue where we can give our products exposure," Artime says. "It's another way we can offer our sports fans all their local team apparel."
Moving Parts
Responding quickly to the fast-moving worlds of professional and college sports isn't easy. "There are a lot of moving parts and a lot of [Fanatics Inc] teams that are working very hard to make that happen," Artime says. She ticks through a list of all the steps that must work perfectly: "Position the supply base. Make sure we have the product. Cut down the lead time. Have all our components in place to be able to execute quickly."
In this environment, moving slowly, however, isn't an option. "It's instant gratification," Artime says. "People aren't patient to wait a week to get their favorite merchandise. They want to press a button and get it right away. You have to have a robust supply chain to make that happen. Everyone is trying to take days out of the calendar to make that happen."
Artime says the Fanatics sourcing team is continuously asking: "How can we manufacture faster, how do we ship faster, what lead time can we cut out of our calendar to make that happen? That's always the challenge; how do we respond to that customer who is always wanting and not willing to wait."
To reduce manufacturing times. Fanatics aims to have materials ready. The strategy is to have the right suppliers with the right capabilities in the right locations. For shipping, the strategy is to position the supply base to where it will be most economical and efficient for Fanatics. "As an example, shipping out of Asia will be a longer lead time than shipping out of central America," Artime says. You have to diversify your supply chain."
Strategic Partnerships
Then there is the challenge of working with a global network of suppliers. "The key is to have a strong supply chain that can manufacture and deliver your product on time," Artime says.
Creating and managing that supply chain takes a lot of effort. "You have to make sure you are working with suppliers whose core competencies are in line with your needs," Artime says. "It's about understanding what your suppliers are best at."
To do that takes time. "You meet with [suppliers], visit their manufacturing facilities and build relationships," Artime says. "It's about securing long-term strategic partnerships versus reactionary sourcing and constantly moving from supplier to supplier to get a better cost."
Fresh Perspectives
Recruiting and retaining top supply chain talent is an ongoing challenge, says Artime, who prefers to recruit from within Fanatics before looking outside the company.
Artime is willing to consider people who have the skills but not the exact experience. "I'm not just looking for people who have a specific sourcing background," Artime says. "If you bring in people with different skill sets, it makes for a much stronger team. Being a diverse team means we strengthen weakness. We recruit for missing competencies. They say great minds think alike; I say, great minds don't always think alike. You need diversity to bring in fresh and new perspectives."
For example, Artime is happy to consider people who have a process or analytical background, such as in engineering. "Sourcing is all about process and how to work within the system and understand how to develop and design a product," Artime says. "You can't be an effective negotiator if you don't understand the process and how the product was designed and developed."
Like the sports organizations whose products they sell, employees in the sourcing division at Fanatics Inc. work as a team. "There is never that 'I' mentality," Artime says. "If we fail, we fail together. If we win, we win together. Working together fosters a better environment."
The sourcing division also enjoys itself "Our building is fun," Artime says. "You walk in and see all the apparel and the sports merchandise – it's almost like working in a stadium. There are big-screen TVs where games are constantly playing. It's sports that is fun. We all live it, breathe it. walk it and wear it. It's fun to work on the products."