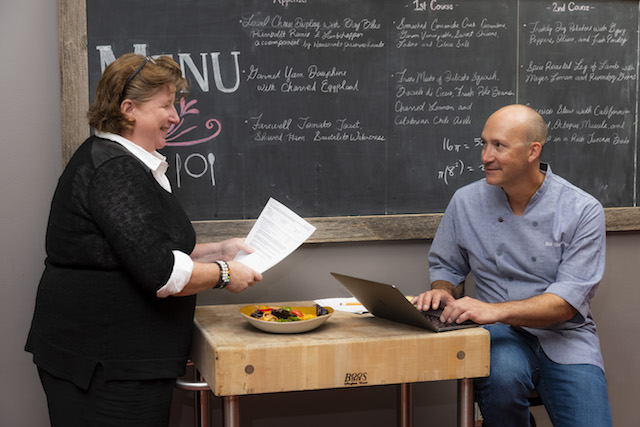 After a major acquisition, Guckenheimer moves forward with a focus on integrity and supporting its own employees and those of its clients'.
By the Editors of Supply Chain World
Guckenheimer was founded on the basis of good taste, service and innovation, or as the company says, "where smart meets delicious." The company was founded in 1963, when Stanford medical student Stewart Ritchie started selling artisan sandwiches at the Stanford Medical School courtyard. His girlfriend (and later wife), Jeanie, helped him with the business in between her Stanford Nursing School studies. By 1967, the operation had its first corporate dining location at Hewlett-Packard, and Jeanie was general manager.
The company has continued to evolve since then, but it has remained dedicated to great-tasting food, family oriented customer service and a focus on eating smart for peak performance and well-being. Its focus on these values made it attractive to ISS World Wide, which acquired the business in April 2017. Guckenheimer now partners with many of Fortune's "100 Best Companies to Work For," and manages more than 400 corporate cafes across the nation. The company aims to maintain these relationships and build others by focusing on fresh food made with the best ingredients, while embracing the change necessary to grow and improve. These ideas are key to the company's ongoing success, according to CEO Helene Kennan, who is a chef and has spent more than 25 years in the foodservice industry.
"I was the company's chief innovations officer for three years prior to this position, so I've always had a forward-thinking bent and have enjoyed embracing change," Kennan says. "When you look at our company post-acquisition, there has been a lot of change. Also, when you're coming from the DNA of a 50-plus-year family company, it has been stressful for our operation but at the same time it's been amazing. This is because the people who work here have always been amazing, and they step up in times of great change when things have been unsettling."
As a result of Guckenheimer's strong culture and dedication to service, Kennan wants the company to embrace change as a part of its focus on improvement. "We want to nourish the minds that change our world, and that has become a rallying cry for our operators," she explains. "We want outstanding employee engagement – ours and our clients' – so we are focused on being part of the client talent strategy. What we do is part of attracting and retaining talent."
Reinvigorate and Reignite
Part of Kennan's strategy for Guckenheimer going forward is to ensure it maintains a strong culture by focusing on its employees as much as it focuses on the employees of its clients. She notes that it is about connecting people.
"With unemployment where it's at now, it's so low, it can be really hard to connect with people, bring them in here and connect them with a higher purpose of service," she says. "We deal with competitors who are much larger than we are, but I believe we have the best food and the best people. To differentiate ourselves, we have to get away from what we're doing and get to why we're doing it. The why is that we are nourishing the minds that change the world. We are purpose-driven because ISS wants to be the world's greatest service organization. By connecting our employees to a higher purpose, we can help them all know that they make a difference."
To achieve this, Guckenheimer is leaning on its established culture, which is dedicated to great food and warm hospitality. As a result, the company doesn't have to completely reinvent itself; instead, it is using training materials and new messaging to instill a greater sense of purpose among its staff.
"We have to reinvigorate and reignite who we are," Kennan says. "We don't have to change our culture, we just have to build on it by reconnecting with some of our long-term employees and building connections with the new employees. We are doing that with education, training and showing the importance of great onboarding."
An example of this is compliance. Kennan knows that many companies judge the success of their supply chains by compliance, such as vendor compliance or product compliance. At the same time, she has a background as a chef, and understands how compliance resonates with chefs – not well. So instead of issuing a set of compliance directives, Guckenheimer tries to explain this metric in a different way to make it more palatable.
"When it's framed correctly and you understand the reason for category specifications and reasons for using preferred vendors, it becomes a matter of integrity," she says. "We want to be who we say we are, and when we say we are doing something, we are absolutely doing it. So, our chefs get an integrity index, not a compliance number. We started this in the last five months, and it's really resonating with the chefs. And when they have concerns, I can say to them that this is about being who they say they are as culinary professionals."
Clear Direction
To ensure a high level of quality in the food it provides, Guckenheimer strives to strike the right balance between local, national and sometimes international providers of goods, using each set of vendors in a way that advances the company's goals for quality, taste and service. Kennan notes global providers can help it be more efficient, national partners can create consistency in the supply chain and help with distribution, and local partners help it to support communities and local food artisans.
"We have a lot of talented people involved in our supply chain," Kennan says. "To ensure we keep our promises to the best of our ability, communication must be clear to each set of providers. It's all about great communication and clear direction and vision. It takes a lot to synchronize everyone, and the greatest challenge is distribution. However, we are not in this to squeeze our vendor partners. To have a responsible relationship with our vendors – and knowing distribution challenges can eat into both sides – we have to ensure there is a balance of everyone's needs being met."
Guckenheimer also is implementing a system called Menucore, which creates a seamless solution from its chefs to consumers. This system allows the company to track vendor agreements, provides it with data in terms of what goods it uses and where it uses them, helps ensure product consistency, and supports its efforts in determining nutritional information and finding allergens. Kennan notes this technology will be key in measuring Guckenheimer's integrity and the impact of its commitments.
To best serve consumers, Guckenheimer's staff has to be ready with information for any questions they have. Kennan explains consumers have a much larger voice today than in the past, so the company is responding to that, but as a chef, she has a greater understanding of how supply chain decisions affect the company's operators. As a result, Guckenheimer is looking into to consumer trends for things like plant-based proteins while ensuring its purchasing can deliver.
"We are laser focused on where we can make the most difference with our client partners," Kennan says. "We want to be in places where we will have the best cultural fit, while supporting the best people, the planet and profits. There is a theory that revenue hides all sins, but that is not the kind of company I want to lead. I want to be in a company where we can know we are in the right relationship with our customers. We have the Ritchie legacy of building on great relationships, and that is how you continue to build a great business."