The Hillman Group strengthens its supply chain logistics team and network, increasing efficiencies throughout its supply chain to exceed customer satisfaction and prepare for continued growth.
By Janice Hoppe-Spiers, Senior Editor at Knighthouse Publishing
The Hillman Group made its mark in the hardware industry more than five decades ago as a fastener company. Since then, the company has leveraged its ability to simplify the hardware buying experience for top home improvement retailers and local hardware customers. "Our success has been and continues to be because of our customer focus," Director of Transportation and Logistics and 25-year Army logistics veteran Vic Santiago says. "We are a large company, but take a small company approach in regards to customer focus – while growing from $800 million to over a billion over the last 24 months."
Max W. Hillman, Sr., founded the Cincinnati-based company with an emphasis on outstanding service, quality products and with an innovative spirit. Although the company has grown to become a North American category leader with more than 130,000 SKUs, his vision and principles continue to inspire the company. Today, The Hillman Group specializes in fastening solutions, keys, key duplication equipment, engraving products, wall décor and builder's hardware, and personal protection equipment.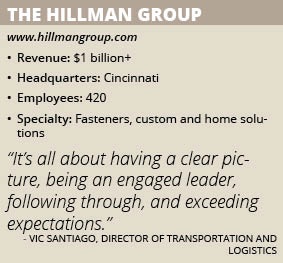 "We offer innovative products and have diversified our product lines to add value to our customers," Santiago says. "Customers can come to us and find a breadth of different products that are high-quality, competitively priced and available when needed."
The Hillman Group has become a leading provider in keys in the United States. In addition to providing key cutting services, the company developed the KeyHero app, which allows consumers to create a digital spare key and prevent future lock outs. By downloading the app, consumers are able to store a digital spare key in their smartphone and have a new key cut at any Home Depot. "If you lose your keys, you don't have to have the physical key and can call it up on KeyHero, send it to the store and have it ready for you," Santiago says.
Increasing Efficiencies
Much of what The Hillman Group sells is either manufactured, sourced or procured overseas, and was brought into one of its regional distribution centers. "We went through a major change almost two years ago when we created a network supply chain hub on the West Coast, which is where the majority of imports flow through," Santiago says. "In the past, we would bring them to Cincinnati and redistribute throughout the United States, which resulted in extra costs and time. By coming into the hub, we are able to limit safety stock, trans-load ocean containers into 53 foot containers, attain greater economies of scale in purchased transportation, and reduce our reaction time to spikes in demand."
The company operates four regional distribution centers strategically located throughout North America to ensure its customers get the products they need when they want it. "Despite our pace of growth, we continue to reevaluate how we can best service our customers as quickly as possible," Santiago says. "Speed to customer will become more critical as supply chains become leaner and more deliberate in aim."
The Hillman Group has improved its transportation department, focusing on various initiatives to leverage its growing transportation spend, driving cost out, improve visibility, exceeding customer expectations and responsibly become best-in-class. Future plans include implementing enabling systems designed to improve data analysis, transportation and freight management. "Technology additions has to enable various work groups decision making and allow for a transparent experience for our customers. They are our number one and two," Santiago says. "It's all about follow through, delivering on expectations, clear visibility and interpreting a sequence of events which enables us to go beyond simple transactional thinking and into synchronized execution."
As the transportation department continues to grow, Santiago says professional development is constantly a major focus. "For me, talent is everywhere at varying degrees and waiting to be unleashed and motivated," he adds. "I am lucky to have an excellent team who is not only very talented but all share the desire to learn, collaborate, and speak candidly. I look for different pieces of excellence that accelerates professional and social learning."
The goal for the department is to become more proactive and predictive, Santiago says. "The challenge for me and my department is building the right processes and control measures to ensure we execute the way we are expected," he adds.
Great Partnerships
The Hillman Group has longstanding relationships with its suppliers who are the backbone of how the company provides reliability, quality and competitive cost to its customers. "Sometimes you take risks and it can cost in time or reduce customer satisfaction, so we are careful to manage those relationships," Santiago says. "We have a lot of tenured folks within Hillman whose experience allows for a greater understanding of the interdependencies between our suppliers, supply chain, and customer requirements to exceed their expectations. We greatly value our employees and acknowledge leadership at all levels within the organization."
The company prides itself on being a good partner with its customers. "For example, where other companies have implemented an across the board increase as a result of the tariff changes, we've limited them to only those items truly impacted," Santiago says. "We challenge ourselves to take cost out wherever possible while improving quality. Our approach is to sell in a fair and equitable manner while responsibly governing our business for continued success."
Moving forward, The Hillman Group expects its existing and future customer base to guide its approach to continued success. "We have been around for 50-plus years and known for fasteners, keys, and helping build our nation," Santiago says. "Everyone at The Hillman Group is excited about our growth and ever expanding product lines. The future looks bright at The Hillman Group and we continue to find better ways to deliver simple solutions to a complex world."