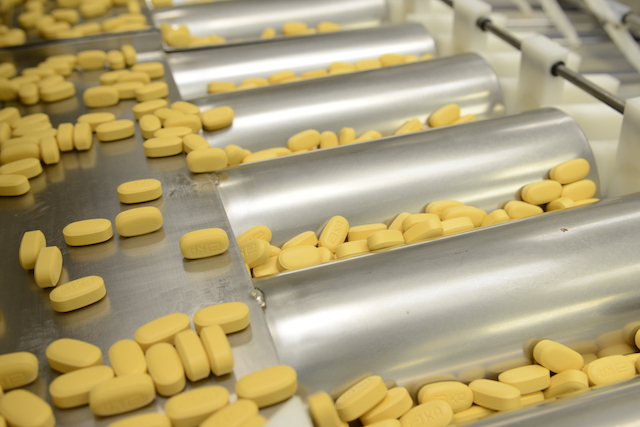 AbbVie's commitment to making an impact on people's lives with new approaches to today's health issues starts with a strong supply chain.
By Angela Forsyth
No one ever wants to have supply issues, especially a biopharmaceutical company whose products can sometimes make a difference between life and death. AbbVie knows this first-hand as it makes it a priority to ensure its drugs are always available to patients worldwide.
The research-driven biopharmaceutical company provides a consistent stream of innovative new medicines for immunology, oncology, neuroscience and virology. One of its most widely recognized products is Humira – the top-selling pharma product in the world, which has treated more than one million patients suffering from rheumatoid arthritis, plaque psoriasis, Crohn's disease and ulcerative colitis, among several other diseases.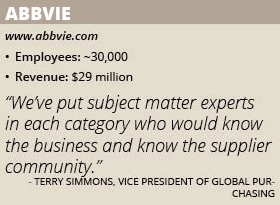 It's plain to see how important supply chain management is to a business like AbbVie. Six years after separating from Abbott, the company has a robust pipeline of products focused on treatments and cures for critical diseases that go beyond Humira. AbbVie's line of products also helps people suffering from serious diseases such as hepatitis, cancer, and Parkinson's.
With a global reach of 30,000 employees and patients in more than 70 countries, AbbVie looks for supplier communities to meet its material demands around the globe. "Meeting the growing regulatory hurdles is a challenge because quality is such a critical foundation of the work we do," Vice President of Global Purchasing Terry Simmons says. "The medicines we produce are so specialized, it can be especially hard to find available suppliers in critical areas."
While the quality of suppliers and their materials are non-negotiable, AbbVie must also ensure it purchases those supplies in a responsible manner to stay competitive.
Category Specific
To stay ahead of the competition, AbbVie has developed strong strategies including a calculated move toward becoming a category-specific purchasing organization. "We've put subject matter experts in each category who know the business and know the supplier community," Simmons notes. "Understanding specification adds quality and speed to the category-buying process." AbbVie is also focusing heavily on aligning itself with industry groups and moving its resources to where their businesses are, creating more embedded resources outside headquarters and remaining more active in supplier discussions.
The buyer/supplier relationship is crucial to AbbVie. While it's difficult to find partners who have the strong chemical knowledge and high quality standards necessary for keeping up with the company's demands, AbbVie has devised methods to maximize its pool of available suppliers. "We're formalizing SRM [supplier relationship management] to make sure supplier management is clearly defined, and we know what to expect," Simmons says. "We're also moving toward a preferred supplier model around the world where we're working with a smaller number of suppliers and building key partnerships as we go forward."
Supply chain management plays a critical role in the biopharmaceuticals business. From managing materials, to production, to customer destination – delivering medicines to patient's also ensures the company's competitive advantage. "Making sure we always have product available, transferring the product, meeting all the hurdles that are now growing – the back order of a product would be a critical disconnect to the customer," Simmons emphasizes. Supply chain management is given a great deal of attention to make sure the lifecycle of inventory, distribution and patient delivery is carefully managed and a patient never goes without the product.
Ensuring patients never miss out on their medications means AbbVie must work cross functionally with manufacturing and make sure strong agreements are in place to safeguard longevity with suppliers. Longevity allows the company to build a strong forecast since changes in suppliers becomes very expensive in time and dollars. That alignment is extremely important as well as building those strong category strategies, buying large inventory and buying just in time. "Those factors affect supplier performance," Simmons notes.
Safeguarding relationships with the best suppliers also means working with quality assurance. "We're very aligned with QA's oversight of critical suppliers that affect patients directly," Simmons says. "Alignment with QA on supplier performance is very important." AbbVie maintains its high standards while it remains very active in training suppliers. This includes training suppliers in regulatory criteria to be the best in grade and to understand the nuances of quality. Training also covers AbbVie's financial policies, which are an important part of the governance of the Business Intelligence (BI) process.
Through these training efforts, suppliers are becoming more sophisticated and professional. Most suppliers are finding a benefit and seeing that when they are better trained, they're better prepared for working around contract management and negotiating. "We train people today not to look for the lowest bid, but to look for the greatest value." Simmons relates. "A rate card has as much conversation as we do on payment terms and inventory, and managing cash becomes a science in the organization."