The growth in ecommerce presents a lot of opportunities for Vanderlande, but it doesn't want to abandon its focus on quality and delivery.
By Staci Davidson
What connects travel and ecommerce? The supply chain, particularly how luggage and packages of goods are moved from place to place, from facility to truck. Vanderlande works hard behind the scenes to help ensure travelers' luggage gets where it needs to be and efficiently, while also helping ecommerce providers deliver their goods on time. The company's work has made it the global market leader for value-added logistics process automation at airports and in the parcel market.
Vanderlande's baggage handling systems move 3.7 pieces of luggage globally each year, which comes to 10.1 million pieces in a day. It sorts more than 39 million parcels through its systems every day. Additionally, many of the largest global ecommerce companies and distribution firms trust Vanderlande's efficient and reliable solutions.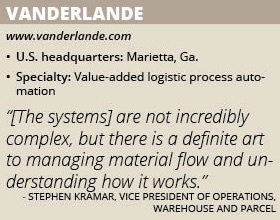 "About 70 percent of our content comes via the supply chain organization, and parts and procurement play a huge role in delivering the material to our customers," explains Stephen Kramar, vice president of operations, warehouse and parcel. "The systems we build are large integrated systems with conveyors and equipment, and we have to build them onsite. As a result, there is a lot of installation and assembly work onsite, as well as doing the software, commissioning, testing and helping the operator get it started."
Vanderlande manages all of this and remains efficient with its strategic operations. The company is based in the Netherlands and does most of its manufacturing in Europe, but it has expanded some operations to the United States and Asia in response to growth. In June 2017, Vanderlande opened a new facility in Marietta, Ga., and it is helping the company better respond to the changing North American market.
"The economy has picked up, and as business continues to move from brick and mortar to ecommerce, there is a big shift in the supply chain," Kramar says. "UPS, FedEx and DHL are seeing much more business-to-consumer volume and less business-to-business volume. Additionally, the size and quantity of what they are sorting is different, so they need new equipment. Amazon, Jet, Walmart, etc. – all are examples of companies that need larger facilities with more automation to meet consumer demand. Globally, there is a huge demand for what we do, and in fact, the demand is greater than the established market has capacity to deliver."
Long-Term Success
This means there is a lot of opportunity for Vanderlande, but it has some challenges of its own to overcome. It needs to find new sources of suppliers for traditional products it needs in its systems. The company buys a lot of shoots, for example – a box goes from a sorter to a shoot to a person who puts the box on a truck – and there are companies who specialize in building shoots, but while Vanderlande is buying them, so are its customers and competitors for their own systems, and the shoot producers are running out of capacity. Kramar notes it has gotten to the point that it needs multiple sources for almost any product it buys.
Additionally, consumer demand is rising while people also expect a faster delivery, which puts pressure on distribution facilities and their capabilities. Vanderlande's facility in Georgia is helping with this, because the lead time from its European or Asian facilities is too long.
"With simple things, like conveyors – they are simple to build and simple to install," Kramar says. "But if I manufacture them in Europe and wait for them to get here, I am too late. Things like that are easier to relocate and source parts in North America and then take them to the client's site. That way, we significantly reduce lead time and there is no risk."
Robotics technology, however, is not as easy. "Production of robotics is harder to bring to the United States – it is more technically complex and there aren't as many suppliers globally," Kramar says. "At the same time, we have to maintain our quality and technological edge. Therefore, we may continue to build our sortation technology in Europe until the volume is such that it makes sense to bring it over here because we have to be smart about what to build and when to build it."
Vanderlande plans to manage its growth while maintaining its focus on quality, going after opportunities as it has capacity for them. That involves staffing up. "How fast we grow is dependent on how fast we can train engineers and get them the experience they need to design these systems," Kramar says. "They are not incredibly complex, but there is a definite art to managing material flow and understanding how it works, so we need people who make really good design decisions. It's also important to have skilled mechanics, millwrights and technicians. We need these people to help us maintain our quality and ability to deliver reliably – our reputation for consistency and delivery is key to our long-term success."