Strong vendor relationships and first-class customer service propel Purchasing Power as a top specialty goods retailer.
By Barbara McHatton
When it comes to wish fulfillment, Purchasing Power truly delivers.
The Atlanta-based company is a specialty e-retailer that provides consumer products, online education services and even vacation packages for employees of participating employers. Companies, government agencies and associations can offer Purchasing Power's services as an employment benefit.
Purchasing Power aligns with the company's payroll department which enables employees to purchase products, such as a new refrigerator, over time – either a six- or 12-month period – making payments through automatic payroll deductions. However, unlike a "lay-away" type of plan, the purchased item is delivered upon ordering. Additionally, no interest is charged and, because the payments are automatically deducted from an employee's paycheck, no late fees are incurred.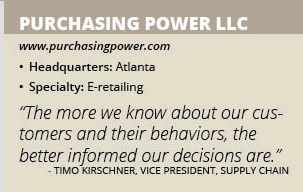 Employees sign up through the Purchasing Power's online portal by submitting eligibility information. Based on an employee's salary and tenure at the company or organization, spending limits are placed on that employee's account.
"We give [our participants] a fair and manageable way of financing," says Timo Kirschner, vice president, supply chain. "Everything is put in a very transparent pricing model – with no hidden fees or interest."
The company started out by selling personal computers. As its customers requested other products, its offerings grew. According to the company, everything is centered around customer demands. "We had customers saying, 'I appreciate the appliance, but I also need tires'," Kirschner says. "In this way, we found other vendors to grow into different product categories."
Purchasing Power's current catalog includes more than 60,000 products from 2000 brands. Customers can purchase items such as cell phones, furniture, dishwashers, jewelry, exercise equipment and televisions. Additionally, travel packages, such as cruises, and online education programs, including test prep courses, can also be purchased. Products are delivered either via parcel or freight. The company also provides its users free access to financial "wellness" tools and resources including alternative credit reports, a budgeting app and one-on-one financial coaching.
"We are one of the fastest-growing specialty e-retailers in the market," says Joe Swaney, public relations manager. "We're successful because of our business model and a strong partnership network."
Wishes Fulfilled
"We partner with 150 retail partners that fulfill our orders," Kirschner claims. Using a variety of integration tools, customers can place an order on its user-friendly, front-end interface.
"With that many vendor partners, we have to monitor all supply chain activities very closely," Kirschner says. "Our reports present us with all relevant KPI including fill-rate, ship- and delivery on-time rates, damage rates, return rates and cost involved," he adds.
A vendor compliance team monitors the purchase fill-rates on a vendor level. Because every cancellation translates to lost revenue and disappointed customers, "we want to make sure inventory levels presented in the front end are actually available to ship to our customers," Kirschner asserts. "Naturally, we are working to achieve a 100 percent success rate."
The company continually connects with vendors to ensure that partners can fill orders. "We reach out to vendor partners," Kirschner notes. "This helped improve our fill rate trajectory as well as discover any problems sooner. With some items, we have almost real-time reporting on vendor issues." Reacting proactively to vendors and customers also helps increase client satisfaction, he notes. "You can't prevent mistakes from happening, but you can be prepared to quickly make up for the mistake to the customer."
Using Oracle as a back-end system to manage orders, inventory and supply processing, this practice collects input from users or other systems for processing. Using this information has allowed Purchasing Power to improve its systems proactively. "Our IT, supply chain and finance groups are working to tighten our system to improve internal intelligence and improve our customer experience," Kirschner says. "The more we know about our customers and their behaviors, the better informed our decisions are."
Purchasing Power's reporting system has also served to solve other issues, including reacting to the delivery network. "With a few products, we sustained a higher rate of damages," Kirschner says. "We forced those deliveries to 'white glove' service which includes unpacking the item at its delivery site by the vendor's shipping group to ensure there is no damage to the item."
Also, the company found that most product damage occurs between the origination point and the final shipping point. Because of this, some deliveries are subject to "deluxing," in which the item is unpacked at the final depot, inspected and only then sent to the end-customer.
To increase customer satisfaction, an "estimated day of delivery," feature was added to its parcel delivery service. "This provides more transparency to our customers," notes Kirschner. Purchasing Power also factors weather or disaster conditions into its data to account for any possible delays.
"If you tailor your process around the customers and their respective needs and requirements, you will encourage demand for your products," says Kirschner.
With a net promoter score of more than 70, Purchasing Power has proven to be customer-centric and focused on customers' demands.