Modern Business Experience Preview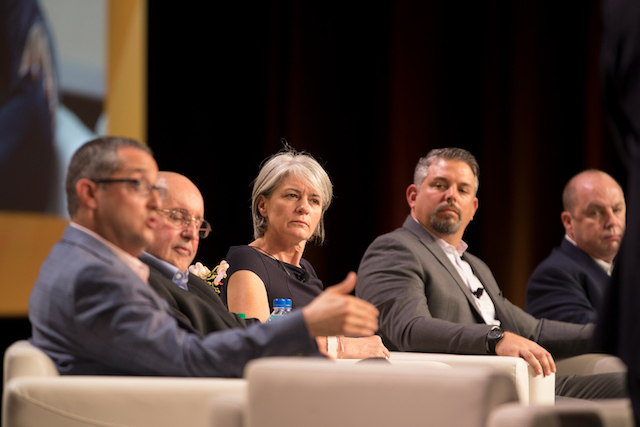 Oracle merges supply chain, finance and HR conferences to create Modern Business Experience.
By Jeff Stiles
To better showcase the impact and value that cloud business applications have in today's enterprise, Oracle is combining three major conferences — Modern Supply Chain Experience, Modern Finance Experience and HCM World — into a single conference, Modern Business Experience (March 19 – 21) in Las Vegas.
Progressive organizations are accelerating the pace of change in the market and creating breakthrough experiences for customers, employees, partners and suppliers. Core business functions such as supply chain, finance and human resources are where brand promises are either fulfilled or forgotten.
Attendees will learn how Oracle's integrated suite of cloud business applications (Oracle Cloud Applications) incorporate transformational technologies like AI, blockchain, and IoT to future-proof business, accelerate innovation, improve enterprise experience and enable businesses to succeed in the digital experience economy.
Modern Business Experience's Supply Chain track is designed specifically for supply chain professionals. Attendees will learn from their peers and gain inspiration for their own cloud initiatives by hearing directly from companies who have already improved visibility, minimized risk, lowered costs, and created a more flexible and sustainable supply chain with Oracle.
The Supply Chain track will include more than 100 sessions covering end-to-end supply chain, logistics and order management, maintenance, manufacturing, procurement, product lifecycle management and supply chain planning. Additionally, special cross-pillar sessions will examine the benefits of cross-functional collaboration and process integration to help organizations deliver on unique customer value imperatives.
Attendees will hear from industry visionaries and thought leaders, including:
+ Earvin "Magic" Johnson, NBA legend, Hall of Famer, entrepreneur and philanthropist
+ Geoffrey Moore, "Dealing with Darwin" author and strategy expert
+ John Reynolds, The Coca-Cola Company
+ Timothy Lomax, Mitsubishi Electric Automation Inc.
+ Bob Kazar, The Wonderful Company
+ Ricardo Cayuela, NCR
+ Craig Halterman, Cohu Inc.
Register with the special discount code SCWThanks to save $700 off the onsite rate. I hope to see you there!
Jeff Stiles is vice president of product marketing SCM for Oracle.