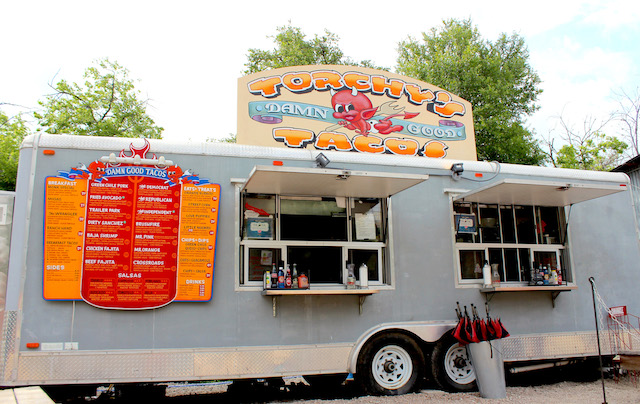 Torchy's Tacos has implemented a new supply chain model to accommodate its rapid growth.
By Kat Zeman, Senior Editor at Knighthouse Publishing
Torchy's Tacos isn't afraid to be edgy. It serves "damn good tacos" and is not shy about broadcasting it. Its innovative approach to this Mexican dish is generating newly-indoctrinated taco junkies in Texas, Colorado and Oklahoma.
"Damn good tacos," says Ed Malloy, the company's director of purchasing. "It's who we are. It's not just a tagline."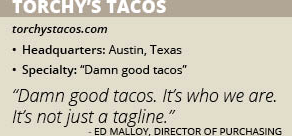 Malloy has an important job. In order for Torchy's Tacos to keep serving its customers those damn good tacos, Malloy has to make damn sure that his supply chain is operating at optimum.
Torchy's Tacos, a chain of more than 60 casual-dining restaurants that claims fame in Texas, Colorado and Oklahoma, has tripled in size over the past five years. It estimates that it will open 100 new stores in the next five years and is expanding its reach into Arkansas.
"One of my responsibilities is to make sure I'm building a supply chain network that will cover all those stores," says Malloy, who has been with the company for about four years and has seen 30 new stores open. "It's the food. We have an incredible following and as we've expanded, the following has continued."
Focus On Fresh
Scratch kitchen. Fresh ingredients. Not afraid to experiment. That's Torchy's Tacos. Mike Rypka, its founder and award-winning executive chef, took his inspiration from the streets and created tasty tacos that have developed a devoted fanbase.
An especially popular menu item appears to be The Trailer Park taco made of hand-battered, fried chicken with green chiles, lettuce, pico de gallo and freshly grated cheddar jack cheese with poblano sauce on a flour tortilla. Customers can order it "trashy" by subtracting lettuce and adding queso.
Since Torchy's Tacos uses fresh ingredients and 80 percent of them require refrigeration, a smoothly operating supply chain is imperative.
Each year, the company needs to be supplied with more than 100,000 cases of avocadoes, 1 million pounds of jumbo white onions, 12 million fresh cage-free eggs and a mind-blowing 42 million portion cups of sauce. It also uses 40 different types of fresh fruits and vegetables.
"When I first joined the company, I looked at our supply chain network and I knew that the volume would continue to grow," Malloy says. "And what we had was not the right way to grow."
He decided to make some changes. One of them was to change the company's produce provider to PRO*ACT, North America's leading distributor of fresh food sourced from premier national, regional and local farmers.
PRO*ACT promises to help streamline the produce supply chain for its clients by offering a one-call solution to source the freshest produce from more than 70 third-party inspected, independently owned local distribution centers across the United States and Canada. It provides category cost management through commodity contract pricing, in-house consultation services and integrated produce program distribution management.
"We have aligned ourselves with them because they are a fresh source and that's what we do," Malloy says. "And another thing that PRO*ACT has been able to do is take risk off the table by aligning us with quality companies. To manage our supply chain, we need to align ourselves with companies that give us the quality products we want and we monitor that."
Another change that Torchy's made to its supply chain is to change its distributor to Hardie's Fresh Foods, which has a rich history in the fresh produce business in the Southwest. The company has been providing farm-fresh fruit and vegetables to the foodservice industry for about 75 years. Hardie's is still family-owned and operated and makes daily deliveries of fresh produce throughout its market. It is also a member of PRO*ACT.
"We've created a new supply chain model that most people wouldn't follow because it's not easy," Malloy says. "But I'm proud of that. It's not out of the box. Most people want to go to one of the big national food distributors and let someone else manage their business. That's not for us. We put together a program that lets us focus on the food we want, not food that is being forced on us because it's sitting in someone's warehouse."
Humble Beginnings
Founded in 2006 by Mike Rypka, Torchy's Tacos started inside a food trailer. After years of working as an executive chef, Rypka decided to work for himself. He acquired a food trailer and a red Vespa scooter. He mortgaged his house and maxed out his credit cards to start his business.
A Torchy's Tacos food trailer opened for business in Austin, Texas. Rypka had bet his life savings on his green chile pork, fajitas and a desire for creating unique food, but nobody knew what he offered and potential customers kept driving past his trailer without stopping.
In an effort to market his new venture, Rypka hopped on his red scooter and drove around town – handing out samples of his award-winning salsa and chips and inviting everyone to stop by his trailer.
"He put a twist on street tacos," Malloy says. "Chef Mike Rypka is brilliant. His seasonings are phenomenal and he stays true to what he likes."
Torchy's first menu was filled with many experimental recipes and when Rypka heard his customers declare, "Damn, these tacos are good," he'd add them to the permanent menu.
Soon, "damn good" became a rallying cry at the trailer.
Rypka's taco dream business grew and took on a life of its own. Taco junkies from all over the Austin area lined up to gobble up those damn good tacos.
Today, Torchy's Tacos is a growing taco empire that has won national awards for its culinary creations, garnered national praise from food critics and developed a fanbase.
"When we opened our first store, we already had a following," Malloy says. "I think people gravitate to the quality of food we put out."
Even the Houston Astros have gravitated towards Torchy's. The baseball team has a restaurant inside its stadium. In addition, Rypka won the 2018 Chef of the Year award from the United Fresh Produce Association in the fast-causal food category. He was acknowledged for helping to promote fresh produce.
Although Torchy's is known for its food, it's also known for being a lot of fun. "We like to think we're a little edgy," Malloy says. "We're not afraid to hire people with tattoos or colored hair."
Its restaurants are known for their lively designs and ability to adapt themselves to the communities they serve.
"Each store is a little different," Malloy says. "We try to incorporate the local feel. That's a big part of who we are. We are not a cookie-cutter store. It's a fun and friendly atmosphere that serves phenomenal food and I think that's why we're successful."
Customers place their orders at a counter but the staff brings it to their tables. Not all, but most of its locations also have a full bar. "We appeal to very large demographic," Malloy says. "We have older customers and young families and we're very proud of that."