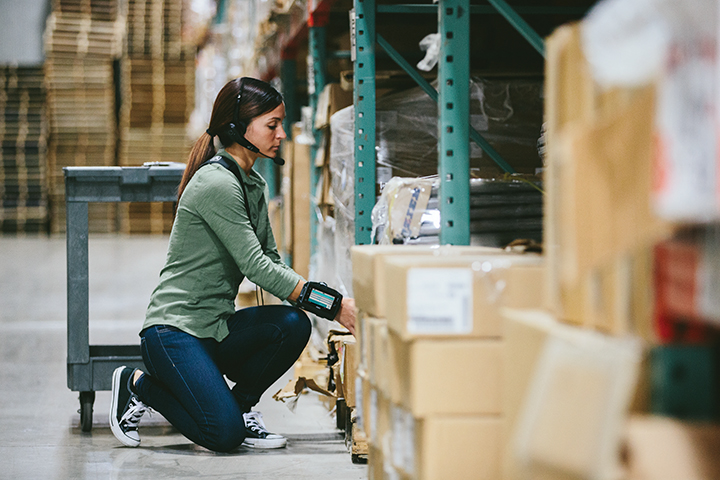 Improve productivity by boosting support of web-based CRM apps.
By Rob DeStefano
Mobile devices in the warehouse have been in use for decades – as a matter of fact, supply chain and warehousing were among the most active early applications of mobile technology. Fast forward to 2018 and mobile has taken over not only the warehouse but the entire business world – from employees tapping away on smartphones and tablets to everyone wanting their device – whatever it is – to be connected as part of IoT.
After paving the way, mobile use in the warehouse is really taking off with the proliferation of Android devices. They are growing in popularity but come with a big challenge: the Android browser isn't optimized to support a new breed of dominant web-based CRM applications used in the supply chain, including SAP and Oracle.
Why Android?
Android is gaining traction because it is business smart. It's low cost, which is especially important for the rugged devices warehouses depend on. It offers built-in Bluetooth and NFC. It effectively supports voice solutions and touchscreens. All that is great, but is it the go-to choice?
Android adoption is moving ahead every minute we're debating its value, for one thing. By 2022, estimates are Android OS will have an 85.5 percent share of smartphone shipments, having captured an 85 percent-plus share since 2016. Unless you're an Apple lover, you and your supply chain colleagues likely embrace Android on multiple devices, every day.
In the warehouse, Android adoption has been slower, as enterprises hold on to legacy Windows CE solutions. However, there is now a stronger impetus to move to Android as some Microsoft embedded mobile OS platforms are exiting. In April, 2021 Microsoft ends support for Windows Embedded Compact 7. This June, support for Windows Embedded CE 6.0 ended. Windows Embedded Handheld 6.5 ends support in January 2020.
Supporting Web-Based CRM
Web-based applications from CRM leaders like SAP and Oracle are key drivers in Android adoption. To get the most out of these web-based apps in the warehouse you need a good mobile browser. The same is true for WMS (warehouse management systems) and ERP (enterprise resource planning) systems. Windows CE and Windows Mobile supported them well enough – but now as Android adoption scales up, technology advancements are needed to optimize support of these critical web-based apps.
Browsing for Android Optimization
Leading web-based WMS and ERP systems were initially designed for desktop access, and desktop browsers. Making the move to mobile and connecting workers to these systems has been the strength of mobile browser products like Naurtech CETerm, recommended by SAP for its ITSMobile product.
As the market shifts to Android, for true optimization, supply chains and warehouses need to look past legacy solutions that worked for Windows CE and Windows Mobile and realize it's a brave new Android world. Chrome, for example, still isn't the industrial strength browser enterprises need for data collection, such as barcode scanning and being able to parse the decoded data into your browser app.
Another important factor is how a web-based system designed for desktops looks on a mobile screen. An industrial mobile browser addresses how app screens render on a mobile interface. If your employees are using Android powered apps daily on their smartphones and tablets, they expect the same level of user experience available with CRM apps.
From CE to Android CRM for the Next Decade
Optimizing CRM, web-based apps in your warehouse is a competitive must. Consider these practices to effectively leverage the Android environment:
1. Simplicity – Workers only need keys that make sense for a particular field. Eliminate unnecessary keys to improve productivity and make room for more available app real estate on the screen.
2. Control – Be sure the browser gives you control of device-specific scanning parameters for advanced barcode scanning.
3. Automation – Streamline workflow by using key macros and automating key sequences. Also run scripts to get rid of redundant steps.
4. Visualization – Prevent clunky transitions from apps designed first for desktops. Optimize for Android mobile device screens with HTML and CSS to improve app rendering.
5. Speech – The addition of voice-enabled web apps enables hands-free picking, or other tasks, accelerating warehouse performance.
Android is the heir apparent – the next generation OS. All major rugged mobile device manufacturers have Android-based portfolios, and some have stopped manufacturing with legacy operating systems. After choosing your new Android hardware, find the best web-based app solution to get your apps up and running quickly. Moving to new hardware and software is always scary but keep in mind: your average employee, using Android powered smartphones and tablets, is already there. They are just waiting for you to catch up!
Rob DeStefano is senior product marketing manager of Ivanti.