MSC Industrial Supply Co.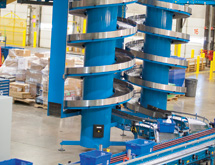 In the eyes of its customers in the manufacturing industry, MSC Industrial Supply Co. functions as more than just a supplier. "We are their back stockroom," Executive Vice President, Global Supply Chain Operations Doug Jones says. "Our customers want to focus on their manufacturing, and typically don't want to worry about keeping an inventory of the sort of products we sell."
The Melville, N.Y.-based company offers more than 600,000 skus of metalworking, maintenance and repair products used by manufacturers of durable goods and other items. MSC primarily sells products through its direct sales team and its website, www.mscdirect.com. "We sell the things that manufacturers need to keep their plants running," Jones adds.
As many of the items MSC carries serve a critical role in manufacturing operations, a quick turnaround time is absolutely essential to the company. "Typically, people don't realize they need a certain item until they're out, and an urgent situation can be created by not having that item. It can literally shut down their production lines," Jones says. "When a customer orders something today, we need to be able to ship it today and get it to them tomorrow."
To do this, the company maintains a robust inventory and a supply chain network optimized to quickly meet demand. MSC has distribution centers in Atlanta; Harrisburg, Penn.; Elkhart, Ind.; and Reno, Nev., with a fifth under construction in Columbus, Ohio.
This network, along with MSC's online presence and national distribution capability, combine to make the company a major player in an industry typically dominated by smaller, regional distributors. "There's one word that sets us apart from our competitors: service," Jones says.
Doing More With Less
MSC's supply chain operations and overall service level have greatly improved in recent years as a result of both investments and initiatives focused on improving its internal operations. Internal investment remains a high priority for MSC even in the current economy, which has seen "a lot of stops and starts" when it comes to the manufacturing industry, Jones says.
"Clearly we've seen a bit of a slowdown in the manufacturing sector within the last few years," he adds. "We continue to invest in our future because we know that there's another busy time at the other end of the slowdown and an opportunity for us to gain market share."
The company is implementing a four-step process at its distribution centers meant to improve its cycle times and overall productivity. "What we noticed over the last few years is that in this age of the Internet and e-commerce, most of our orders are coming through at the end of the day," Jones says. "This puts pressure on our distribution center because more orders are coming in later and our peak hours are shifting."
The first step of MSC's four-step operational streamlining process involved partnering with supply chain solutions provider Fortna on a realignment of its picking processes. The realignment shifted the company from a pick-and-pass strategy – where orders are completed in a series, one item at a time – to a dynamic picking environment, where multiple pickers complete parts of an order simultaneously. Orders are then consolidated in a central area before shipping, Jones says.
The second part of the process involved establishing labor standards within the distribution centers. MSC partnered with technology, consulting and engineering company TZA to implement the standards, which include throughput and productivity measurements. The third part of the process, the implementations of lean management principles to drive out waste, goes hand-in-hand with the new standards, Jones says.
For the fourth step in the streamlining process, MSC partnered with Fortna and Savoye Logistics to provide warehouse controls and automated packaging equipment to each center.
MSC's distribution centers are all at different stages in the process. "Our challenge is to change these processes in a live environment," Jones says. "Our goal was to not miss a single package during all of this, and I'm happy to say that we've met that goal."
Continuous Improvements
In addition to improving MSC's packing processes, each of the four steps also serve to help the company improve its carbon footprint. "Sustainability is something we think about in all of our projects, and is a corporate objective of MSC," he adds.
Other recent company investments include new conveyor belts and sorting systems. The company is also implementing a new demand-planning software produced by JDA.  These investments and the four-part strategy have had a dramatic effect on MSC's cycle times, moving them from three hours to 45 minutes.
"I'm proud of what we've accomplished," Jones says. "From a productivity standpoint, we have the same number of associates in our distribution centers today handling $2 billion in annual business as we did in 2005, when we handled $1 billion."  ­­­