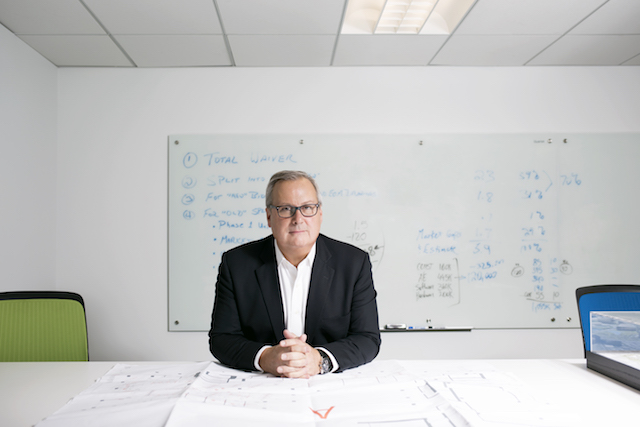 Verizon has focused on better understanding the needs of its partners in its supply chain.
By Alan Dorich, Senior Editor at Knighthouse Publishing
You don't become a global leader in wireless services without caring about your clients. But Verizon's focus on providing customers with quality, John M. Vazquez says, has allowed the firm to become a titan in its industry. "One of the hallmarks of Verizon is having a holistic view of our business, our customers and society," he says.
Vazquez is the senior vice president, chief supply chain officer and head of Global Supply Chain (GSC) and Global Real Estate (GRE) for the New York City-based company, which provides communications and technology services that improve its clients' lives. Verizon was formed in 2000 with the merger of Bell Atlantic Corp. and GTE Corp.
Today, Verizon operates America's most reliable wireless network and the nation's premier all-fiber network, and delivers integrated solutions to businesses worldwide. With brands like Yahoo, TechCrunch and HuffPost, the company's media group helps consumers stay informed and entertained, communicate and transact, while creating new ways for advertisers and partners to connect. Verizon's corporate responsibility prioritizes the environmental, social and governance issues most relevant to its business and impact to society.
Vazquez, who joined Verizon in January 2012, also credits its success to its focus on building and managing the very best wireless network. "We act responsibly, we act with accountability and we act with commitment," he declares.
Complete Accountability
Verizon's influence is huge with $50 billion in end-to-end global supply chain spend. Today, as leader of Verizon's GSC, Vazquez manages 30,000 contracts and is responsible for a $50 billion annual sourcing managed spend. He took the role in April 2018 and has repositioned the company to build a holistic chain that takes Verizon "beyond end-to-end of manufacturing," he says.
"We really have built a true supply chain from that perspective," Vazquez continues, noting that it not only looks to fulfill orders but drive understanding of its global partners' chains and how responsible practices exist in their culture. "It's a complete accountability cycle for us."
Another aspect that makes Verizon's supply chain unique "is how we've already been supplying bots in terms of automated procurement," he continues. "[Those are] based upon either a network build or a need that the business has."
The company also is looking heavily into its supply chain from an inventory management standpoint so it does not buy things it already has. "That's a difficult thing for companies to do," he admits.
Verizon is focused on digital and cost transformation. The company uses blockchain technology to improve its processes of ordering, inventory management and deployment. "We're not caught in the conventional wisdom of managing large product counts or over manufacturing, just to have things deployed," he says. "We'll have a demand schedule for what we need and we'll work with our suppliers."
Changing Conversations
As Verizon has focused on its relationships with its suppliers, it has ranked them into three tiers. The first tier, Vazquez notes, consists its "partners," which it works closely with to understand their business and leverage the strengths that both sides can bring to the table.
This helps strongly align Verizon and its partners. "It's about really changing the conversation from a selling relationship into one that is a strategic relationship," he says. "We can tell them what we're thinking about, and they can share real issues and opportunities with us."
The remainder of partners, he notes, are ranked into the "supplier" and "vendor" categories. These relationships have less of a strategic focus but are still very important. "We value all of our partners," he asserts.
So far, Vazquez says, Verizon has seen tremendous improvements from this system. "We ran the relationship meetings through our vendor risk management group for the first time, looking holistically across the business and understood the risks that were out there," he says, noting that this allowed both sides to get exposure to each other's business.
Verizon is also starting some new and interesting conversations because of its Business Analytics and Intelligence Group, which carefully evaluates supplier products. "We have a tear down lab where we will take equipment from partners and break it down," Vazquez describes, noting that this process helps the company better understand exactly what it is paying for.
"That has led to some productive two-way conversations with our partners," he says, explaining that Verizon has been able to recommend product enhancements, without having to create something drastically different and ultimately deliver the best possible value.
All Together
Vazquez is proud of Verizon and how it has implemented its strategies. Some might not think it would be easy with the size and scale of the company, but the opposite has proven true. "We've done a really good job of that and will continue to do so," he asserts.
He also is proud of the work Verizon has done in building a unified supply chain. "We're really working together with our teams and engineers, the tear down labs, and our supply chain and inventory management leads," he says.
This has helped make Verizon a better steward from a socially responsible perspective. The company is focused on greening its supply chain with a goal of having 75 percent of its assessed suppliers being compliant with their corporate social responsibility standards by 2020. Within its supply chain today, Verizon has achieved a 50 percent reduction in its carbon intensity and recycled over 450K pounds of electronics. "The whole ecosystem of a supply chain has really transformed over the last few years to be really consistent," he says, noting that he also takes pride in its vendor risk management program. "We have 12 stakeholder groups that are represented in our vendor risk and governance."
This has made Verizon aware of the risks it takes on itself as well as those that exist in its supply chain. "We are more aware of how our vendors and suppliers are being affected throughout the entire process," he says, noting that this helped the company adjust to the recent China tariffs.
"If you're not aligned around the different items that can impact a relationship, you may not pick that up in time to be proactive," he says. "We were very proactive in that space so that our partners were not unfairly encumbered with the China tariffs."
Although Vazquez has encountered some challenges with getting people internally and externally to grasp the changes he has made, including them in Verizon's quarterly business meetings has helped. "It's about communication and clarity so everyone has the desire to be efficient and focused on delivering 5G and fiber to our customers," he says.
"When you focus on the customer and understand everything you're doing, you become less parochial around your specific area," he says, noting that this perspective embodies the company's culture. "We are network builders. We install, manage and deliver all the way across the board."
Building the Best
For the future, Vazquez says, Verizon wants to build one of the best supply chain eco-systems globally. "That's our focus and our mission — to really understand how we impact our customers, partners, suppliers and society," he says.
The company also wants to ensure that it is using a strategy that will accelerate Verizon. "We are really embedded with the business in strategy deployment," he says. "We work with the teams and we recommend ideas in how they should get things done.
"Going forward, innovation is key for us," he continues, noting that this will involve the use of automated robots to perform procurement and automated purchase orders through blockchain. "Those are two areas that we're focused on to make sure we're deployed in the right way."
SIDEBAR – Real Results
Before joining Verizon, John M. Vazquez's experience included serving as the vice president of vendor sourcing and corporate services, as well as the head of real estate and chief procurement officer at MetLife. He also was the senior vice president of global facilities at JP Morgan Chase and was the real estate program manager for HQ Operations at IBM.
In his role as the head of Global Real Estate at Verizon, he is responsible for more than 107 million square feet of real estate, 4,700 facilities, and 1,700 retail stores in 56 countries. "Under John's guidance, Global Real Estate has developed a multi-year transformational, strategic plan focused on improving the utilization of real estate assets, enabling a new collaborative workplace experience, and proactively improving the real estate portfolio and supplier quality and procurement," the company says.