World Vision's supply chain adapts to the growing demand for its services.
By Kat Zeman, Senior Editor at Knighthouse Publishing
Dedicated to humanitarian aid, development and advocacy, World Vision depends on volunteers and donations to help children, families and their communities to reach their full potential. Known for tackling poverty and injustice, the Christian organization operates in more than 100 countries around the world.
"We help communities break the cycle of poverty over a 15- to 20-year program cycle," says Tim Covell, director of supply chain. "We also assist with disaster relief. When hurricanes or tsunamis occur, we have emergency teams that step in to lead the work in communities that are hit hardest by those disasters."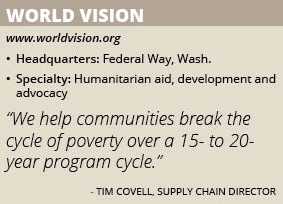 A crucial part of World Vision's success is a smoothly operating supply chain. That's where Covell and his team come in. Covell's supply chain team oversees the logistics of handling and distributing donations, or gift-in-kind (GIK).
"My team manages the logistics distribution center and engages with reps from around the world to understand their needs and then create orders to head out to those locations," he says.
World Vision has one global distribution center in Pittsburgh and six domestic centers throughout the United States to process GIK donations.
Last year, the organization distributed more than 84,000 pallets of product that included items such as school supplies, school furniture, educational materials, pharmaceuticals, clothing and medical supplies.
Donations have been on steady rise in the past few years. Four years ago, that number was at 30,000 pallets. These numbers do not include food donations for which World Vision has a separate division.
To handle the increasing amount of donations, World Vision relies on its robust improvement program and uses lean principles and methodologies.
"As you can imagine, the process of unloading all those pallets, getting them integrated into the system, organizing volunteers to sort through them and selecting the appropriate distribution channels can be challenging," Covell says.
A Game-Changer
Another tool for helping World Vision handle its increasing amount of donations is a new transportation management system (TMS), which the organization implemented last year.
"I'm really excited about it," Covell declares. "That TMS system is a game-changer for logistics management."
Some TMS systems that the organization initially considered were beyond its financial reach, but after some searching the company went with a system from ShippersEdge, a software company specializing in transportation and business intelligence applications.
Prior to that, World Vision's management of logistics was conducted through a home-grown logistics management database. "It gives us an active insight into the cost of trucking lanes, getting bids out and back quickly and has helped us see opportunities and use different carriers," Covell says.
For example, the organization received a large donation last year. It involved roughly 270 trucks of product from one donor. "In the past, we would have had to manage that on an Excel spreadsheet and with a lot of back and forth communications," he adds. "With the TMS system, the management of that complex donation became much easier. It saves time, money and makes things much more efficient; providing visibility of where certain donations are in terms of logistics."
Powered By Volunteerism
Being a nonprofit organization, World Vision relies heavily on its volunteers. Its distribution center in Pittsburgh alone had roughly 8,000 volunteers last year.
"We rely very heavily on volunteers to sort the clothing, unload and even fix up certain bicycles that were donated," Covell says. "That volunteer help is a crucial part of our operations and my staff helps manage those groups and gets them trained."
However, finding ways to make its volunteers more efficient and productive can be a challenge. To be able to handle the increasing volume, World Vision was required to rethink some of its supply chain operations.
"To enable the volumes that we did last year, we had to revamp some of our processes and rethink how we use our volunteers," Covell says. "That's a part of our continuous improvement program."
Covell's team includes a variety of representatives that are charged with developing relationships with communities in need and identifying products that are "high-need." They include children's shoes, clothing, medical products and even bicycles.
"We have a mix of high-impact products and as we go forward we're looking to increase the percentage of some of these products," Covell says. "My team executes and delivers. As we are able to reduce overhead and become more efficient and effective, we stretch the dollars that we have to spend in freight to move the product. Additionally, we make sure that we are well connected with the domestic and international sites to be able to provide them the product that they need."