J. Knipper and Company introduces new e-commerce solutions for pharmaceutical material handling.
By Kat Zeman, Senior Editor at Knighthouse Publishing
J. Knipper and Company – the largest supplier of end-to-end pharmaceutical samples management services in the United States – is breaking innovative ground with the launch of its new e-commerce solutions.
A fully integrated direct marketing and drug sampling firm dedicated to the pharmaceutical and healthcare industries, J. Knipper focuses on supporting comprehensive services in the arena of sample warehousing and distribution, prescriber validation, sample accountability and web-ordering.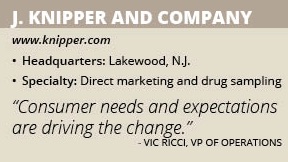 Known as a pioneer of innovative products and services, the Lakewood, N.J.-based company is delivering the goods once again with the launch of its new e-commerce-focused pharmaceutical material handling solutions.
"The healthcare industry and the products are changing," says Eric Johnson, senior VP of commercial development. "So, we are developing customized and individualized solutions that meet new needs."
With the growth of e-commerce, the market is creating a need for faster and better solutions. "Consumer needs and expectations are driving the change," says Vic Ricci, VP of operations. "Twenty years ago, we did not have same-day delivery. Today, there is that expectation because e-commerce has built up that expectation. I think over the last 10 years, we have seen this evolving."
Ricci adds that "In order to service prospective e-commerce clients with high SKU counts and high shipping velocity, we had to solve for efficiency, storage capacity, and effectiveness. We came up with Perfect Pick."
A semi-robotic solution involving I-bots, Perfect Pick is a goods-to-person solution. It has the capacity to store more than 50,000 SKUs and ties in with J. Knipper's warehouse management system and tells the I-bots what goes with what and which trays to drop to the packers.
Manufactured by Opex Corporation, J. Knipper will launch Perfect Pick this spring. The unique robotic picking technology is engineered to simplify order fulfillment automation with increased throughput and reliability.
"It's cost-effective and efficient," Ricci says. "We are utilizing this technology to maximize storage capacity in a fairly small footprint, while increasing efficiencies in meeting high volume output."
Perfect Pick's "one touch" design is based on a single automated component – the I-bot, technology which eliminates the complexity of lifts, conveyors or multiple transfer points.
Perfect Pick offers retailers and manufacturers the opportunity to invest in an automated warehouse order picking system to meet today's challenges rapidly and accurately. It allows them to quickly and easily adjust to often unpredictable future demands and business cycles.
This new technology also allows smaller to mid-sized companies to implement or upgrade to an automated order fulfillment system because it offers a lower-cost, standalone system that can enable more efficient and accurate picking.
Ricci says that building this solution will help the company create a new vertical. "This is a nice solution that will help us grow quickly in the e-commerce arena," he adds.
Innovative Thinking
J. Knipper is a company known for making investments into its infrastructure, including facilities and systems as well as research and development activities, which result in innovations in sample management services.
"We employ a number of different technologies and have many tools in our toolbox," Ricci says. "We have various pick-to-light modules where you scan a barcode and the orders are downloaded through the management system into the pick-to-light area."
Proactive order fulfillment execution software, Pick-To-Light is designed to be the fastest operator-based picking strategy available to execute broken case quantity order fulfillment operations.
It's ideal for team-based approaches like zone picking. It increases the pick rate productivity, accuracy and cost efficiency of this labor intensive process. J. Knipper implemented Pick-To-Light solutions in 2005 and runs them in all three of its warehouses.
In addition, the company employs RF picking (radio frequency) solutions that involve scanning with an RF gun.
J. Knipper's other innovative solutions include MySampleCloset.com, a first of its kind e-sampling platform for healthcare providers. It also offers MyRepCenter.com, the first "modular" mobile and multi-tenant platform dedicated to pharmaceutical salesforce effectiveness that scales to meet each customer's unique needs.
"We work with more than 100 life sciences companies," Johnson says. "Our primary focus is free goods management for those companies, but we also support sales personnel for our customers."
J. Knipper also offers "AIMS," a first-of-its-kind proprietary mobile inventory auditing system which is 100 percent paperless and utilized by hundreds of J. Knipper auditors across the United States.
"We invest heavily into the business," CFO Frank McNicholas says. "Not only in labor and our processes to pick, pack and ship but into our technology."
The company also institutes good manufacturing practices (cGMP) within its operations center. cGMP are practices required in order to conform to the guidelines recommended by agencies that control the authorization and licensing of the manufacture and sale of food and beverages, cosmetics, pharmaceutical products, dietary supplements, and medical devices.
"Everything we do is in compliance with federal and state laws because we are dealing with pharmaceutical products, a lot of which require special handling," Johnson says. "In addition, we support unique needs. We have scenarios where we have 24 hours to get a product to a patient because of a health need. So, we'll use individual carrier services."
Growing Strong
Founded in 1986, J. Knipper believes in a personal, consultative approach when partnering with its clients to design effective solutions.
"We don't force our clients into a specific material handling solution," Ricci says. "We come up with solutions that meet their individualized needs. We want the solution to run parallel to their business needs because no two businesses are alike."
The company's mission is to work with its clients to create solutions that are strategically designed, faithfully executed, and driven by market insight and data to ensure maximum return on its clients' investments.
The company was founded by Joe Knipper and his son, Jim in 1986. The business has been in the family for all but four years. Since 2002, when the Knipper family bought back the business, they have executed on a mission of vertical authority via a buy-and-build strategy, causing exponential company growth. They have continued to build on this as their services now encompass patient dispensing through their rapidly growing specialty pharmacy, KnippeRx.
Future Growth
In the future, J. Knipper expects to see an increase in its cold chain shipping business, which the company started in 2008.
"In the last five years, we have seen a 500 percent increase in our cold chain shipping business, so we see more and more special handling cold chain refrigerated shipping on the horizon," McNicholas says.
"The moment you back a trailer into our dock, that dock is already refrigerated," McNicholas says. "When you are dealing with cold chain products, the key words are dock-to-stock because the product can spoil if it's held out of temperature."
Since J. Knipper's entire warehouse, including its dock area, is refrigerated, customers don't have to worry about temperature excursions.
"In the future, we see more of a need for cold chain customized shipping," McNicholas says. "In addition, we see our growth coming from high volume, high-SKU transactions and specialized medicines. That's why we invested in Perfect Pick and that's why we have redundant cold chain capabilities. We have evolved with this industry over the past 30 plus years and will continue to do so into the future. We are encouraged by our historical investments garnering such strong returns and we are confident that our current investments will do the same."