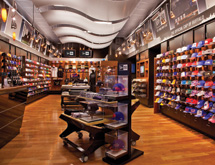 The history of New Era is deeply intertwined with the trajectory of American headwear over the last century. The first cap style ever made by New Era in 1920 was called the Gatsby and sold for $3.98 a dozen. Ten years later, the company started providing caps for Major League Baseball (MLB) teams, eventually becoming the official on-field cap for MLB.
Led by CEO Chris Koch – a fourth-generation descendant of founder Ehrhardt Koch – the company continues to be headquartered in Buffalo, N.Y. It sources, manufactures, and distributes its products around the world, with more than 200 licenses to produce headwear for entities such as Major League Baseball, the National Football League, the National Hockey League, and the National Basketball Association.
New Era added apparel and accessories to its iconic headwear products five years ago in an effort to expand its market reach. "We've doubled our sales twice and close to a third time in the 10 years I've been with the company," says Kevin Boleware, vice president of global supply chain for New Era.
Its sales growth has been driven through the key licensed partnerships like MLB and the NFL along with moving into new global regions to capitalize on new markets. "It's all being driven by our five-year brand performance plan focused on building the brand and increasing our global footprint across our core headwear lines as well as apparel and accessories," Boleware explains.
Global Awareness
The company's global growth is being driven by an increase in brand awareness. "Our headwear is very strong and we're leveraging that to build on the apparel and accessories lines," Boleware says. "We see apparel and accessories being a significant player from a growth perspective, but at the same time, we don't feel we've maximized what we can do from a headwear perspective."
With sales entities in almost every country in the world, New Era's supply chain supports the regional markets with production facilities and distribution centers located in several countries.
"Through key third-party partnerships we have two distribution centers in the U.S., one in Canada, one in Mexico, one in Holland, one in Hong Kong, one in Japan, and one in Brazil," Boleware says. The company's accessories are produced in China and Vietnam, while its apparel is manufactured in Central America and Asia, with production split evenly between India, Vietnam, China, the Dominican Republic and Honduras.
New Era's U.S. factory still manufactures part of its headwear, with the balance split between China and Vietnam.
With key elements of the company in different locations, New Era relies on an integrated supply chain to manage its production and distribution. "When I think of integration, I think of connectivity," Boleware says.
"We use SAP to manage our enterprise resource planning and utilize that to connect all our supply chain. We also have very clear, defined systems and processes that every functional area adheres to and that extends into our supply chain," Boleware continues.
Efficiency Models
With costs increasing in certain areas of Asia, particularly in southern China, the company has been moving to northern and western areas of the country. In addition, in the next three to five years, it expects to lower its Chinese production from 80 percent to 50 percent, expanding its production to countries such as Bangladesh and Vietnam.
"We're trying to balance things out, moving away from areas where cost and worker availability have a negative impact [on our supply capabilities]," Boleware explains. "But we are also working to create more efficiency models through better process management. We have high on time percentages and great quality coming out of our factories but this is not enough. We're now getting more integrated in the processes that exist in the factories to create greater efficiencies from a production standpoint that will help control costs."
The integration of its production and distribution has allowed the company to offer its clients fully customized orders in a quick turn environment. "Speed to market is one of our core capabilities," Boleware explains. "As an example we have a program offered to all global regions where the customer can order as little as 72 pieces and have it manufactured from scratch and delivered to their stores in just six weeks without using expedited shipping methods.
"There are thousands of options with different fabrics, colors and embellishment options," Boleware continues. "We are able to offer something that no other company in our industry offers with our quick-turn custom program."
Supply chain integration plays a major role in the success of this customization program. "We're integrated with our freight forwarders," Boleware explains. "We're integrated with our supply chain partners from product suppliers through our distribution network so that every bit [of information] – from the time it enters our system to the time it goes out to the customer – is integrated."
New Era's brand slogan is Fly Your Own Flag® which is a statement to the company's ability to allow its customers to express themselves in many different ways. The positive results of the quick-turn customization program allows New Era to react quickly to changing market trends have prompted the company to extend its application to other areas.
"We put the program in place three years ago and now it has become a core part of our business," Boleware says. "The success of this supply chain integration has allowed us to extend this to more order types allowing us to reduce overall lead times."
When Boleware looks back at his decade with New Era, he says he is proud of the growth the company has been able to achieve. "I've seen a small company in Buffalo evolve into a major global brand and I'm extremely proud of our company and the team at New Era that have made it all happen," he says. "That journey over a 10-year period of time was exciting, and it's even more exciting to know where we're going next." ­­­