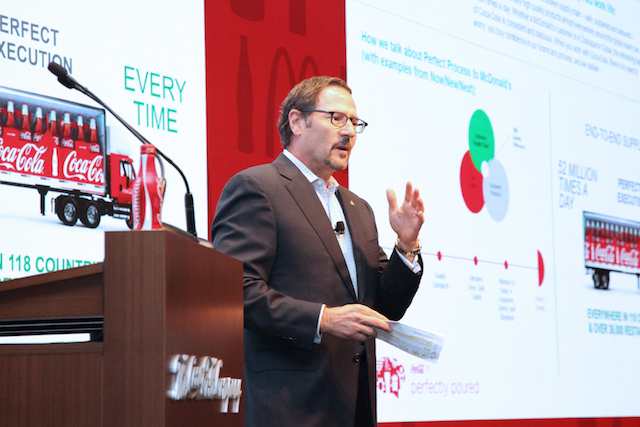 Coca-Cola's supply chain leader proposes new ideas to address supply chain challenges.
By Kat Zeman, Senior Editor at Knighthouse Publishing
When he took over as Coca-Cola's vice president of supply chain, operations and business development, Dean Myers was asked to make major changes. He had an opportunity to reinvent the supply chain for the company's largest client – McDonald's Corporation – but faced the challenges of a very dynamic environment to accomplish it.
"My role today is creating new business opportunities for this customer and for Coca-Cola," he says. "We have been serving McDonald's since it opened its first restaurant and now we have an entire division dedicated to serving the needs of this important customer. McDonald's has 37,000 restaurants in over 100 countries. It's a great responsibility."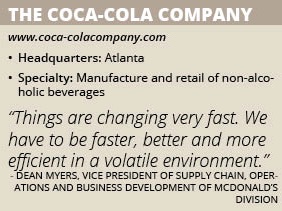 Overseeing the supply chain for a full range of sparking beverages, juices, teas and frozen products, Coca-Cola's McDonald's division features a team of localized supply chain managers along with experts in marketing, restaurant operations, financial services, customer management and overall supply chain operations.
Myers leads the supply chain and operations team as an experienced general manager with expertise in customer collaboration and leadership on a global scale.
But Myers didn't start his career with the company in supply chain. His skills include negotiation, strategy, customer insight, customer management business development, cross functional leadership and an overall knowledge of the food and beverage industry. He has a master's degree in business administration and bachelor's in business administration with a focus on marketing from University of Miami.
"I started in marketing and customer leadership," he says. "When I started working on the McDonald's account,
I was bringing a business mindset to supply chain."
With his versatile background, Myers can talk to customers about multiple beverage categories including anything from the growing conditions in Brazil and Florida to the ins-and-outs of manufacturing and value chains.
"It's a powerful combination when you can talk to a customer with that type of knowledge," he says. "Typically you're either the supply chain person, or marketing person but I had all those skill sets – and that that experience launched the second half of my career with Coca Cola."
Overcoming Challenges
One of the biggest challenges facing Myers and his division is the rapidly changing culture in the supply chain world. He calls it V.U.C.A – volatility, uncertainty, confusion and ambiguity.
"The environment is challenging and things are changing very fast," he says. "We need to ask ourselves how we can lead an organization to be impactful and influential in a V.U.C.A world. We have to create value, make things faster, better and more efficient in a crazy environment."
Some challenges facing supply chain include changes in government regulations, company strategies and consumer tastes. "The challenge is to understand where all that is heading and adjust often," he adds.
For example, one way that Coca-Cola is responding to changing consumer tastes is by broadening its beverage portfolio as it continues its journey as a total beverage company.
"Consumers are looking for variety and we have to adapt to that," Myers says. "We're looking at new categories like dairy, beverages with nutrients like protein drinks and energy drinks. Our Company is launching new products at a record pace."
More than ever, consumers are looking for more choice, products with natural ingredients and transparency, he adds. Then there's the need for speed. In a V.U.C.A world, it's especially important for the company to be in alignment with key stakeholders to make this happen.
"It's common sense, but not always common practice," Myers adds. "We have to understand who does what, when and the resources of the organization," he says. "Too often, for the purpose of speed, people don't have the right alignment early on in the process and projects are not as successful as they could be. Having those conversations early is the secret sauce for speed."
Myers has frequent reviews to ensure alignment before action. "If you want to go fast, check your alignment," he says.
Coca-Cola has a global strategy to broaden its portfolio. Although it operates worldwide, it has a local presence. "We source and produce products and have operations in virtually every country the world," Myers says. "That gives us a more predictable and local supply chain. It makes us unique and creates advantage."
Since change is accelerating, Coca-Cola is also adapting its approach to supply chain by looking at new partners and suppliers. "And you have to treat them like they are valuable versus a necessary requirement to do business," Myers adds. "The most important thing is to have the right people in your supply chain. The talent on your team is what will ultimately be able to manage through complexity and create winning solutions. It's all about the people."