AGCO thrives by looking for ways to continuously improve its supply chain.
By Alan Dorich, senior editor at Knighthouse Publishing
Some companies are set in their ways and content to rest on their laurels, but not AGCO. "It has recognized it needs to adapt not only to the current conditions, but adapt and support what we believe the future will hold on the product landscape, corporate strategy, and global operating environment," Vice President of Global Materials Greg Toornman declares.
The Duluth, Ga.-based company has spent much of its history taking those important steps in its business. AGCO started operations in 1990 and has grown over the years through acquisitions and organically to become a leader in the design, manufacture and distribution of agriculture equipment.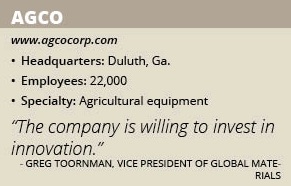 Today, the company has five brands and sells in North and South America, Europe, the Middle East, Africa and the Asia-Pacific region. Toornman notes that AGCO's focus on adapting began nearly 10 years after its start, when its senior leadership wanted to concentrate on synergies between its supply network and manufacturing on a global basis
"They brought the senior leadership in, and the first thing they decided to focus on was the direct purchasing centralization at the regional level," he explains. At the same time, AGCO looked for standardization in its manufacturing with KPIs and repeatable assembly processes based on global product platforms.
Flipping the Switch
When that proved successful, AGCO focused not only on catching up with its competition, but leapfrogging over them. In 2012, the company set its sights on the performance of its global supplier network and how it managed bi-directional communications with its suppliers.
"We said, 'We need to develop a standardized way of bi-directional communication with our suppliers that would allow us to quickly adapt to changes in production volumes, changes in sourcing and change manufacturing sites that the suppliers ship to in a shorter amount of time,'" Toornman recalls, noting that this also allowed AGCO to capitalize on exchange rates, tooled capacity utilization and manufacturing optimization.
This initiative recently proved beneficial for the company. When the U.S. tariffs on China were outlined in August 2018, AGCO focused on moving the assembly of tractors that were destined for North America from factories in China to Brazil. "Within six weeks, we were able to change all of the flow of the product from the Chinese and European suppliers to our Brazilian sites," he says.
"If we did not have a standardized set of tools for our tier one suppliers, it would have taken us upward of 12 months to move that supply flow," he admits. "But because the suppliers are all using the same tools, the only thing changing is where they ship it to."
Although there were some initial issues with customs documentation, "That's relatively easy to manage," Toornman says. "When the decision was made to move North American product from China production to Brazilian production, our infrastructure enabled us to flip the switch very efficiently."
Investing in Innovation
Toornman joined AGCO 15 years ago and has watched it mature during his tenure. Today, "The company is willing to invest in innovation, whether that is in the product design itself, the processes that enable us to build agricultural equipment, and how we support and service our global customer needs in the field," he says.
Another recent example of this willingness, he notes, is the company's AGCO Smart Logistics initiative, which dramatically improved the performance of its inbound supply chain in Europe. By utilizing an innovative transportation management system (TMS), AGCO increased its number of carriers from three major 3PLs to more than 70 carriers in Europe. After the initial success in Europe with AGCO's global partners 4flow and iNET Logistics, AGCO continued the rollout across the globe. Today the transportation network integrates 3,000+ direct material suppliers and 50+ AGCO manufacturing and distribution sites across the globe on one instance. "AGCO, together with our global partners 4flow and iNET Logistics, was able to take a concept in 2013 to a fully integrated state of the art transportation network in 2018. This was truly remarkable in our eyes. The return on invested capital in our global TMS exceeded all of our expectations by a significant level," states Toornman.
The company also developed and implemented an integrated supply chain management IT solution through the combination of the TMS, a standardized supplier development system, a supplier network collaboration solution and a risk management system. Over the past year, the company has implemented the set of globally standardized solutions across its regions, allowing it to reduce costs, increase performance, shrink its carbon footprint, and become an easier customer to do business with across the globe. One of the key factors in AGCO's supply chain optimization efforts is its global supplier performance platform called "APEX." "APEX enables the convergence of the various supplier performance levels into one globally standardized system. The KPIs from Engineering, Quality, Purchasing and Materials Management are integrated and as a result all AGCO internal functions have transparent visibility into a supplier overall performance level as well as the view at the functional level. This has been a game changer for AGCO.
"The provider of APEX software, Procurence who is based in Warsaw, Poland has been a great partner to work with over the years. We are consistently developing new concepts and improvements in our APEX tool together with Procurence," Toornman states.
AGCO has earned recognitions for these achievements, which include the German Supply Chain Management award for supply chain innovation from the German BVL organization in 2016, the European Gold Medal from the European Logistics Association for supply chain innovation in 2017, and most recently in China in 2018 with AGCO being awarded the for supply chain innovation award by the China Federation of Purchasing and Logistics. "We're beating out automotive companies [like] Ford, Hyundai and General Motors for these awards," he says.
This has been accomplished, Toornman notes, by innovating within its supply chain network. "[We're doing what] is different from what everyone is doing today, or we're able to do it better than everyone else," he says.
AGCO's current initiatives include integrating business planning across its global network. This has allowed the company to look at the inventory of its dealers versus targeted inventory levels. With this information, it has improved its own planning by taking decisions up to 12 weeks earlier and improve the on-time shipping to its customers and a much improved manufacturing production stability.
"As a result of that, we have less risk in our planning process," he says. "We can reduce the level of safety stocks and inventories that we carry for our purchase components."
He adds that AGCO ran a very successful pilot program with this systematic approach in South America last year. "This enables the network to operate on a more sustainable basis," he says. "[We can] focus more energy on continuous improvement, cost reduction and customer service levels across the network, and as a result, the complete supply chain benefits."
Toornman expects to keep busy in 2019, which began with six new initiatives that started in January. He adds that AGCO backs him with leadership that works with him through these different restructuring and transformation initiatives.
"As a result of that, we're able to propagate out that leadership style that enables our work force to bring ideas to the table," he says. "In our view, the people that are doing work at the execution level are experts at what they do."
By getting its work force involved, "They take big ownership of it," Toornman says. "These team members are drivers of solutions because they were involved in the conceptual idealization of what we want to do and they own it."
This gives them pride and passion in their work. "As a result of that, what we've seen is the major initiatives being achieved on time with lower cost and greater results than what was originally intended," he says. "That is something for me to be proud of."
Toornman predicts AGCO will continue into its next stage of maturity. "We are developing our new product road maps and marketing strategies," he says, adding that the company is at work on supplier segmentation strategies.
This will include looking at whether or not it needs to change the sourcing strategies that will further enable its marketing strategies to grow AGCO's business levels. "That's the next big focus we will work on," he says.