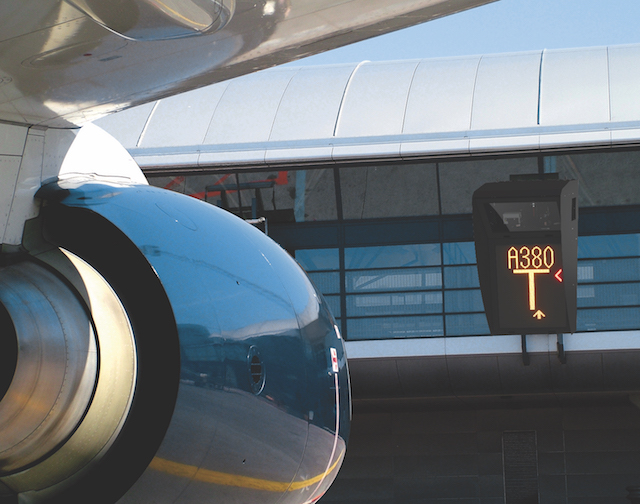 ADB SAFEGATE prepares its supply chain to work quickly for its airport customers.
By Mark Lawton, Senior Editor at Knighthouse Publishing
In 2018, the supply chain for ADB SAFEGATE was impacted by "insane weather," says Melanie James, director of supply chain for the Americas. "We were caught a little off guard. Whether it was major snow events, hurricanes or earthquakes, we were able to react very quickly. There were times it was costly, from expediting fees to freight, we did what had to do to take care of our customers."
Reacting quickly is what counts when working with airports. But that skill to react quickly takes a lot of preparation and agility.
A Century
Adrien de Backer, a Belgium businessman, started ADB in 1920. The company originally sold floodlights and light organs to theaters, operas and movie houses, and later expanded into lighting for outdoor sports grounds, churches and monuments. In the late 1940s, ADB diversified into airfield lighting and visual guidance systems and by 1951 had a contract with NATO for eight air bases.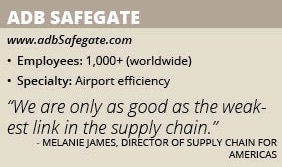 Safegate, which develops gate systems for airplanes, was founded in 1973 and merged with ADB in 2015. Today, ADB SAFEGATE is a market leader that has worked with more than 2,500 airports in 175 countries. "We can provide everything from A to Z: lighting for taxiways, de-icing, control systems for power and vault," James says.
ADB SAFEGATE aims to help airports with every aspect of traffic control and guidance including approach, runway and taxiway lighting, tower-based traffic control systems and intelligent gate and docking automation. "We are starting to work with airports to get planes in and out faster, from approach to departure," James explains. "Our goal is to help our customers improve their operational performance through integrated, data-driven solutions."
Shorter Timelines
The supply chain operation at ADB SAFEGATE is responsible for sourcing, storing and transporting more than 6,000 items. "It's a diverse portfolio and there is quite a bit of customization," James notes. "For one particular light, there might be multiple versions. We are always working to reduce that and use as many parts as we can across multiple families of items."
Managing the supply chain has become more challenging over the 13 years James has been with the company.
Our timelines are becoming shorter and shorter," she explains. "Our products are custom and we have long lead times. We work closely with our supply chain to shorten these lead times via long term forecasting and building a partnership with our suppliers."
Recent changes in the electronics industry also pose a challenge. In early 2018, lead times on electronics got a lot longer for a variety of reasons including smartphone and smart car manufacturers buying up supplies of semiconductor chips, along with chips and other components constantly getting smaller or evolving in other ways.
"Electronics are a big part of the makeup of our products," James says. "We make sure our supply chain is deep but it's a balance – you can't hold years and years of inventory."
Treated at Partners
James and her department respond by finding other suppliers or working with engineers to find components that do the same things. "It takes time with approvals and checks," she says.
To prepare, the supply chain department at ADB SAFEGATE conducts a yearly risk assessment of items and sources with all of its suppliers. The assessment reviews financial aspects, contingency plans, quality, on-time delivery, whether ADB SAFEGATE has a single or several suppliers for a product, volume, lead times and other aspects.
For its core group of 20 to 25 suppliers, ADB SAFEGATE does monthly "report cards" and meets with them regularly. "These suppliers we treat as partners," James says. "They understand our business and what we need and work with us if we have inventory reduction projects or technology upgrades. They are also making sure their supply chain is deep, audited and protected so we don't get into a situation where we're caught [unprepared]. Those are the suppliers who make us successful."
After its most recent risk assessment, the supply chain department introduced new suppliers, found some suppliers that were geographically closer and reduced its total number of suppliers.
The company also decided to move its source of castings from overseas to closer to its Columbus, Ohio headquarters. "This is due in some cases to tariffs, inventory reduction and freight reduction," James says. "This will lead to reduced lead times which will translate to increased customer satisfaction."
Getting Buy-in
The market continues to evolve and ADB SAFEGATE has to change with it. "As we continue to grow, we are seeing big projects all over," James says. "We always try to stay in front of it. We are only as good as weakest link in the supply chain."
Successfully managing the supply chain requires working closely with her team of 12 professionals. "Teams have to understand the reason for an expansion or a project," James says. "If I roll out a new tool or change, I have to get buy-in."
That buy-in applies to other departments at ADB SAFEGATE along with its vendors. "Any project that we work on regardless of the size or scope it needs to be a win-win for all involved," James says.