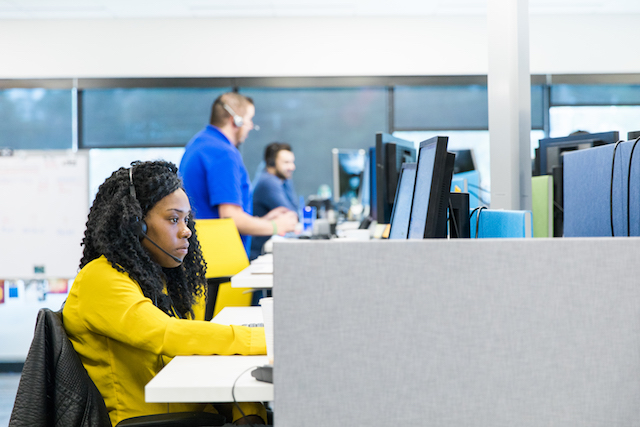 Endurance International Group's CPO implements new procurement tools and processes.
By Kat Zeman, Senior Editor at Knighthouse Media
Endurance International Group provides millions of small businesses worldwide with products and technology to enhance their online presence, email marketing and business solutions.
As the company's chief procurement officer, Ann-Marie McCarthy was hired in January 2018 to transform the company's existing procurement department from a transactional function that adds little value to a strategic function designed to provide Endurance with tools to operate more smoothly.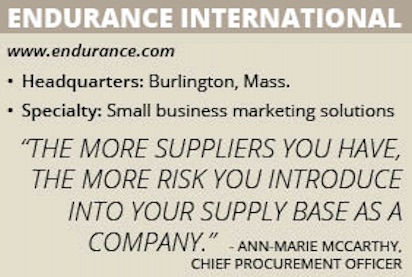 Since joining the company, McCarthy helped put in place a strategy for extending analytics, strategic sourcing, supplier relationship management and helping Endurance stakeholders understand how to leverage its suppliers more appropriately.
"One of the first things I did was to refine our organizational design and hired experienced sourcing professionals to lead category strategies and build strong relationships with our stakeholders," she says. "We organized the team to ensure we could run the different parts of our sourcing exercises in parallel, building out a business intelligence function and leveraging our contract management team more fully."
Since the small business solutions company buys a lot of IT equipment, it examined sourcing alternatives and made a few changes in the way it managed its supply chain pipeline.
"We spend millions of dollars on hardware to support our web hosting clientele," McCarthy adds. "So, we reached through our OEM supply chain and into their supply chain as well to help us bring down costs. We buy a lot of our equipment through value-added resellers. So, leveraging a strong partner to help us manage inventory, OEM relationships and bringing new technologies forward for our consideration is an important part of extracting supplier value."
Assessing Risk
In order to gain better insight into how Endurance is spending its money, the company introduced a new spending analytics tool this year.
"We asked ourselves how much are we spending? Where are we spending?" And what's the risk?" McCarthy explains. "The more suppliers you have the more risk you introduce into your supply base as a company. Mitigating the number of suppliers we work with is an important strategy."
To do that, Endurance initiated a new supplier review process. Before suppliers can be introduced into the company's accounts payable system, they must undergo a review process.
All active procurement addressable suppliers undergo a supplier qualification process that includes an IT security assessment, data privacy assessments and a review of their finances. In addition, all suppliers must now meet global data privacy requirements.
When McCarthy first started her new job, Endurance had thousands of active suppliers. "We brought that that number down to under 900," she adds. "The procurement review allows us to ensure that we are controlling the number of suppliers that go into our system to make sure we aren't fragmenting spend. The goal is to have as few suppliers as possible while still meeting our business objectives but consolidating services and rationalizing our suppliers so they can be leveraged in a more meaningful way."
The review process also includes a look at the supplier risk profile and their strategic value. The company uses a tiering system to identify those suppliers that are important to its long-term goals and strategies and those that are more tactical in nature in order to manage and develop them accordingly.
"We look to our strategic suppliers to introduce innovative ways of how they can support us through technology improvements, risk mitigation and expanding their presence to new geographies," McCarthy adds. "We had some suppliers that were in our database that we not used for years."
Contract Processes
Another enhancement that Endurance has initiated in the past year is an improvement as to how it handles contracts. "Anytime you have a contract of large scale and size, you lose leverage if you wait until three months before it expires to try and negotiate the renewal," McCarthy explains.
Early notification of expiring contracts is critical to proactively reviewing the marketplace and discussing options with the company's stakeholders, she adds.
"We have a new process and use our COUPA procurement tool to track contract start and end dates providing visibility to our Category Directors and business stakeholders," McCarthy says.
The new process involves loading contracts into the procurement tool, looking at their value and complexity and assigning a date for review based on those factors.
"We had none of this a year ago," McCarthy says. "Contracts were scattered in different places. We now have a central repository that we can run reports on. This year we will implement an e-RFX tool which will automate and streamline the sourcing process and enable us to invite people to bid electronically."
The e-RFX tool is an electronic request for information, quotes or proposals. McCarthy believes that all these changes have helped increase stakeholder value.
"Without your stakeholders embracing what you do, procurement can't be successful," she adds. "And in the last year, we have gained that stakeholder trust and had them recognize the value that procurement can bring into the organization – not just through cost savings but by providing them with the intelligence that allows them to manage their business better."
The procurement department meets with various departments, as well as the stakeholders, on a regular basis to talk about their goals and how procurement can help the company achieve them.
"We have developed dashboards for our senior leadership team members providing insight on how they are meeting our policy guidelines and protecting their travel budget, corporate card compliance, along with upcoming contract expirations and key projects we have completed or are working on for them along with savings achieved" McCarthy adds. "Our mission is to help the rest of the organization succeed."
Millions of Customers
Founded in 1997, Endurance has grown into an international family of brands focused on providing small business owners with the tools they need to establish and build their web presence, get found in online searches and connect with customers through social media and email marketing campaigns.
The Endurance family of brands includes Constant Contact, Bluehost, HostGator, and Domain.com. Endurance employs more than 3,800 people across the United States, Brazil, India and the Netherlands.
The fast-growing company has millions of customers around the globe. At the heart of its technology is a commitment to fueling small businesses and ensuring their success online.
"What propels me to stay is the people we have working here at Endurance," McCarthy says. "We have amazing people with a strong commitment to delivering quality products to our customers and ensuring that their experience is a good one."