Bazooka Candy Brands, a division of Topps Company Inc.
Bazooka candy has been known to generations, but ongoing innovation keeps its brands relevant to today's kids.
By Staci Davidson, Senior Editor for Knighthouse Publishing
The Bazooka brand of bubble gum has been around since 1947, but old it is not. Consumers may have nostalgic feelings about Bazooka Candy Brands, but the company's focus on keeping its products fresh and brands in tune with today's youth ensures it always has something innovative for the market. This enables Bazooka to remain beloved across generations, because it continues to represent fun.
"We are known as the kids' novelty candy specialist," Vice President of Global Confectionery Operations Melissa Corliss explains. "The value of our products is in edible entertainment. Our products have some level of entertainment or transformative value. A Ring Pop makes you feel like you are wearing edible bling, and the Juicy Drop line lets you create your own mix of sweet and sour. Our specialty is in kids' novelty."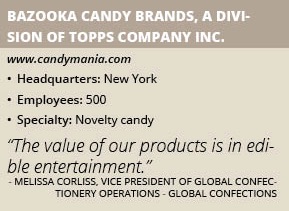 Based in New York, Bazooka Candy Brands is the confectionery division of The Topps Company, Inc., which also markets physical and digital cards, entertainment cards and collectibles. The Bazooka brands include Ring Pop®, Push Pop®, Baby Bottle Pop®, Juicy Drop® and Bazooka® bubble gum. The company was established in 1938 to sell chewing gum and revive the original owner's struggling tobacco distribution business. Bazooka bubble gum was introduced in 1947, and from there, the company has made a name for itself in a number of ways.
"In the 1950s, the company put baseball cards with the gum to sell more gum, and the baseball cards became their own business which remains alive and well today," Corliss says. "In 1977, Ring Pop was launched, and that changed the game by becoming another iconic brand. We've continued to enhance our platforms over the years with new brands and new items. In 2018, for example, we introduced a new brand of candy, Match-Ems®."
Constant Innovation
One may have visions of Charlie and the Chocolate Factory when it comes to imagining the Bazooka Candy Brands' supply chain, and although the end result is a treasure trove of brightly colored, sugary creations, Bazooka has arranged its supply chain to remain efficient, focused on quality and reflective of the company's ongoing innovation.
All of the company's Bazooka products – regular and sugar-free gum, and Gum Pops – are produced in Tunisia. The standard Ring Pop products are made in Scranton, Pa., but variations on the Ring Pop (such as different shapes for seasonal offerings) are made in Thailand and China. Push Pop, Baby Bottle Pop, Juicy Drop and seasonal items are manufactured in Thailand, Taiwan and/or China.
"We produce Ring Pop in our own facility in Scranton, but the more complicated products are sourced from various plants around the world," Corliss explains. "We have relationships with these producers going back 30 to 35 years, and they are true partnerships."
These trusted partnerships allow Bazooka's supply chain team to support the company's prime focus on innovation and new product development. Bazooka wants to remain relevant to its consumer base, and new products that are exciting and entertaining are key in achieving this goal. The focus on innovation is ongoing, and the supply chain helps ensure innovative ideas can be produced with the quality for which the company is known.
"We focus on innovation all the time," Corliss says. "We have our own internal innovation team that is focused on understanding consumer trends and developing new exciting products. Ideas can come from this team, other employees and even our suppliers, but we also work with companies in the United States that specialize in innovation. These companies have people focused on candy ideation, and we want the best, most interesting new ideas for our candy. It is a constant innovation process."
She notes that with so many partnerships developed over the years, Bazooka has a very agile innovation pipeline and ability to get new products to the market. "Based on the idea and what it involves, we work with our existing suppliers or scour the corners of the earth to find someone that can do something special and different, so we can offer something exciting to the market," she adds. "We keep at least a five-year pipeline of ideas and work up to three years out on innovations with sourcing, engineering and packaging concepts. My team works with R&D and marketing to take the ideas and turn them into reality. It works well with all of the partnerships we have."
Ongoing Interest
Bazooka's innovation and consumer focus help it to keep up with tastes of the youth market. Corliss explains, "Right now, soft and chewy is popular, so gummies are one area where we are targeting our attention.  With our focus on innovation, we always try to come up with something different from the mainstream. We want to break the mold."
The brand also has to pay attention to the on-line world, where innovation, novelty and excitement are a must. An influencer may not be famous to the greater world, but online, she or he has a large following and can affect purchase decisions. Candy influencers exist and Bazooka is aware of them, even if it is not involved with them.
"Online presences and influencers are big. With today's consumers, it can be all about the best Instagram post or coolest tweet," she adds. "We have to constantly think about how to stay relevant in that type of environment."
Bazooka's edge is that its brands are well known by many generations, driving ongoing interest. "Ring Pop, for example, is iconic and tends to get attention on its own. People propose marriage with it, which is fun. The wearability of Ring Pop lends itself to the modern-day internet society."
Supply Partners
To ensure consumers remain focused on the fun of Bazooka's brands, quality is a prime concern. As a global company that sells products throughout the world, it bases its "very stringent" standards, Corliss says, on the applicable food safety laws of all the regions in which it operates, requiring comprehensive audits by our internal quality team and external experts in addition to the appropriate regulatory agencies for the area.  Bazooka also conducts social auditing with its suppliers to ensure they follow ethical social practices in areas such as labor management and environmental policies. Bazooka's standards are in place for existing and new supply chain partners.
"With new suppliers, everyone has to meet our specs from the get-go," Corliss stresses. "We look at their past outside audits and certifications. If they don't have those we may not even get to the step of visiting their factory. We have really high standards and we continue to make them more stringent. I've been here since July 2014, and during my time we've added audits, included social auditing and continually work with our partners to improve in all areas related to quality, safety and other regulatory areas. In addition to that, we're always working at continuous improvement in the supply chain in all aspects; decreasing lead times, reducing packaging through redesign, improving our demand planning, nothing is off the table.
"Our relationship with all of our suppliers is definitely a partnership in every aspect of the word," she continues. "Whether it is developing new innovations together or helping them find more efficient ways to produce existing items, we're always working together to drive improvement. I came from the dairy industry and did a lot of automation projects. Some companies in this industry aren't too automated, so we've helped them design equipment, find equipment suppliers to automate different aspects of their operations and improve so they can grow along with us. By working faster, more efficiently and with quality, positive change is good for everyone."
Bazooka has found many of its partners are challenged by the new tariffs in place, as well as with the rising costs in transportation. Corliss explains Bazooka recently launched a program with a new transportation partner, allowing them to share transportation costs when they are going to similar locations, which drove a significant improvement for all involved.
"We're using third-party logistics for both warehousing and transportation," she says. "We were able to participate in a more efficient program by moving to a new warehouse, and that helps us and our co-loading partners."
Growth Through Teamwork
Growth for Bazooka is ongoing. In recent years, the company introduced a 10-gram Ring Pop for some customers (14 grams is the standard size), and as that business grew, the company implemented quick changeovers at its Scranton facility so it can more easily change between mold sizes. As a result, the changeover process reduced from seven days to 24 hours.
In its Ring Pop candies, Bazooka has also introduced new flavors as well as new varieties such as:
• Ring Pop Twisted – a candy with swirled colors and flavors;
• Ring Pop Tongue Painters – candy that colors the consumer's tongue;
• Ring Pop Sours – sour candy in six different flavors; and
• Ring Pop Freeze – a candy that will give consumers a cool sensation.
"The Ring Pop Sours have done really well, and we like to take advantage of new technology to introduce new products," Corliss says. "The cooling technology, for example, with Ring Pop Freeze allowed us to introduce something new and exciting to the market."
The company continually focuses on growing its core products – Ring Pop, Baby Bottle Pop, Push Pop and Juicy Drop – with new, innovative varieties. Corliss notes kids continue to love the products, and Bazooka keeps them interested with flavor changes and other adaptations, allowing it to remain the expert in kids' novelty candy.
"We innovate with the developing trends because we know and watch what kids and parents like," she says. "We want to innovate while still keeping it fun with edible entertainment. We just launched a throwback Bazooka wallet, which has been received with extreme excitement. And, Baby Bottle Pop Gummy Blasts, a 3-D bottle-shaped gummy with a popping candy powder packaged in a cool take-along pack, is hitting stores as we speak. We can do this faster even with more complicated products because as a small company, all of the disciplines really work well together. We have a close group and communicate more than any other company I've been with. We grow and innovate by having a talented team of people that love working together dedicated to a single vision."