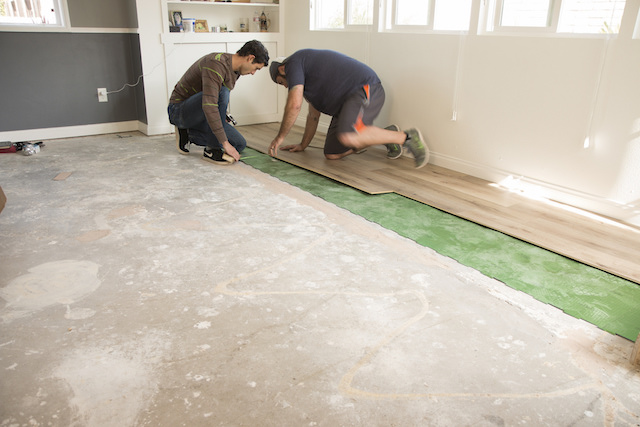 Cali Bamboo negotiates and forecasts to perfect its supply chain operation.
By Mark Lawton, Senior Editor at Knighthouse Media
In 2003, Jeff Goldberg and Tanner Haigwood of Maryland decided they wanted to open a business but didn't know what type. So, they did what any prospective entrepreneurs would do – they went surfing.
They flew to Kauai, where Haigwood found work on a construction site and Goldberg in landscaping. It was while cutting down bamboo groves that Goldberg came up with the idea for a business.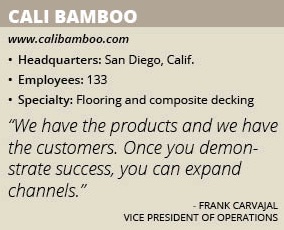 Cali Bamboo opened in San Diego in 2004 and started by selling bamboo fencing. Since then it has expanded its workspace multiple times and added a variety of new products. In the process it made Inc. Magazine's list of fastest growing companies for 10 years.
Today, Cali Bamboo primarily sells flooring products with 50 to 60 percent being bamboo, 10 percent being decking and 35 to 40 percent being vinyl – which was launched in 2016, Vice President of Operations Frank Carvajal says.
"We've established ourselves as experts in the realm of sustainable building," Carvajal says. "The trick now is to expand our product offering and reach new audiences while remaining true to our roots."
Consumers Rule
Cali Bamboo is an omni-channel company that sells directly to end-users through its website, Lowes and smaller dealers as well as specialty chains such as True Value and Petco. The pricing is protected so products cost the same regardless of what channel they are purchased through.
The company has a refreshingly consumer-oriented perspective when it comes to product development. "Because we sell online direct, we are speaking with end-users every day," Carvajal says. "When we offer a product and they say, That's not what I need, my needs are this,' we go back and develop that product."
Over the years that has led to developing bamboo poles and slats, plywood, paneling, cork floor products, decking, bamboo lumber and other items.
That innovation and diversity seems to work. When Carvajal joined the company in 2015, Cali Bamboo did $37.5 million in sales. Its sales have increased every year with 2018 sales at $120 million. In 2019, Carvajal anticipates hitting $150 million.
"It's a combination of developing a product that meets the needs of the end-user and building the channels," Carvajal says. "Once you can demonstrate success, you can expand channels. We have products and we have customers. And we haven't optimized our entire distribution and market yet. There's a lot more to gain."
The Middle Ground
Having the right amount of inventory is always a challenge, particularly when introducing a new product. Not enough and a company can lose sales. Too much and a company is stuck with inventory that may not sell.
Cali Bamboo staked out the middle ground when it introduced its vinyl flooring. "We negotiated firm purchase orders with the factories but without [short term] dates," Carvajal says. "If it didn't use the materials in eight months, we would buy the stock. That way we could feed out the demand and not take [all the product] at once. We budgeted $25 million in sales to start but we realized $40 million in sales because we were able to quickly respond to market demand."
A second strategy to maintain the right amount of inventory is conducting forecasts for its customers. "My bigger dealers and Lowes, we look at what they sold the prior week, we forecast demand at a point of sale level and give them a recommendation on how much they need to resupply," Carvajal says.
The type of bamboo that Cali Bamboo uses for its products is grown only in China. While shipping bamboo from Shanghai to Los Angeles is straightforward, the trade war is a challenge. Due to tariffs "We are paying more for the same product," Carvajal says. "The market won't absorb a price increase so we have to absorb some of that cost."
Carvajal has taken steps to improve Cali Bamboo's supply chain. First, he negotiated with suppliers to reduce lead times. "Every month we give suppliers a forecast to plan production," Carvajal says. "Factories can plan raw materials, which allow us to lower inventory and shorten lead times."
He also sought out additional manufacturers, a task he repeats yearly. "That way there is more competition in price," Carvajal says. "And if we have capacity or production issues, we have multiple factories that can assist. Our aim is to at least dual-source all supply."
Carvajal uses NetSuite and Demand Solutions planning software to track inventory, costs, profit margins, sales value and other aspects of the supply chain. "The challenges are changing every day," Carvajal says. Having quick options and the ability to build out scenarios is crucial. You can't go [only] by experience."
The supply chain isn't the only priority for Cali Bamboo. The company has been declared a top place to work by the San Diego Union-Tribune multiple times. "It's a fun environment," Carvajal says. "There are social events. The CEO interacts with all people in the organization. You can bring your dog to work. We try to make it cohesive and interesting."