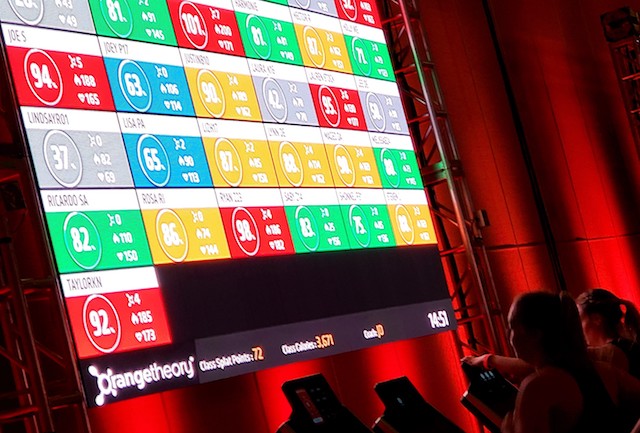 Orangetheory Fitness focuses on further developing its global fulfillment network as it plans to open 250 new studios worldwide this year.
By Janice Hoppe-Spiers, Senior Editor for Knighthouse Publishing
Orangetheory Fitness is more than a gym. It's a science-backed, technology-tracked, coach-inspired group workout designed to give people longer, more vibrant lives. "The company just turned nine years old and is one of if not the fastest-growing fitness brands in the world," Vice President, Global Products and Supply Chain Dave Urban says. "Our founders are passionate about the science behind the workout and we are a member experience company. It really is about the members and transforming people's lives."
Orangetheory is a one-hour, heart rate-based interval training workout that centers around the science of Excess Post-Exercise Oxygen Consumption (EPOC), which enables you to burn more calories long after your workout is over. Professional coaches guide members through their workout to ensure each participant meets their goals. The coaches provide options to the exercises for members with any physical limitations. This makes the workout accessible to people of all ages and fitness levels.
The company believes in tracking results with its connected OTbeat Technology that measures participant's heart rates and overall workout performance data. "We put a ton of money into technology that allows members to track their progress and performance. By wearing a heart rate monitor, members can see where they are in real-time," Urban emphasizes. "Our heart rate-based interval training is designed to produce results. We deliver the best full-body workout you can get in one hour and have built a cult-like following community of members."
The Boca Raton, Fla.-based franchise quickly expanded to include more than 1,100 domestic studios in 49 states as well as international studios open in 22 countries, and more than 1,600 franchise licenses awarded. With new locations opening all over the globe, Orangetheory currently has studios in Canada, the U.K., Mexico, Japan, Australia, the Dominican Republic and more. The company was ranked No. 60 in Inc. magazine's Fastest Growing Private Companies list, as one of the best workouts in America by Men's Journal and No. 25 in Entrepreneur's 2019 Franchise 500? list of the top franchises in the world.
Smooth Start-Up
Behind the scenes, Urban oversees the company's supply chain function ensuring every studio opens on time and remains up-to-date with the latest equipment, promotional materials and retail offerings. "The franchisees follow our plan and buy the vast majority of their studio infrastructure, fitness equipment and consumables through or from us," he explains. "Our five product lines include wearables (heart rate monitors and accessories), fitness equipment, retail (apparel), print and construction materials."
The supply chain team is responsible for supply demand planning, sourcing and procurement, fulfillment and on-time delivery to the network. Opening a new studio takes about 47 weeks domestically and the supply chain plays several roles in that process. "We are responsible for the contracting of materials required to set up the studio, including the furniture, lockers, flooring, lighting, etc., to get the shell of the studio ready," Urban says. "We also support the franchisees with the delivery of marketing and promotional materials prior to opening, set them up with their fitness equipment and ensure the shelves are stocked with retail products."
Orangetheory's supply chain is also responsible for ongoing replenishment of resale items such as heart rate monitors and retail apparel. "Our spring fashion apparel line went online in March for the franchisees to buy and resell, and we also offer a consumer-facing website for members to buy directly," Urban notes.
Strategic Sourcing
The company's go-to-market strategy is different for each product line. When opening a new studio, Orangetheory is somewhat hands off when it comes to the physical build-out of the location. It negotiates agreements with manufacturers for best pricing but leaves the securing of and moving product up to the franchisee and their general contractor.
To complete the fit-out of the studio, the supply chain partners with 10 suppliers for its fitness equipment, which is then aggregated by a transportation partner in a regional warehouse. The same transportation company also performs the last mile of delivery and installation of the product. "Our manufacturers primarily build to forecast and retain ownership of finished goods until we have a hard order in hand from a franchisee," Urban explains. "Our fitness equipment team turns an order from a franchisee into a hard order with a multitude of fitness manufacturers, a work order with the transportation and distribution company for aggregation of the product and final mile delivery and install. OTF owns it for a nanosecond when transferring title to the franchisee."
Orangetheory utilizes six aggregation centers throughout the United States where material is consolidated into a single shipment and transported on a specific date and time prior to the studio's opening. "That's a big event that occurs for the opening of the studio. Similarly, for any studio that has been open for three or more years that needs to refresh its fitness equipment," Urban says. "Fitness equipment is swapped out in four hours' time to limit the down time for studios. A lot of our studios close mid-day and then reopen at 4 pm, depending on the population and membership base. It's during those four hours the refresh installation is performed."
Orangetheory now designs its own heart rate monitors that are then contract manufactured in China, warehoused at a third-party location in Indiana and distributed to the studios as needed. Retail products follow a similar path and are housed in a distribution facility stateside. For its printed materials, Orangetheory partners with a third-party to host its website and supply a wide array of product including forms, promotional materials and advertising.
"Our supply chain is diverse and our go-to-market strategies are different, but at the end of the day we are responsible for ensuring we have the materials there prior to an event and prior to a studio depleting inventory, allowing franchisees to satisfy their members," Urban says.
Global Reach
Of its 1,172 locations today, 1,026 are located in the United States, 90 are in Canada and the balance is distributed throughout the world. Orangetheory's biggest challenge this year and into 2020 will be building out its international fulfillment networks. "It has the potential to impact our suppliers," Urban notes. "Dual sourcing strategies are a big focus and the playing field won't be level if our suppliers have international capabilities moving forward. Global expansion is a differentiator within the supply base. International expansion will be the challenge and I think it is for a lot of domestic companies continuing to grow. We need to focus on not being a U.S. centric supply chain organization and design solutions for the entire globe."
Orangetheory's supply chain will focus on driving lower landed costs and putting product in the hands of franchisees to resell and make money. "Although the vast majority of franchisee revenue is through membership, we want them to sell and remind their members to wear the heart rate monitor. We believe there is a huge benefit in members understanding their progress," Urban says. "That's the stickiness of why they continue to come back. We must reduce the international landed cost so the product pricing isn't prohibitive."
In addition to opening 250 new studios this year, Orangetheory's supply chain will also assist in the refresh of 180 to 200 studios. "It's not necessarily the pure studio growth that's challenging us but it's the expansion of the member base and the aging of equipment," Urban says. However, we haven't run into constraints and the volume is not insurmountable by any stretch of the imagination. From a supply chain and products perspective, we have never missed an opening and never delayed an opening because we couldn't get product there on time and that is absolutely something to be proud of."
Investing in the Future
Technology is at the core of what helps make Orangetheory's program successful. One-third of the company's staff at its headquarters is in the technology space as ongoing investments will continue to be made.
The company recently launched OTconnect, an interactive technology that delivers a member's heart rate data and performance metrics in real-time. "If you go into a studio you'll likely see tablets attached to the treadmill that provide personal stats and data right in front of you," Urban explains. "This technology allows you to start and stop different equipment and remembers where you are. With the old technology, none of that data was accumulated."
Orangetheory also updated its mobile app to deliver notifications of members' last workout statistics, track historical workout data and allow members to shop its retail products. The mobile app also allows members to schedule classes anywhere in the world while they are traveling.
"We are doing something good here at Orangetheory and it really is about making it simple for our members to get more life from their workouts," Urban says. "From my perspective, it's a huge win and I feel good about what we are doing. We have the potential to impact just about one million members' lives every day."