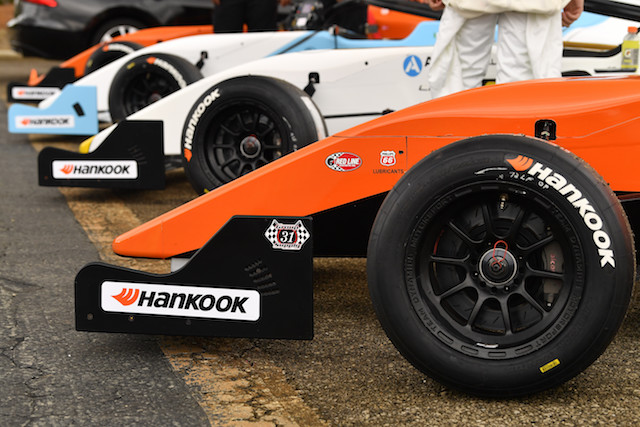 Hankook Tire America Corp. supports the global operation by finding unique solutions to market challenges.
By Staci Davidson, Senior Editor at Knighthouse Media
Hankook Tire is known for finding unique ways to increase its market strength, and it has deployed these techniques since its inception in 1941 in Korea. Additionally, the company's entrepreneurial spirit has been its driving growth, and it is widely recognized as the first tire company to benefit from economies of scale and a global supply system. Today, Hankook Tire has customers in six continents and more than 180 countries, and can respond quickly to customer demand by maximizing productivity and efficiency throughout its global supply chain.
The company has the capacity to produce 102 million tires annually from eight manufacturing facilities around the world, and it also operates five R&D centers globally and local offices in 30 countries. Its brand portfolio includes Hankook, Laufenn, Aurora and Kingstar, and is the tire supplier to OEMs such as General Motors and Nissan Altima. Hankook Tire America Corp.'s operations are based in Nashville, from which it distributes a complete line of high-performance and ultra-high-performance passenger tires, light truck and SUV tires, as well as medium truck and bus tires in the United States.
"We build a premium product, which consistently meets or exceeds customers' expectations," Director of Supply Chain Andy Appleton says. "We provide very good tires."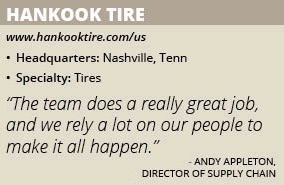 This is the result of the tires' inherent quality, but also Hankook's focus on innovation. Appleton notes the Nashville team is relatively new because the office relocated from New Jersey about three years ago, but this new energy has been helpful because new sets of eyes are examining existing challenges and coming up with creative solutions to improve the business.
"My group is responsible for the importation and distribution of Hankook product from the overseas plants to the U.S. market," Appleton explains. "Once a container arrives, we ensure the products are properly delivered, warehoused and supplied to our OEM customers. The team does a really great job, and we rely a lot on our people to make it all happen."
Enhanced Accuracy
Hankook Tire is well known for its quality – it has been named a Supplier of the Year multiple times by General Motors – but its market is quite competitive, so the operation always must improve and find ways to better serve its customers. The company focuses on listening closely to customers to be more attuned to their needs of faster deliver and reduced inventory. It recently launched a regional delivery program[AA1][MOU2], Appleton says, to deliver to customers that are within 200 miles of its distribution centers.
The U.S. operation has six distribution centers for replacement equipment and 11 distribution centers for OEMs. It bids its transportation annually, operating that arm of its business from the Nashville office. Appleton stresses that listening to its customers has been key in helping Hankook remain competitive.
"We are becoming more accurate in stock keeping," he explains. "We are in the process of implementing a[AA3] barcoding system for our distribution centers. Before, we had a visual count for tires in and tires out, but now everything is barcoded with handhelds. This has improved inventory accuracy and increased our inventory turns. All of these feeds back into a larger project from our global headquarters in Korea with a redesigned ERP. The goal is to pull tires to the market rather than pushing them."
The company is "placing a premium on accuracy," he says, so it is adopting more technology to improve. Hankook Tire America is looking into various business intelligence systems that could integrate with its new ERP, allowing it to make better business decisions. This even could include a business intelligence dashboard or business analytics system to provide further support. He notes, however, that the company's team will continue to drive its growth.
"Our people are challenged daily and always overcome these challenges with the right tools," Appleton says. "They will definitely make this company more successful and I wouldn't trade them for anyone. Our people do a great job."
Encouraging Mobility
Hankook Tire America is dedicated to supporting quality with its customers, while also supporting local communities. One way the company does this is by helping veterans through partnering with Disabled American Veterans (DAV), and last year it enhanced this by expanding its support of the DAV Mobile Service Offering (MSO), which provides free services to veterans and their families.
"Providing free assistance and services to America's heroes is so important to us at Hankook Tire, and as we conclude the fourth year of our growing partnership with DAV, Hankook is proud of how we've been able to have an even greater impact," Hankook Tire America Corp. President Hosung Suh said. "We greatly appreciate the support from all of our local tire dealers for hosting events that make it easy for our local heroes and their loved ones to get the assistance they deserve."