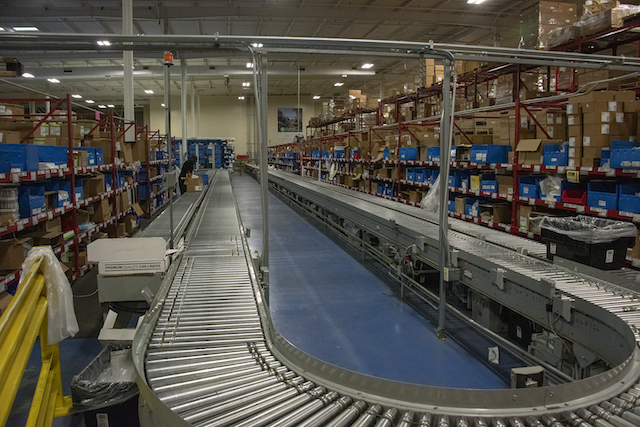 Centralizing supply chain distribution and becoming a physician-led organization garner significant savings for Prisma Health
Prisma Health is the largest nonprofit health organization in South Carolina, serving more than 1.2 million patients annually. The new company is comprised of two affiliates – Greenville Health System as its Upstate affiliate and Palmetto Health as its Midlands affiliate – with more than 30,000 team members.
"Physicians, nurses and other hospital personnel have a seat at the table when it comes to making decisions regarding clinical products," Executive Director of Supply Chain Chad Richard says. "This system-wide approach to product standardization and utilization has led to greater cost savings. In addition to being a physician-led organization, streamlining the procurement and distribution of products and services had led to great efficiencies and transparency between clinicians and supply chain."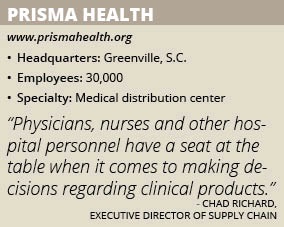 In revamping its old supply system, one aspect was to create a central supply and delivery hub for all of its hospitals and clinics. "Each facility had designated space for warehousing supplies," Richard says. "We leased a 125,000-square-foot warehouse space in Simpsonville [S.C.], which was central to our health system."
One added benefit was that each facility could convert those former hospital warehouse spaces to use for patient care. Using this central warehouse, Prisma Health supplies all of its network hospitals and outpatient facilities with everything from hospital linens to surgical supplies to pharmaceuticals.
Prisma Health uses an electronic warehouse management system to manage its warehouse operations. This system integrates its warehouse, transportation, labor and billing within a single application. The database program provides interactive dashboards, reports, analytics, business intelligence and mobile applications that allow management to make informed decisions within tight time parameters.
"This system allows us to place orders with vendors electronically and forecast the items we need to procure including supplies for seasonal shifts," Richard notes. "Our pick-to-voice technology tells our employees what items to select for distribution to our facilities while our conveyor systems deliver the exact supplies they need for a given shipment."
Bulk purchasing, in turn, has led to contracting supplies directly from manufacturers, thereby allowing the supply chain to negotiate deeper discounts. "We purchase stock directly from manufacturers, which allows us to keep inventory continually available and hedge against back-orders," Richard notes. "We are also able to participate in rebate programs."
Bulk shipments ease stocking requirements. "Many times, we purchase a whole truckload of palletized products, which translates to teams having to stock one item rather than sorting through a truckload of different products," Richard notes.
Staffing the warehouse has also been simplified. "[Our warehouse] runs in two shifts," Richard describes. "Our first shift is receiving and stocking, and the second shift is picking orders. With a self-contained fleet of delivery vehicles, we can maximize and optimize the delivery system to each facility from one hub."
Physician Input
Prisma Health–Upstate and Prisma Health–Midlands have combined their value analysis departments, which request input from hospital leaders – physicians, nurses and other clinicians – to reach a consensus regarding which products best serve their patients. This has garnered a standardization of products used throughout the system. In doing so, Prisma Health has narrowed its supply base – usually down to one or two suppliers – and significantly reduced both supply costs and inventory. "We now have lower cost models with all groups adhering to contracts that they had a hand in negotiating," Richard asserts. "It's greatly reduced rogue spending on specialty items and [we are] able to purchase in bulk."
Now, three years into its procurement and distribution program, Richard says that its distribution center actually generates revenue for the organization.
In both 2016 and 2017, Greenville Health System (Prisma Health) was awarded the Healthcare Supply Chain Achievement Award by the ECRI Institute. This award is given to health organizations for demonstrating excellence in overall spend management and for adopting best practices in its processes.
The ECRI Institute is a nonprofit organization that researches best practices and products that improve patient care. "This award is a testament to how our supply chain team, nurses, physicians and other clinicians collaborate to reduce costs while ensure the best quality of care for our patients," Richard says.