Northern Tool + Equipment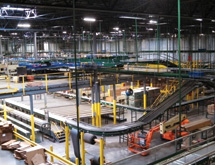 Serving the needs of customers in the United States, Canada and overseas, Northern Tool + Equipment carries more than 30,000 products on its website, catalog and in its more than 80 stores throughout the Southeast, South, Midwest and in Texas. Ensuring that these products are efficiently transported from their manufacturers to the company's distribution centers – and from there delivered to customers and the company's stores – is the responsibility of Blaine Rugland, director of logistics and supply chain.
Measuring 700,000 square feet, Northern Tool's distribution center and main facility in Fort Mill, S.C. – approximately 30 miles south of Charlotte, S.C. – is its largest. Most of the company's regular catalog sales and e-tailing orders are shipped from that facility along with retail store merchandise.
Another distribution center that mostly supplies the company's retail stores is located in Savage, Minn., near the company headquarters in Burnsville, Minn., which is south of Minneapolis. A new distribution center was built last August in Arlington, Texas, near Dallas that also mostly stocks the retail stores.
Northern Tool + Equipment integrates its inventory, store and catalog operations. "If we see inventory at another facility, we will make sure a mail-order customer is satisfied and will ship for that facility," Rugland points out. "There's always items we might not have in one location we have to send out of another facility that is going via mail order."
Free Delivery
Because of the greater inventory available on the company's website or in its catalog, customers may not always find the product they need in one of its retail stores. So for the last few years, Northern Tool + Equipment has offered its online, catalog or phone sales customers the option of ordering the product online or from the catalog and picking it up at a retail store near them instead of paying for shipping.
Even though the program is named "free store delivery," Rugland concedes that for Northern Tool + Equipment, that is a misnomer. It requires skill to ship free store delivery products most efficiently. "The challenge there is [that] obviously the customer wants it as fast as they can get it," Rugland points out. "So we have to look at how we serve the customer best and manage the costs. We think we're pretty good at that."
Northern Tool + Equipment also will use less than a truckload (LTL) or UPS to ship products to more remote locations.
No Fleet
As a non-asset-based transportation business, Northern Tool + Equipment owns no trucks or tractor-trailers. Instead, it relies on its truckload shippers and parcel delivery services to transport its inbound merchandise from manufacturers to its distribution centers and its outbound merchandise to stores and customers.
This approach also leaves concerns about Department of Transportation regulations to the shipping experts that handle the merchandise. "You can focus your knowledge and your capital on what's important – sales and selling those customers – versus having to tie it up in equipment," Rugland points out.
Shipping Rates
Being dependent on shippers means you might have little control over shipping costs, but Rugland's 10-person logistics supply chain team in the company's corporate headquarters has worked hard to overcome that challenge. His department has tracked its fuel costs back to the middle 2000s, and they have risen an average of 50 cents per gallon each year.
"Happily, we have some partners in our base that are very good as far as managing their costs and providing us with great service," Rugland says. "So it hasn't affected us that much on the truckload part of that."
Northern Tool + Equipment's logistics department also is working to reduce parcel shipment costs. One new cost reduction method has been UPS's SurePost service, in which UPS has its parcels delivered in the final mile to a residence by the U.S. Postal Service. UPS requires a contract with a business for this service.
Technology Helps
Northern Tool + Equipment's logistics department relies on the latest technology to track its deliveries. Advanced shipment notice (ASN) technology alerts logistics employees to inbound shipments from foreign suppliers. ASN technology also indicates whether a shipment is still on the water, at its port or awaiting clearance in customs.
Using full instead of partial truckloads of merchandise keeps costs lower, and Northern Tool uses a company that does dock-and-sell consolidations for inbound merchandise. An online system determines the least expensive carrier to use for partial truckloads.
For outbound shipment to stores from Northern Tool + Equipment's distribution centers, the company contracts with a group of reliable shippers it uses regularly for deliveries in certain regions.
Rugland attributes the success of the company's logistics operation to his cross-functionally trained employees, many of whom are long-term. "I'm really proud of my staff," Rugland emphasizes. "They all have the let's-get-it-done attitude and are very self-motivated. They're not afraid to do things."
He also praises his outside vendors, especially their longstanding partner StrategIQ Commerce, formerly known as IntraVex. They provide his company with the aggregation of business and supply chain information and analytical tools to reduce costs and improve order and product margins.
"Our team does a good job both collaborating and managing our vendors to ensure they can do their jobs and we can maximize the results," Rugland stresses.
Rugland's goal is to keep improving the company's data feed and analytics so it can obtain feedback on its performance. "The No. 1 thing is, we serve that customer, whoever that customer is – mail-order, individual or retail store customer – and I even look at our vendors as our customers," he concludes. "We want to make sure we satisfy everybody as far as how we handle the whole logistical process." ­­­