ARLANXEO remains a leader in high-performance rubber products by investing in its systems and supply chain.
By Staci Davidson
Major corporate mergers and acquisitions can provide strength to a company, but also can put an operation in flux as all the combined players figure out the best way to work together. Even so, business must go on. ARLANXEO understands all of this well, and is using its combined strengths to remain a world-leading synthetic rubber company, while investing in its supply chain to expand even further.
With its business operations divided between high-performance elastomers (HPE) and tire and specialty rubbers (TSR), ARLANXEO is dedicated to the development, manufacturing and marketing of high-performance rubber for industries such as automotive, tire, electrical, construction and oil and gas. ARLANXEO was established in April 2016 as a joint venture of LANXESS – a global specialty chemicals company based in Cologne, Germany – and Saudi Aramco – a fully integrated global petroleum and chemicals enterprise, based in Dhahran, Saudi Arabia. Since Jan. 1, 2019, ARLANXEO is a wholly owned subsidiary of Saudi Aramco.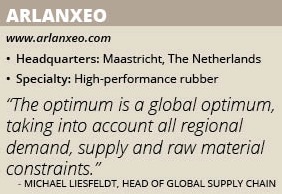 "The HPE business unit offers its customers a broad portfolio of technical rubbers," says Michael Liesfeldt, head of global supply chain. "As one of the leading suppliers of synthetic rubbers to the rubber-processing industry, HPE markets materials that have a wide range of industrial applications. For example, they are used as modifiers for plastic and adhesive raw materials, in gas and oil exploration and production, and in functional components for the automotive and cable industries.
"The TSR business unit offers a broad portfolio of versatile rubbers primarily for applications in tire production," he continues. "They are used in, for example, the inliners – the airtight layers – of tires, as well as for the tread, sidewalls and other tire components. Other applications include chewing gum, sports and golf balls, hoses and conveyor belts."
One Source of Truth
ARLANXEO serves a global customer base from numerous operations in 11 countries. With a global production footprint, Liesfeldt explains the company has the scale necessary to handle supply-driven challenges throughout the entire rubber supply chain. Additionally, the company's extensive rubber expertise, as well as R&D and application technology in-house, ensures it can provide customers with a broad portfolio of versatile elastomers. Even so, ARLANXEO is improving to enhance its operation and supply chain even more.
"We successfully implemented integrated business planning (IBP), a cross-functional planning process to achieve an optimal business operations plan and the best-possible asset utilization," Liesfeldt says. "The optimum is a global optimum, taking into account all regional demand, supply and raw material constraints. The IBP team will ensure that integrated supply/demand information is collected and analyzed, recommendations are given to appropriate functions and teams to assist in balancing short- and long-term supply, demand and inventory with optimized service, cost and flexibility.
"Sales demand does include volume and pricing to get a clear view on margins associated with each sourcing option," he adds. "The IBP process will develop the sourcing plan that generates the optimal margins for the business."
The implementation of IBP started about two years ago, and the company created an IBP team in Switzerland who are responsible for master-planning ARLANXEO's production. EY agreed the process was strong by combining volume with value, Liesfeldt notes, and IBP has become important because ARLANXEO is a bundle of mergers and acquisitions. The company has a high number of legacy systems, but it is streamlining these with "the newest technology that SAP can offer," he says, and a greater use of cloud systems. It is a big move to become integrated, but he expects the entire company to be on the same platform by the end of 2020.
"That will give us much better visibility for the data and there will be one source of truth," Liesfeldt says. "We will be able to check orders with an app connected to GPS, and we will be able to track and trace everything very soon. We are really trying to deploy smart technology from external companies because there is so much out there. We are also trying to select staff that have a certain track record in this. We are going down this path and it's a big change from the past, but we have the advantage of being a smaller player in a bigger company."
ARLANXEO has a big focus on getting new people into supply chain management, especially young talent. The company works with universities and has a 18-month rotation program for supply chain employees to learn the business. At the same time, the company has a lot of cultural issues to tackle, but Liesfeldt believes its talent and technology can help it resolve most issues.
"We have people from the Netherlands, Germany, Brazil, United States, Singapore and China, so people management is a big focus for us," he says. "With supply chain, there is always a surprise every day, but we can work through this quickly with systems."