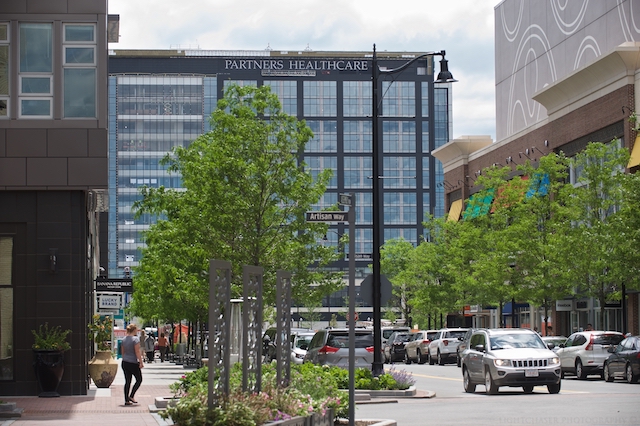 Partners Healthcare launches a new initiative that results in greater collaboration throughout its network to continue delivering the highest quality of care.
By Janice Hoppe-Spiers, Senior Editor at Knighthouse Media
Partners HealthCare's commitment to quality of care and staying at the forefront of research and innovation is what attracts 1.5 million patients annually from around the world to its network of hospitals and physicians. "I have a great team and I encourage them to think about the integral role they play in procuring the products and services used by our clinicians to deliver world-class patient care." Corporate Director of Supply Chain Lisa Scannell says. "We make sure it gets there on time, it's a quality product and cost effective."
Founded in 1994 by Brigham and Women's Hospital and Massachusetts General Hospital, Boston-based Partners HealthCare is a not-for-profit health care system that includes community and specialty hospitals, a managed care organization, a physician network, community health centers, home care and other health-related entities. It is committed to patient care, research, teaching and service to the community locally and globally.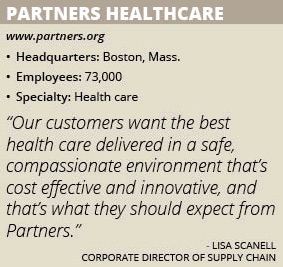 Collaboration among its institutions and health care professionals is central to Partners' efforts to advance its mission of serving the community. The health care system has more than 6,500 physicians and 9,100 nurses in its network. "Our customers want the best health care delivered in a compassionate, safe environment that's cost effective and innovative, and that's what they should expect from Partners," Scannell notes. "We are constantly thinking about how we support that."
Partners 2.0
As the health care landscape continues to evolve, Partners is focused on being more efficient and cutting costs while providing better care. "The value equation has to be there and has to continue to get better," Scannell says. "The Partners 2.0 initiative is a multi-year initiative to reduce cost by $500 million to $800 million over a three-year period. We started more than a year ago and supply chain is playing an important role."
The Partners 2.0 supply chain workstream, one of many, is comprised of more than 100 initiatives that will help optimize efficiency, quality and costs to achieve better health for its patients. "It is our obligation to manage costs and to seek new opportunities that will ultimately enhance the patient experience," Scannell says.
In terms of what the transformation means for the supply chain, Scannell explains it's much more than only negotiating better contracts and driving down prices. It's about determining what is value within its community and developing business strategies to support goals. "We must look beyond price to determine the true value of a product's quality, outcomes and service matter when evaluating a product or supplier," she adds.
As supply chain is the engine to generating ideas, Partners engages its stakeholders to develop a pipeline of opportunities and vet those through its value analysis teams. "We ask our stakeholders what they think, what can we do more aggressively or differently to move faster and be more agile," Scannell says. "This is not a one-way conversation; it's more of a collaboration to agree on a strategy and work together to achieve it. It often starts with supply chain because we are the closest to the data, monitor the external environment and work with our suppliers to understand where opportunities may exist."
The supply chain relies heavily on its physicians and clinician network to develop cohesive go to market strategies. "Our people are our greatest resource," Scannell says. For instance, "We engage our physicians through our value analysis teams and get input early on to support a clinically aligned supply chain. Our physicians are a vital part of the solution to achieve our goals. Building consensus, developing trusting relationships and sharing ideas all contribute to a successful initiative."
Partners uses industry benchmarking tools to gain visibility and ensure top-tier pricing. "Having access to benchmarks is a great starting point. We have evolved our analytics by incorporating supply chain, clinical and financial data to evaluate opportunities and inform strategies. The insights generated have helped us partner with our physicians to lower costs for procedural supplies," Scannell says.
The supply chain is also planning on implementing robotic process automation (RPA) processes or "bots" to increase efficiency. "We will be evaluating how we can apply RPA to free up our people to work on strategic and value-add initiatives," Scannell adds.
As technology continues to advance, Partners will keep up with the pace of change and focus on how artificial intelligence can be used to help support its operations and support its institutions. "We are at the beginning stages and are eager to explore how artificial intelligence can help transform supply chain," Scannell says. "Evaluating technology and what that means for the supply chain today will help us be forward thinking and build a foundation to prepare us for the future."