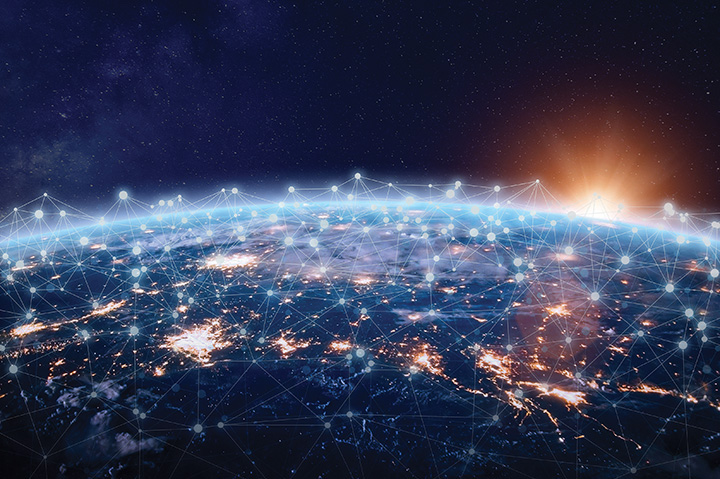 IoT is bringing positive changes in the way the transportation and logistics industries work.
By Suneil Sastri
IoT is a buzzword that's fairly new to the shipping, transportation and logistics industries; however, the functionality is not. For several years, shipping, transportation and logistics companies have been using machine-to-machine (M2M) solutions to improve their efficiency in being able to both trace and track the locations of their vehicles and devices.
While these firms may not realize it, M2M also has been and continues to be a part of the IoT ecosystem.
IoT is playing a crucial role in bringing positive change in the way the shipping, transportation and logistics industries work. In fact, the global spending on IoT in transportation and logistics is expected to reach $40B USD by 2020, which is a clear indicator that IoT is fueling growth in the sector.
However, despite the business growth and efficiencies that IoT offers to shipping and logistics companies, there are perceived risks around connecting IoT devices to networks and critical business applications. As industry experts are securing and managing connected devices, I would like to shed some light on the realities of implementing IoT and bust some of myths surrounding the technology.
Myth #1: "My costs will go up if I implement an IoT solution."
Reality: One of the most common myths that executives in the logistics space bring up is the high cost that comes with implementing IoT. The reality is that IoT solutions can save companies money by reducing fuel and maintenance costs.
Companies that have already deployed IoT solutions are experiencing a drop-off in the number of scheduled repairs and reduced maintenance costs for vehicles/vessels. For example, sensors installed in a vehicle that is connected to a fleet management system can recommend the optimal speed of the vehicle to minimize fuel consumption, or monitor the vehicle's diagnostics and mileage to alert drivers and management when vehicle maintenance is needed.
IoT also mitigates cargo losses during transit and storage. This is especially critical during the transport and storage of food items. Low-cost sensors that are installed on trucks, shipping containers or in warehouses can monitor the internal temperature, humidity and other parameters, to prevent spoilage. Additionally, these sensors also can provide the advantage of alerting the logistics company and the owner of the consignment about the possible breakdown of the refrigeration system so that it can be repaired quickly.
Myth #2: "I will need both technical skills and expertise to be able to implement an IoT solution successfully."
Reality: Companies can leverage IoT-as-a-service to get IoT solutions up and running quickly, and connected to their business applications. This managed service offering provides companies with end-to-end capabilities and equipment to successfully develop, implement and deploy IoT into their existing business without requiring skilled resources or heavy investment into IoT devices. Shipping, transportation and logistics organizations can use this service and pay for it just like they would a cell phone bill at the end of the month. With IoT-as-a-service, companies can focus on their core business rather than spend time and resources on creating a new IoT network and worry about implementation.
Before implementing any IoT-as-a-service, organizations need to do their due diligence in choosing a vendor with a proven track record of successfully implementing IoT solutions.
Myth #3: "I need to overhaul my business to be able to implement an IoT solution."
Reality: Companies considering deploying an IoT solution shouldn't worry about overhauling their business. Many IoT solutions providers offer cloud-based solutions that only require small changes in the internal processes. Several large system integrators and carriers also offer cloud-based IoT solutions and can help organizations in designing processes around the IoT infrastructure.
Organizations can augment their existing legacy location tracking solutions by adding low-cost sensor technology to capture additional information about vehicles and cargo. This has the benefit of prolonging the utility of their existing technology investments while allowing them to take advantage of the benefits of the IoT.
Myth #4: "My company data could be compromised."
Reality: There are a number of enterprise mobility management (EMM) solutions with proven records of securing network components for IoT endpoints. By investing in a reputable EMM solution, companies can secure all of their IoT end-points such as smartphones, tablets, handheld barcode scanners, vehicle-mounted electronic logging devices (ELDs) and even sensors installed in the trucks, containers or warehouses.
EMM solutions enforce security policies such as secure passwords, encryption of data on the device or data in transit, and can wipe and lock devices remotely in case they are lost or stolen. EMM solutions even provide the GPS locations of the devices and set alerts based on geofence policies.
Additionally, organizations can leverage remote support capabilities within an EMM solution to troubleshoot devices remotely.
Organizations can also choose to deploy dedicated access point name (APN) SIM connectivity which acts as a last mile multiprotocol label switching (MPLS) connectivity to secure end-to-end connectivity between IoT devices and application servers. Using security certified devices from known OEMs is another way of securing essential data in the IoT ecosystem.
Transforming the Industry
IoT is good news for the shipping, transportation and logistics industries and should be welcomed with open arms. Organizations shouldn't let the perceived myths around IoT stop them from embracing this technology.
For the companies that make the investment, IoT will provide them with new ways to increase profits and growth, and outperform the competition.
Suneil Sastri has over 15 years of experience guiding the development of software solutions to meet the needs of Fortune 500 enterprise customers. As director of product marketing at SOTI Inc., Suneil has turned his passion for creating software solutions into customer engagement strategies that enhance mobility strategies for business-critical operations with the latest technological innovations.