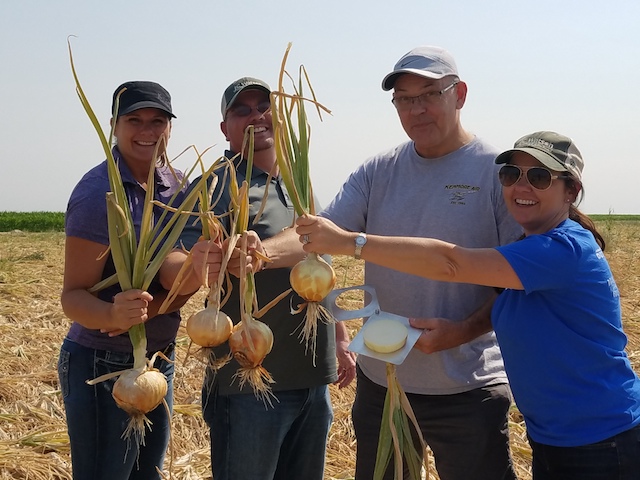 Bloomin' Brands rises above the competition with superior food and customer experiences.
By Alan Dorich, Senior Editor at Knighthouse Media
When customers dine at a Bloomin' Brands Inc. restaurant, they enjoy a savory meal and service from team members with a passion for both food and hospitality. ""We appreciate that guests choose to dine in our restaurants and we strive to thank them by making their day better!" Vice President of Global Procurement Kristen Brooks said.
The Tampa, Fla.-based company started operations in 1988 when four veterans of the hospitality industry wanted to open their own restaurant. To set it apart from other concepts, they created Outback Steakhouse, an Australian-inspired restaurant with a relaxed, friendly and fun image and a menu of steaks, chicken, ribs and seafood.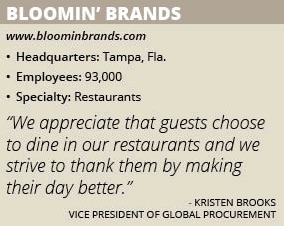 Today, the company's brands include Outback Steakhouse as well as Carrabba's Italian Grill, which has a variety of handmade Italian dishes; Bonefish Grill, which serves market-fresh fish from all over the world; and Fleming's Prime Steakhouse & Wine Bar, which offers prime steaks and a very elaborate list of wines. "We operate nearly 1,500 restaurants throughout 48 states and in 20 countries," Brooks said.
Each brand also shares Bloomin' Brands' philosophy of putting people first. "Many companies say that they are doing this, but you have to live it," she asserted. "Our people are the single most important thing to making our restaurants a great place to eat, drink, relax and be with friends – they are the ones connecting with our guests and creating a special experience."
This not only means serving its guests great food and making them feel welcome, but also treating its employees right. "Everyone here is part of a family," Brooks says. "It's a core value in our company culture."
The Right Partners
A 25-year veteran of Bloomin' Brands, Brooks joined the company in 1994 when she began working at Outback Steakhouse in St. Petersburg, Fla. Although she had planned to be a school teacher. "I was very fortunate to be close to the Restaurant Support Center in Tampa," she recalled. "Our founders believed in growing from within and I had many opportunities to grow with the company."
Today, Brooks oversees more than a dozen team members responsible for the procurement of food and supplies for the company's collection of restaurants. Bloomin' Brands manages the day-to-day by leveraging their relationships with great supplier partners.
"The people we partner with in our supply chain are truly an extension of our team," Brooks says, noting that the company partners with those that view its business as a marathon and not a sprint.
Brooks said the success of any good partnership is shared – good and bad – which requires supplier partners to be hands-on and integrated in Bloomin' Brands' operations and culture. "They philosophically have to be aligned with our mission," Brooks said, noting that this is required in the process of taking products from the farm to the table.
"We want our suppliers to be fully invested in delivering on our promise to our guests," Brooks says. "If they don't believe in that, they aren't the right partners for us."
Under Pressure
Bloomin' Brands is coping with competition in the casual-dining marketplace. With the number of dining options, Brooks said Bloomin' Brands thrives by setting itself apart. "We're delivering quality ingredients and a better dining experience," she said, noting that the company continues to maneuver economic challenges such as commodity inflation, labor and freight.
"We continue to battle the industry headwinds with our supplier partners, manically focused on driving out cost and simplifying our processes to deliver the right productivity for all parties within our supply chain," Brooks said.
But as it copes, Bloomin' Brands remains cost concise while it strives to deliver the most value to guests, according to Brooks. "We do not want to risk sending our guests to another restaurant or choosing to cook at home," she said.
Paying it Forward
Brooks is proud of her 13-member team at Bloomin' Brands. "They do heroic things every day," she says, noting that her team takes time out of their workday and personal lives to participate on education panels and volunteer for various charities.
Some team members will soon appear on a panel at the University of South Florida. "As former students, they want to pay it forward and teach supply chain so there's more supply chain [associates] coming out of these universities," she said.
Brooks' team members also regularly participate in industry organizations, such as the National Restaurant Association as well as charities. "There are two people on my team [that will be] feeding the homeless at their church and sponsoring school fundraisers," she said. "They're doing amazing things."
Aiming to Grow
Brooks sees a strong future for Bloomin' Brands, which frequently reviews how it delivers products and services to its restaurants. "We focus on finding efficiencies within our supply chain and work with the right strategic suppliers to position ourselves for growth and drive margin improvement," she said.
The company has also strategically rolled out delivery at its restaurants. "Off-premise dining is certainly an area of growth, allowing us to capitalize on the growing demand for guests to enjoy restaurant meals at home," Brooks said. At the end of 2018, Bloomin' Brands had over 450 restaurants with delivery. The company expects to complete the roll-out of delivery locations by the end of this year.