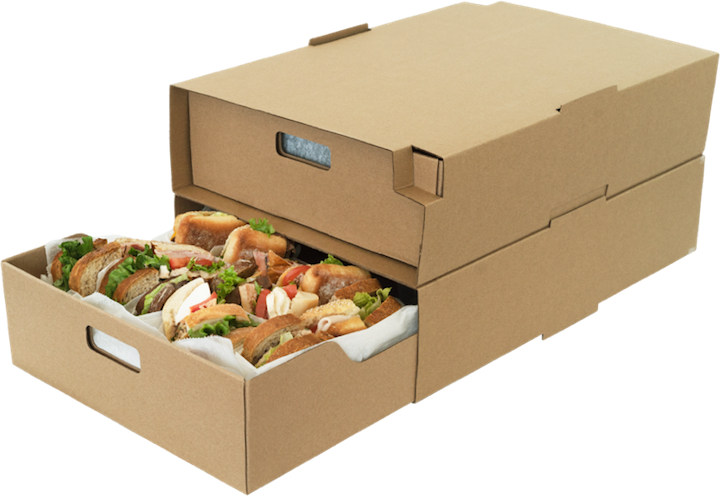 LBP provides customized sustainable products for quick-service and fast-casual restaurant chains.
By Alan Dorich, Senior Editor at Knighthouse Publishing
Some companies are content with offering a standard, off-the-shelf solution for their clients' challenges, but LBP Manufacturing LLC prefers to take a different approach. Director of Supply Chain Urszula Bailey explains that the firm is more interested in providing a customized solution that takes a holistic view to meet not only all of the customers' needs, but delights consumers as well.
"Because LBP is comprised of thinkers and innovators, we work to solve problems for our customers with our intuition, insight, experience and entrepreneurial culture," she says. "It is a core value for the culture within LBP."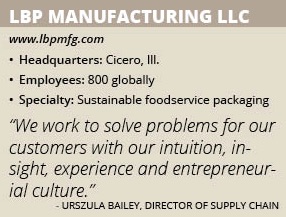 Based in Cicero, Ill., the company specializes in innovative and sustainable foodservice packaging for fast-casual and quick-service restaurants (QSRs). LBP's history goes back to 1893 when it was established as Levin Brothers Paper, a distributor of packaging goods for the Chicagoland area.
But a century later, the firm implemented the LBP Manufacturing namesake and made the shift from a distributor to a manufacturer. That year, it also introduced the iconic foodservice product, the Coffee Clutch® hot cup sleeve.
"It established the company as an innovator in the industry," Bailey says, adding that the company has introduced more inventive products over the years. These have included Beverage on the Move®, a disposable bulk coffee carrier, that serves up to eight people that it launched in 2003.
In 2004, it grew its corrugated converting expertise to F-flute clamshells, which added a new category of packaging products to its line. The following year, LBP introduced its catering product line, with its Soup-N-Serve™ and Catering Trays.
Today, LBP's products also include a range of sustainable products to serve restaurants growing channels in catering, delivery and takeout. "We're able to offer a full portfolio of solutions," Bailey says, adding that it serves many of the top 10 national QSRs/fast-casual restaurants.
According to Bailey, LBP's intimate understanding of its customers' needs and goals has allowed it to thrive. "We think about the problem and quickly focus on how to solve it," she says. "We are able to rapidly put those ideas into models."
This helps point its internal team in the right direction. "We concentrate on exceeding our customers' expectations and goals and focus on solutions that provide direction for the rest of our team," Bailey says.
Applying Experience
Bailey joined LBP in 2018. "The last 13 years of my career have been in various roles of supply chain management in different manufacturing industries," she says, noting that this included the packaging of food mixes and powdered beverages as well as protective packaging.
"When I joined LBP, I was able to take advantage of the experience at both of those types of manufacturing industries and apply my skillset to the portfolio of products that LBP manufactures," she says, noting that her No. 1 focus area in supply chain has always been to actively align the supply chain strategy to support the corporate goals of future growth, innovation and sustainability.
Bailey leads the Sourcing, Logistics and Planning departments at LBP. Her teams' No. 1 goal is OTIF, On Time In Full, delivery.
"In order to do that, we put a lot of emphasis on demand forecasting," Bailey says, adding that LBP works diligently with its customers to understand their long-term forecast for demand.
"Precise information is not always available," she admits. "Therefore, we often forecast the demand on the basis of historical data and cross-sectional data. Our sales team works closely with our customers to understand their projections and we monitor the order patterns and seasonality in order to implement the best forecasting models for given categories of product."
Critical Processes
"LBP continues to refine and optimize processes and communication for continues improvement. This helps us to plan and execute but also allows us to flex quickly to changes," she says.
"Our integrated business management process captures in great detail the forecast for all the process phases and components," Bailey says, noting that the model helps LBP plan production and monitor the capabilities of its suppliers to ensure consistency. "That has significantly helped us understand the demand of the products offered by our company."
Another focus for LBP's Supply Chain team is optimizing its inventory levels so it is well stocked for production. To support that initiative, LBP's supply chain team is in the process of optimizing their material pull system and taking it to the next level. "That will help us better understand the minimum inventory targets across the entire supply chain network," Bailey says.
Under Bailey's leadership, LBP's Supply Chain has also developed and monitors key supply chain performance measures. "We can't improve what we don't measure. Making sure that we're monitoring how we are tracking against set goals is a critical component of any successful operation," she says.
Key Players
Bailey takes pride in being a member of LBP's team, which features associates who are all moving towards the same goals. "Because of the team we have built at LBP, where the employees demonstrate a true passion for the company's success, we are able to thrive," she says.
"We collaborate in a very positive team environment, so people are empowered to get the job done well," Bailey says, noting that she also considers the company's vendors to be key to its success.
"I've always looked at suppliers as strategic partners for the company and have always treated them as such," she says. "It's necessary for there to be a partnership, especially with strategic suppliers, and not just a short-term opportunity. One of the most important supply chain responsibilities is to partner with suppliers who will assist us in achieving our future goals."
Bailey predicts a strong future for LBP. "I see the company growing and expanding their portfolio of solutions," she says, noting that the company is positioned well to navigate the current food service climate.
With legislation banning the use of food containers made of polystyrene, clients will look for more sustainable, paper-based options that LBP can provide. "While we have expertise and understand material science across many substrates, we do not produce polystyrene foam products," she notes. "We've always been mainly a paper-packaging supplier."
SIDEBAR – Expanding the Portfolio
LBP Manufacturing LLC recently has been in growth mode. In 2017, LBP opened its doors to a new facility in Jessup, Pa., to expand manufacturing and supply chain options. In 2018, the company acquired Dominion Packaging's Quick-Service Restaurant business, which was a leading producer of folding cartons for national QSR brands. "It really helped us expand the portfolio of products we offer to our existing customers," Urszula Bailey says.
She adds that more acquisitions may be in LBP's future. "We are always looking for ways to improve and expand our offering in order to provide our customers with value and a wider array of products," Bailey says.
In addition to its headquarters in Cicero, Ill., LBP Manufacturing has expanded its reach internationally with locations in China and Poland. The company also has its Innovation Center located in Westchester, Ill.
Only a few miles from Cicero, "This facility boasts 6,000 square feet of customizable space, dedicated to launching fully validated and vetted, first-time quality products," LBP says, noting that it also has locations in Chicago and Jessup, Pa.