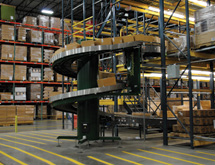 It might not get recorded in grade school history books, but for Ollie's Bargain Outlet, 2008 was the year that changed everything. That was the year it made one key decision that would help to nearly double its footprint and provide a way to improve its distribution costs relative to its significant growth.
"When I started here in 2008, we had 65 stores and it took 25 years to get to that number," Director of Distribution Jeff Glass says. "In the last five years, we've opened another 60-plus stores. It was part of an aggressive growth plan that necessitated a more robust distribution operation, bigger volume, more throughput and more automation."
Ironically enough, Ollie's Bargain Outlet was able to achieve the "more" it was looking for by eliminating excess. In 2011, the Pennsylvania-based company with outlets in Maryland, Delaware, Virginia, West Virginia, New York, New Jersey, Ohio, North Carolina, South Carolina, Kentucky, Michigan and Tennessee, went down from four warehouse and distribution centers to one consolidated warehouse and distribution center.
"In 2008 it was strategically decided to consolidate into one facility, and it's why I joined the company – to be involved in that project," Glass says. "We made the decision in 2009 to go ahead and build the new facility just north of York, Pa. We opened this center and began taking receipts in 2010 and were fully operation in early 2011."
Cutting Costs
Glass says the new 603,000-square-foot location has improved every facet of the distribution process. The company has moved away from an inefficient process with wasteful double loading and trans-loading into a more streamlined process. In the past, the company shipped from two of its four buildings, which meant that cases were moved from building to building before reaching their final destinations. Now, product comes into one building and goes out the same building, reducing the cost of handling cases.
The consolidation has also translated into savings on transportation costs. Ollie's Bargain Outlet contracts five carriers to distribute its products from Pennsylvania to locations in one of the many states in which it operates. With its previous setup however, the company was never able to fully leverage this service.
"Because we shipped out of two buildings in the old environment, we never totally maximized those trailers in terms of space," Glass says. "But now, we've been able to take all of the product and put it into one box. We've been able to utilize the trailer cubes a lot better and combine more deliveries in one shot, so we get a real transportation cost savings."
Glass says the improved processes have also improved relationships with the most-necessary factor in any company: the people. Before the consolidation, associates were moved from one building to the next, forcing them to constantly adapt to new procedures. It was frustrating for everyone involved. Today, associates come to one building. They know where and who to report to, providing them with a more consistent workplace.
Getting the most out of its investments is wholly in-line with what Ollie's Bargain Outlet is all about. Ollie's is America's largest retailer of closeouts, excess inventory and salvage merchandise. Its buyers scour the world looking for closeouts, overstocks, and package changes from manufacturers, retailers, insurance companies and liquidators.
"Somebody else's problem ends up being our benefit," Glass explains. "If someone has excess inventory, we can take that from them and in turn provide a great value for our customers. We are opportunity buyers, so when goods are available, we have to take them and store them regardless of whether we are shipping immediately or not. About 65 to 75 percent of our outbound is done on a quick turn where it comes in today and goes out tomorrow. The other 30 to 35 percent gets held here from a couple of weeks to a couple of months."
Leveraging Technology
Because of the nature of its business – one where Glass can get a call saying 50 truckloads of product will be delivered in two weeks – the company has to stay nimble and flexible enough to take on opportunities as they arise. Having one building has worked wonders, but so has the technology the company employs.
The company has a full RF suite with barcode scanning to manage picking, put-away and replenishment. It also uses a mobile receiving workstation fitted with RF technology that it moves from dock door to dock door to handle trailer receiving. It has also added a conveyor shipping sortation system with 28 parallel diverts that direct products to the correct shipping doors, helping to bring Ollie's conveyable rate to 75 percent of outbound products. In addition, a new pick-to-light-system which tells associates the number of cases to pick has improved picking accuracy.
The consolidation and technology investments have given Ollie's the flexibility and capacity to support its fast growth over the last five years. Glass says it will continue to support the company's near-term growth, as well. Last year, it made its Michigan debut with two new stores. In 2013, Ollie's will continue to pursue new markets and expand in existing markets.
"As of today we are operating the DC 24 hours per day, five days per week, and expect to grow our store count another 20 percent this year," Glass says. "We would not have been able to grow our store base without adding significant costs if it weren't for this new building. It's proved to be a landmark moment in the history of the organization, frankly." ­­­