Torsion Group is making capital investments to expand its manufacturing and distribution capabilities.
By Kat Zeman, Senior Editor at Knighthouse Publishing
A value-added distributor and manufacturer of commercial and residential garage door parts and accessories, Torsion Group is making improvements to its distribution process and manufacturing capabilities this year.
The Strongsville, Ohio-based company serves more than 4,000 OEMs, installers, contractors and dealers in North America. In 2016, the company was purchased MCM Capital Partners, a private equity firm focused on acquiring niche manufacturers, value-added distributors and specialty service companies generating up to $75 million in annual revenues and having enterprise values up to $50 million.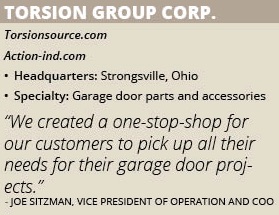 As a result of the acquisition, Torsion Group operates under two brands – Torsion Source and Action Industries. Torsion Source is a full-service engineering, manufacturing and supply chain resource for the garage door industry. It supports OEM manufacturers with custom engineering support, supply chain management, value-added services and a vast inventory of garage door components.
Action Industries distributes weather-seal components and accessories for the garage door industry. It offers a wide range of products that include weather seals, moldings, decorative trim, aluminum and vinyl retainers, brush seals, springs, cables, hardware and accessories.
"We created a one-stop-shop for our customers to pick up all their needs for their garage door projects," says Joe Sitzman, vice president of operations and COO. "I've been with the company for seven years, joining in the infancy of our manufacturing group and have seen it grow and build from one to nine production centers today."
Standardizing Distribution
Torsion Group operates seven extrusion lines for plastics and rubber, one thermal forming line and a frame-welding line. In addition, it has a 30,000-square-foot manufacturing facility in Evansville, Ind.
Its Action Industries brand has a new and improved distribution process that is being implemented in phases this year.
"We are standardizing distribution operations using a new lean process," Sitzman says. "The purpose is to eliminate wasted motion and improve on-time delivery to 95 percent plus. We were about 60 percent last year with lead times that extended three to five days. Now we are shipping within one day for 95 percent of our orders."
Torsion Group invested roughly $100,000 into the new process, which included upgrades to its packaging equipment. The process was implemented at the company's Strongsville location in January, its Atlanta location in February and will implemented in Phoenix in July and Milwaukee in September.
"We went from being a cellular pick-pack process to being more of an assembly process by utilizing specialized carts and multiple people," Sitzman says. "Instead of one person being a picker and packer, we streamlined job descriptions to pickers or packers to improve workflow and standardization."
Streamlining jobs also results in better efficiency because two people review the product instead of one. "It eliminates mistakes and improves on-time delivery," he adds. "And there's a shipper in each location as well."
New Capabilities
Last year, Torsion Source introduced a new core competency when it added an EPDM rubber extrusion production line to its manufacturing facility.
A high-density synthetic rubber primarily used for outdoor applications, EPDM rubber is ideal for manufacturing weather seals for garage doors. Torsion Source also offers brush and vinyl weather seals.
"We added a different type of rubber extrusion line to handle EPDM rubber, which is a more expensive but more durable material for garage door weather seal applications," adds Sitzman. "We can now also sell them the high-end rubber, which we manufacture internally. We did a great deal of vertical integration in 2018."
In addition, Torsion Source added a new thermoforming process to its manufacturing capabilities. Used for window inserts, Torsion Source can color match and produce a custom fit and finish around the windows of a garage door that is normally reserved for the windows and entry doors of a home.
In the near future, the company plans to make further improvements to its manufacturing capabilities. It plans to double the size of its manufacturing facility in Evansville by adding roughly 30,000 square feet of dedicated manufacturing space next year.
This year, Torsion Source is also adding injection molding as a new process at its manufacturing plant. "We will be able to do injection mold window frames as an alternative to welded frames," Sitzman says. "Adding injection molding will allow us to get into high volume window frame production."
Torsion Group's national footprint, expansive product line, manufacturing capabilities and dedication to same-day fulfillment offers a compelling value proposition for its customers. But Sitzman says that the company's success is the direct result of another element.
"Our human capital is our biggest asset," he says. "We are driving a culture of change in our business to streamline and improve efficiencies and communications. As our company grows, our goal is to bring everyone together. Instead of being four business in five different cities, we are now one company as Torsion Group and we're moving into the future."