Oil-Dri Corporation of America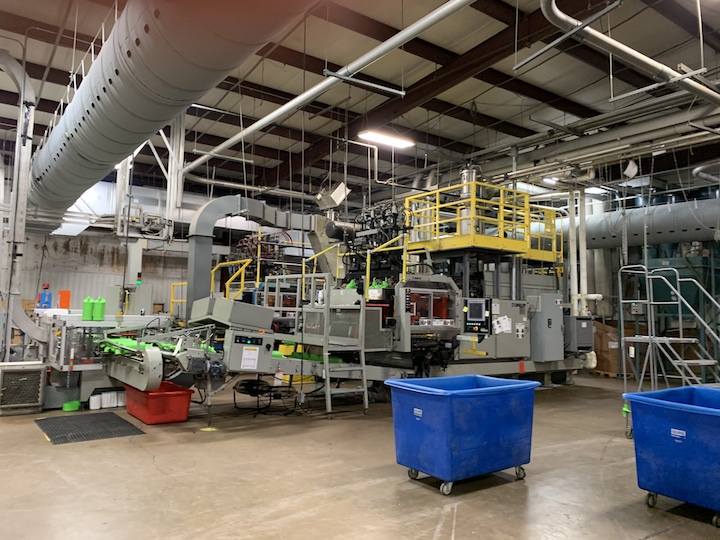 Oil-Dri Corporation of America gets back to the basics in its supply chain to prepare for future growth.
By Janice Hoppe-Spiers, Senior Editor at Knighthouse Publishing
Oil-Dri Corporation of America focuses on its customers and delivers what they need, which is why it has commanded market share in many of businesses for more than 75 years. "Our company is prospering in this current economic climate with the strategy of best product, best service with the lowest cost," COO Molly VandenHeuvel says. "That is a strategy that will withstand all economic climates – keeping the customer and consumer needs first."
Nick Jaffee founded the Chicago-based company in 1941 when he brought his two sons, Robert and Richard, to the Sears Roebuck garage on 79th and Stony Island and demonstrated how the clay would work as a floor absorbent in the grease pits of the manufacturing and automotive industries and ultimately made his first sale. At the time, the company was known as Roberts & Richards Corporation and the first branded product was named FLOOR-DRI, which Jaffee sold throughout Chicago.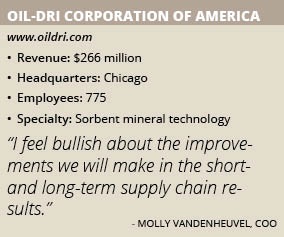 Today, Oil-Dri's mission is "Creating Value from Sorbent Minerals," which translates to both consumer and B2B businesses such as cat litter, industrial and automotive, animal health, fluids purification, agricultural and sports field industries. "We mine, process, purchase, package and sell minerals such as calcium bentonite, sodium bentonite, attapulgite and diatomaceous shale," VandenHeuvel says. "Our mineral ore primarily contains hydrated aluminosilicate minerals, showing low-bulk density, high surface area and extensive porosity. Such physical features impart the versatile performance benefits of a high absorption capacity for fluids and numerous adsorptive sites for binding impurities."
Back to the Basics
Oil-Dri is doubling down on the basics of Integrated Business Planning or S&OP to position itself for continued growth in the coming years. "I have found in the past that breakthrough results don't generally come from a few magic bullets; it comes from a dedication to excellence, continual improvement and total employee engagement," VandenHeuvel says. "We are executing against that strategy by deploying the principles of S&OP/IBP and refining these processes."
VandenHeuvel came aboard Oil-Dri as COO in April, bringing with her more than 20 years of experience in the retail industry. "I am relatively new to Oil-Dri and the mining industry, but there is overlap in the retail and B2B outlet with my prior experience," she says. "I have found that many business essentials and leadership transcend different industries – the principles still apply. I am leveraging my experience in Class A S&OP/IBP capability, exceptional supply chain execution and continual improvement, utilizing the experience and expertise in people, teammates, suppliers and customers and overall lean management such as visual controls, root cause analysis and mitigation or improvement plans. I have proven that these approaches are successful many times over in many industries."
Oil-Dri is developing a long-term strategy in supply chain focused on the "4 Cs," which are customer, cost, cash and capability. First and foremost, the company focuses on the customer whether that be overall on-time service, highest quality or meeting and exceeding expectations. Once customer needs are met, Oil-Dri focuses on dramatic cost reduction that include things like energy savings, optimizing manufacturing sourcing and planning and dramatically reducing waste.
Oil-Dri's third area of focus is cash management, which includes reducing inventory while maintaining service and timing of cash payments to optimize cash flow. Last but not least is capability, which includes building capability in people and systems to support the results needed. "I feel bullish about the improvements we will make in the short- and long-term supply chain results," VandenHeuvel adds.
To support its growth and maximize its efficiencies, Oil-Dri implemented a new ERP system about one year ago. Since implementation, many improvements have been made, and the company is working on leveraging the efficiencies of the new system. "The new ERP system is a prime example of how we need to leverage people and processes to better utilize the new ERP tool," VandenHeuvel says. "My approach is back to the basics and it's never done me wrong in all different industries and even different levels of capabilities in a company and that's our focus."
Leading the Way
VandenHeuvel is one of six corporate officers in Oil-Dri and four of the officers are women. "It's pretty cool and in the mining industry, that's quite unique," she notes. "Oil-Dri has strong female leadership, which was an indication to me there is a lot of support for women here. It wasn't the reason I came, but was definitely on the plus side."
The culture at Oil-Dri is what ultimately attracted VandenHeuvel to join earlier this year. "The success of this company has been and will continue to be due to the people and the team working together," she says. "There is a 'can do' and 'we will figure it out' attitude all the while still having fun. The leaders here have also cultivated a culture where it's ok to push and make some mistakes as long as we learn and improve from those."
VandenHeuvel is no stranger to being part of a team. During her time at Kraft Foods, VandenHeuvel joined AWESOME, Achieving Women's Excellence in Supply Chain Operations, Management and Education. "it's a very supportive group of women who learn from each other and provide a strong network if needed," she says. "A couple times I needed help and the women in that group – who some I didn't know that well – who really stepped out to help me. It's a great example of women supporting women in supply chain."
Throughout her career, VandenHeuvel says utilizing women's networks has brought her support in a variety of ways. "They have offered me general advice or even just a listening ear," she remembers. "My advice to women in supply chain is to utilize these networks because sometimes women can underestimate how much support you can get and to leverage that. I started a happy hour with women in my division at one of my previous companies and it was fabulous. I met some of the smartest people I had met in a long time. Some of the women who attended were in different departments or different functions, but after this networking we all knew we had a newly developed cross functional or departmental support in meetings and resource help. Leverage that network and don't underestimate the power of it."
Moving forward, Oil-Dri will continue to focus on what makes it different – it's emphasis on honesty, ethics, diversity and compassion. "Everything we do, we do with integrity while keeping those values at the forefront of our minds," VandenHeuvel concludes.