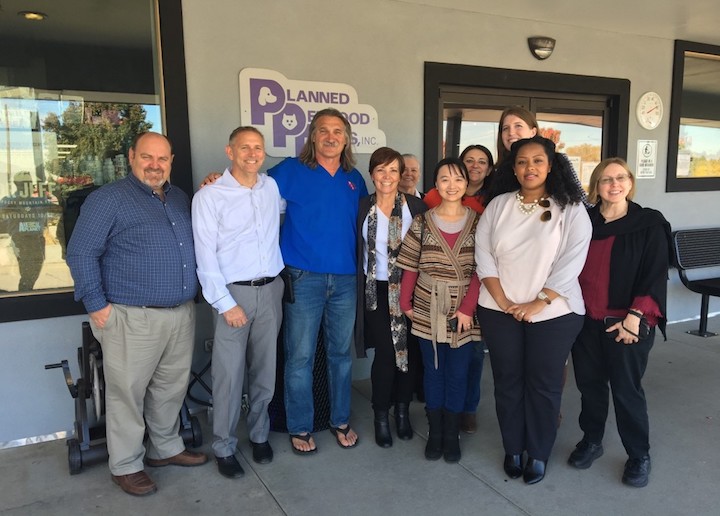 Patterson Companies consolidates supply chain a century after founding.
By Mark Lawton
Organizing a supply chain department and processes at a new company wouldn't raise any eyebrows. Tiffany Mercuri and Susan Grelling created supply chain at a 142-year-old, $5 billion publicly-traded company.
Patterson Companies is a medical supplies conglomerate that that distributes veterinary and dental products. It was founded in 1877 and expanded over the decades into a $500 million company. The company went public in 1992 and began being traded on NASDAQ, which increased Patterson Companies value to $5 billion.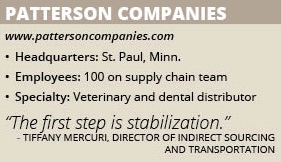 The company distributes "hundreds of thousands" of different types of products. On the dental side, its customers are mostly individual and small dental practices. On the veterinary side, the customers are individual veterinarians, group practice and animal producers such as those with pig or cattle lots.
Most products from Patterson Companies are distributed by ground parcel companies. One of every two UPS trucks on the road is delivering a Patterson package, the company says. Of its customers, 96 percent are served by one-day ground delivery. Every day the company processes 45,000 orders and 63,000 packages with more than 99 percent accuracy.
Customers are seeking products at a competitive price with timely delivery. "There is a lot of competition," Vice President of Supply Chain Susan Grelling says. "There are multiple channels that dentists and veterinarians can go to get what they need."
Consolidating Supply Chain
One would think that a company of that size, value and age would have had a centralized supply chain no later than World War 1. That's not the case. "I was brought on to consolidate the supply chain," Grelling says. "Under the old system a lot of these functions were decentralized and separated."
Step No, 1 was to create a department. The supply chain team of over 100 is diverse in race, gender, education and sexual orientation. "We look like the United Nations," Grelling says. "They come up with solutions quickly. Having that diversity has added to diversity of thought and bringing new solutions to longstanding challenges the company has. We have had an amazing amount of success in a short time."
Step No. 2 was to understand how the existing system worked. Grelling brought on Tiffany Mercuri as director of indirect sourcing and transportation.
"We didn't have an indirect sourcing team and we didn't know what we spent," Mercuri says. "Everyone was a buyer. We had thousands of people buying things and negotiating their own rates. We were brought on to leverage that spend and put policies and procedures into place to add value to the bottom line."
Indirect spend includes categories such as IT service, software, travel and real estate.
Mercuri and Grelling started by developing relationships with people across the organization. Next, they began asking questions. What are the challenges in respect to supply? What is important to them and the stakeholders?
"Sourcing was a brand new field," Grelling says. "[We asked] how big is your spend? How big is your team?"
"A lot is understanding who is spending the money and educating them on a better way to do it," Mercuri says. That meant negotiating regional or national contracts.
Step No. 3 was putting together a sourcing process. The department started negotiating contracts at corporate level. "That identified where the money was at," Mercuri says. "We put in more compliance [rules] so rogue spending was controlled."
There were, of course, challenges. "There is a long history of that entrepreneurial spirit," Grelling says. "Everyone wants to manage their own profit and loss."
Mercuri agrees. "There were a lot of people that like to do things the way they've always done them," she says. "Being an older culture, it was hard to gain buy-in."
Gaining that buy-in required educating people on how the supply chain department can help when it came to Request For Proposals, reducing inventory and new ways to more efficiently use SAP. "More than anything, my team spends a lot of time collaborating and developing relationships internally," Mercuri says.
It has taken three years but the new supply chain team has been successful. The savings on direct spending is "significant," Grelling says while on the indirect side the company has saved $15 million over the last two years, Mercuri says.
Next Steps
"It's a work in progress," Grelling says. "The way supply chain in general stays relevant is to look internally and externally and figure the best solutions in terms of service, cost and reliability. The decision to centralize it came at a time when it makes sense. When different criteria emerge, our team should be the first to propose what to do and how to do it. So much of the competitive advantage has to come from supply chain. You can have all the bells and whistles but those mean nothing if you can't deliver basics at a competitive price. Our job is to be an agile supply chain that is absolutely committed to designing solutions that make the company as profitable as possible."
"If you think about a company that is in turnaround, the first step is stabilization," Mercuri says. "Our team has stabilized the supply chain hand in hand with the logistics team. Now the base provides the sales team and customer focused team stability to grow the topline."
Next steps include how to incorporate artificial intelligence into the supply chain to forecast growth and evaluating the accuracy of that forecasting. On the sourcing side, Grelling would like to consolidate the three software systems that handle supply chain data.
Women in Leadership
In April, Patterson Companies was honored at the Women in Leadership forum organized by Twin Cities Business. Patterson Companies was recognized for women taking up more prominent roles in leadership and an increased emphasis on strengthening career development.