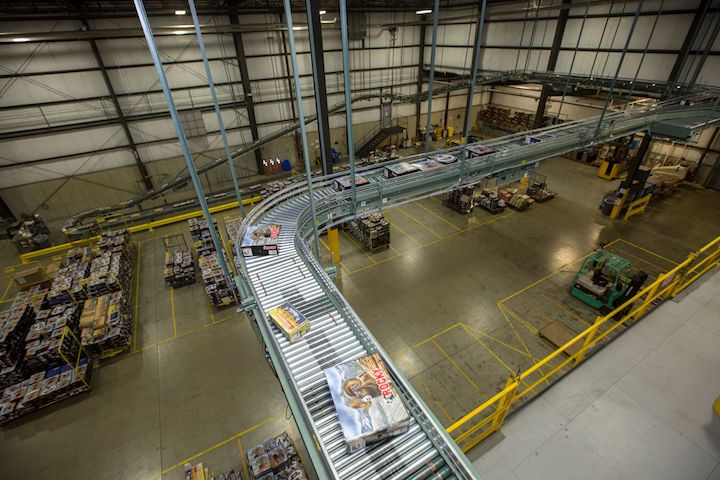 Rocky Brands transforms its supply chain with reprioritizing and employee help.
By Mark Lawton, Senior Editor at Knighthouse Publishing
Rocky Brands designs and manufactures footwear for outdoors, work, western, military and duty. The company's brands include Rocky, Georgia Boot, Durango, Lehigh and Michelin. Rocky Brands sells wholesale and online retail with some business to business sales. Whirlpool, for example, buys Lehigh footwear from Rocky Brands for its employees.
Rocky Brands was founded in 1932 by William Brooks and his bother F.M. Brooks, great grandfather and great uncle to Brooks. The company was sold by the Brooks family in 1959 to another shoe company and then bought back by the family in 1975. In 1993, the company went public and began being traded on NASDAQ. Rocky Brands is the largest employer in a small town in Southeast Ohio it is based in with manufacturing facilities in Puerto Rico and the Dominican Republic.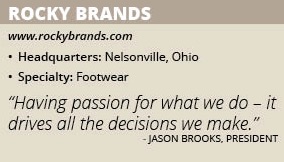 There is "a ton" of competition, CEO and President Jason Brooks says. The company competes with big name brands and also with retailers that have their own private label brands.
"We are trying to be the best company we can be in producing the best quality, most comfortable and most appropriate footwear in the areas we play in," Brooks says. "I believe we have been pretty successful in that. Having great service is just as important. With the Amazon's and the Zappos of the world, the convenience and the necessity of immediate satisfaction, we have to be on our game."
Supply Chain Transformation
"We were a wholesale supplier for 85 years," Brooks says. "That's how we were running the business."
That meant Rocky Brands would ship out orders two to three days after being received. That was fine when the company was suppling wholesales. Then the world changed with internet clientele.
"People who order on a website have been programmed to want things very quickly," explains Richard Simms, president of operations. "Whereas a dealer who places orders is looking to get footwear into stores but not in two to three days. Five to six days in fine."
Typically, a lot of orders come in on Mondays with fewer arriving as the week went on. "We wanted to get [all] orders out in 24 hours," Brooks says. "Before, all orders were treated equally. That would cause bottlenecks. We now differentiate."
So, online retail customers get priority. Online retail orders received by 4 p.m. are shipped out the same day.
To turnaround retail orders that quickly required the company upgrading its Warehouse Management software by Manhattan Associates, adding scanners, automating parts of the process including shrink wrapping the case, adding a label and packing list and with separating out some tasks – scanning and picking used to be done by two people and is now done by one.
Rocky Brands began instituting changes in 2016 and pushed those changes harder in 2017 and 2018. Many of those changes originated with workers.
"In the past, they were told this is what you are going to do," Simms says. For this transformation, the company encouraged ideas from employees. While management was not obliged to use those ideas, they did. "We instituted about 80 percent of their ideas," Brooks says.
For example, even with changes in process, Rocky Brands was still experiencing bottlenecks in processing orders, particularly during high volume times of year like Black Friday and Cyber Monday. "We were operating with a first shift and third shift," Simms says. "We recently added a second shift. It didn't add to cost because we didn't need temp employees. We have been doing that for six weeks now but we are not seeing the same bottlenecks as in the past."
The idea of a second shift came not from management but from an employee in the distribution center who wrote the idea down and dropped it in a suggestion box. "We did the analysis and the data backed up what the employee suggested," Simms says.
Besides operating more efficiently, soliciting ideas from employees has improved morale. "Employees are happy, engaged and passionate about the business," Brooks says. "By being part of the conversation, it has made processes go smoother."
Expansion Plans
Rocky Brands plans to go out to bid in June to add 100,000-square-feet to its 200,000-square foot warehouse.
"Our business season is around August to November," Brooks says. "It is the highest inventory time and if you cram in too much stuff, it doesn't allow you to move around. We think the additional space will make us more efficient and allow us to look at different ways to set the space up and make adjustments in robots and sorting and other ways."
Brooks, Simms and others recently attended a conference in Chicago to review technology related to robots, sorting and processes which might the company might use. The company expect to break ground this summer and finish in March 2020.
Brooks is most proud of the way the company culture has changed. "We have a great team that is really engaged right now," Brooks says. "They are passionate about what we are doing and what they are doing. Having passion for what we do – it drives all the decisions we make from upgrading our ERP systems to working on recycling programs and supporting the local community. I think my grandfather would be proud of it."