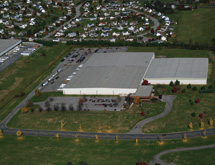 Believing that "if we are to benefit from the use of our natural resources, we must be willing to act to preserve them," Orvis commits five percent of its pre-tax profits to protecting nature. This involves participating in or donating to projects that are dedicated to the acquisition, restoration, enhancement or long-term protection of native fish and wildlife habitats, as well as working with the Morris Animal Foundation to help fund canine cancer research. According to Director of Fulfillment Terry Mosley, Orvis's distribution centers take their part in the company's mission seriously, and the better the DCs work, the more profitable the company can be.
"At the Orvis Service Center here in Roanoke, Va., – which includes the call center, finance, the company's IT arm and much of the fulfillment – we have a good focus on our culture and what it means to work here," Mosley says. "The customer is always right, we have a pride of ownership in what we do, we have integrity and personal respect, and we set key performance measures and reach them. We work to achieve a higher purpose and we give back by working with community and conservation organizations."
Founded in 1856, Orvis is the oldest mail-order retailer in the United States, and it specializes in high-end fishing, hunting, sporting goods and pet supplies. In addition to the company's online and catalog sales, it has 60 retail locations and nine outlets in the United States, as well as several international locations. To supply all of these locations and its direct-to-customer (DTC) business, Orvis operates four distribution centers: the main DC in Roanoke supports 95 percent of the company's business; a site in Missouri distributes large, bulky items DTC only; a center in Vermont handles the company's fishing business; and one U.K. center supports the majority of the company's business in the U.K. and Europe.
Improving Performance
Last year, Orvis took a big step in improving its distribution center performance, and it began seeing the benefits within a few months. The company went from measuring employee performance by units per hour to implementing engineered performance standards with its CAST Performance Management system. CAST stands for "Consistently Achieving Success Team," and the system utilizes labor management software that Orvis obtained from Manhattan Associates.
"We aligned earned hours with the work content that an employee does," Mosley explains. "Everyone knows that there is hard work in a distribution center and easy work. Now they earn time for the actual work that they do – more time for the hard work and less time for the easy work.
"It keeps them dialed in to the work they are doing," Mosley continues. "The labor management software introduced discipline and time-keeping, and it helps to hold people accountable for their time."
Orvis implemented the standards during the first half of 2012 and began measuring employees' performance during the second half. Mosley admits that Orvis didn't achieve the productivity savings it estimated during the first two months, but by December it was doing well and employees have continued to perform well into 2013. The company has seen a five to eight percent improvement in productivity, depending on the area.
"That might seem small, but prior to the engineered standards, Orvis already had units-per-hour standards for its associates," he says. "With the engineered standards, we're seeing better accuracy and a better management of time. We've had a good payback on our investment."
Gaining Acceptance
Orvis had implemented a warehouse management system from Manhattan Associates in 2009, and it saw the engineered performance standards with the labor-management system as the next step. There are about 150 associates involved in the CAST program, and Mosley notes that there were many steps involved in getting the teams and associates on board with the new system.
To start, he had relatively frequent communication with the entire group, as well as frequent meetings with supervisors and team leaders. Orvis also established focus groups with different people from different departments in each group to gauge response to the new system and get new ideas. Mosley worked with the HR department to do all of the presentations regarding the new system, and he also appointed a project champion for the building.
"We had a consultanting group – enVista – that provided performance management training for the team leads and supervisors," Mosley says. "They helped us educate the workforce and help us gain acceptance of the engineered standards.
"The program is generally well accepted now," he adds. "There are some that don't like to be evaluated, but the majority of the associates see it as a better way to be measured."
He notes that the distribution centers' mission is to "fill orders quickly and accurately," and it is 99.9+ percent accurate at this time. He believes the CAST program will continue to help Orvis improve in this area, to the benefit of its customers.
"A quick and accurate response is key for us," Mosley says. "Customer service and the customer experience is a very important part of our business. We work every day to exceed their expectations. We already know the product is the best quality for the customers, and good communication helps us give them the best service." ­­­