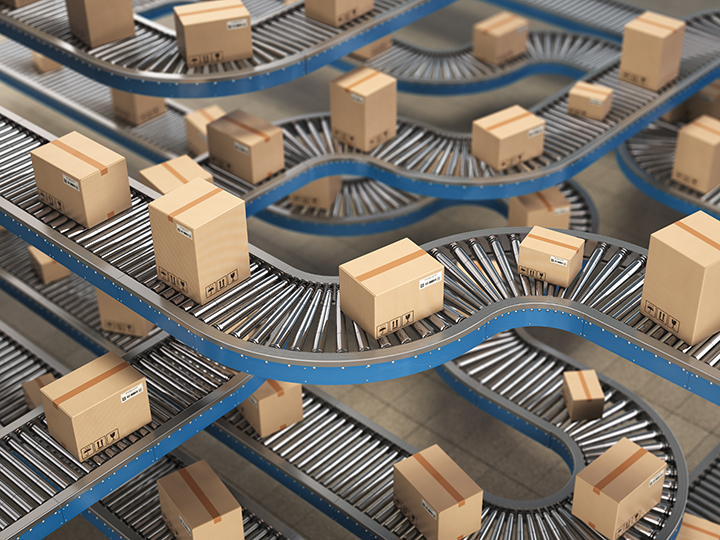 How reverse logistics contributes to the circular economy.
By John Mugnaini
Most organizations today work under the traditional linear economy, where raw materials are made into products and are disposed of after a consumer's use. The problem with this model is that the materials are finite, and not only are the disposed products hardly ever reused or repurposed, but the disposal process itself has a considerable impact on the environment.
Responding to these concerns, the circular economy approach aims to ensure more sustainable production and consumption patterns through the circular flow of goods, while also reducing the consumption of raw materials. Companies under this model can increase their profitability while reducing costs and their use of natural resources. A McKinsey study of 28 industries revealed that all can benefit from adopting circular economy activities that improve performance while reducing costs.
Understanding the economic and environmental benefits, companies and governments alike are already adopting the circular economy strategy. Those include fashion retailer H&M's goal to become 100 percent circular and the European Union (UN), whose council recently adopted the Circular Economy Package (CEP).
Making the switch from the linear to the circular operational model, however, is no easy feat. This is where reverse logistics can play a crucial role in companies' transition. By enabling the return of products for recycling, redistribution or refurbishment, reverse logistics can help companies reap the many benefits of this emerging model including boosting brand reputation and production efficiency while building better customer relations.
Challenging But Promising
One of the greatest challenges faced by companies wanting to enter this realm is that oftentimes reverse logistics is an afterthought in most board rooms and not seen as part of a company's supply chain imperatives. Many companies focus on pushing goods through the supply chain to meet demand, but often overlook the reverse flow of goods. With cost savings in some situations, it can be an important business decision for a company's bottom line and can lessen their environmental footprint. The first hurdle is to get decision makers to consider placing the topic on the company's agenda.
Given it is a highly specialized segment of logistics, it requires the ability to manage and capture products, using mostly customized processes depending upon the product, including the ability to track the goods using data. With track and trace capabilities, forwarders managing their customers' inventory are able to control their supply chains by monitoring, through technology such as sensors, the flow of the goods and any discrepancies in route to a destination or during the handling or discarding process.
There is no standardization or model that fits all. Reverse logistics, as opposed to a linear model of shipping, can be more labor intensive. Receiving, inspection, sorting and processing can vary depending on the nature of the customer's business and how many units you are dealing with.
Reverse Can Work
Incorporating reverse logistics can simplify companies' replacement of defective products and their repackaging processes, with freight forwarders overseeing and directly handling these business-critical procedures. For instance, if an end consumer has a defective product that is being swapped out with a new one, the right partner can deliver the replacement and repackage the defected item in the new product's box, reducing the customer's material cost.
Integrating reverse logistics into the supply chain also places greater focus on the customer experience and thus enables an overall better experience for the return process. Some industries that are increasingly adopting reverse logistics are technology and medical device sectors for asset recovery, recovery of freight, packaging of goods, returning and recycling materials at specific facilities. Some tech companies use reverse logistics to dispose or refurbish products such as printers or computers. Other tech companies allow consumers to trade in their cellular phones and get credit toward their next purchase. With the growth of e-commerce, retailers are also looking for ways to incorporate product returns into their supply chain instead of a "one-off" transactional approach.
One crucial reason for the increased interest in reverse logistics among retailers are the consumers themselves. Younger generations are becoming more conscious of the materials their products are made of and are more willing to purchase recycled products instead of single-use items.
Choosing the right freight forwarder can go a long way in ensuring a company's smooth adoption of reverse logistics. Companies aiming to increase or begin using a forwarder for their reverse logistics needs should look for a partner with an extensive transportation coverage map, robust visibility tools and inventory management capabilities. A logistics partner with expanded services such as on-site packaging, installing and de-stalling services and real-time visibility options can also help retailers and manufacturers meet the changing market needs.
In today's consumer era, satisfying customer needs is a top priority for any business. Organizations across all industries can lessen their impact on the environment and their dependence on natural resources while enhancing returns processes and increasing profitability by embracing a reverse logistics strategy and having the right provider in place.
John Mughaini is head of Domestic Services for DHL Global Forwarding U.S. He has worked for DHL Global Forwarding for 14 years including the roles of regional sales director, vice president of Domestic Sales and vice president of Value Added Service US. He currently serves as vice president of Head of Domestic Services US.