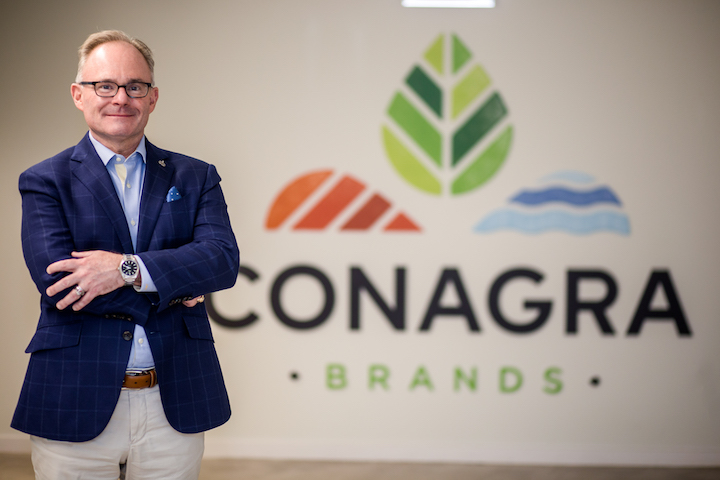 Conagra Brands energizes its employees and embraces innovation with ongoing inclusion efforts and supplier partnerships.
By Staci Davidson, with John Krukowski and Alan Dorich
With more than $11 billion in annual sales, Conagra Brands Inc. is one of the largest food companies in the United States, leading in a number of key areas, such as frozen foods, condiments, sauces and snacks. Its iconic brands include Birds Eye, Marie Callender's, Slim Jim and Vlasic, and the company remains dedicated to innovation and disrupting market conventions with great food.
Conagra believes great food comes from doing what is right for all, and when innovating and adding to the strengths of its brands, it understands it has a responsibility to people, communities and relationships. By creating shared value with employees, suppliers and consumers, Conagra not only leads with its brands, but with its actions.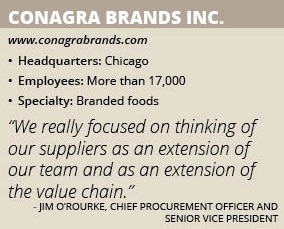 These philosophies are demonstrated throughout its supply chain by Conagra's leadership, which includes Dave Biegger, chief supply chain officer and executive vice president, and James O'Rourke, chief procurement officer and senior vice president. Both leaders recently spoke at length with Supply Chain World about their approach to executive thought leadership and their organization's best practices.
O'Rourke joined the company in 2016, but his focus on procurement and quality leadership practices started long before. After college on an Army ROTC scholarship, O'Rourke was shipped to Korea during Desert Storm, when the United States still controlled the western corridor on the DMZ. He was a platoon leader and notes his platoon sergeant "was old enough to be my father," but the young O'Rourke learned a lot from the platoon sergeant and the experience overall – lessons that continue to guide his career and leadership style at Conagra.
"I learned very quickly that it was an honor and privilege to serve this great country in that capacity, but I also had 42 young men that I was responsible for, and that was an onerous burden at times," he says. "I really learned that it is about getting to know your folks, and it's a contact sport, which meant you have to get to know them by spending time with them. It was helpful to hear what was important to them. They were everywhere from 18- and 19-year-old people who were away from home for the first time to two 15- or 16-year veterans who had seen other activity in the army.
"But at the end of the day, I saw that no one was cookie-cutter and that everybody had different wants, needs and desires," he continues. "They were in the military for different reasons. I quickly figured out that leadership should be tailored to the person, and one style of leadership is not going to be effective with everybody."
O'Rourke remembers this lesson today at Conagra, where he likes to walk the floor of the company's offices, checking in with his staff to better know his people. He explains he wants to know who is working on a hot project, who had a baby and how is the person doing who has a sick spouse. "I think bosses who show up at someone's desk and all they want to do is extract information or ask for something – that gets old quickly," he says. "I walk the floor to connect and learn about my team at all levels."
At the same time, O'Rourke believes it is important to be humble. When he was stationed in Korea with that seasoned platoon sergeant, O'Rourke knew it was the sergeant's job to help him be successful and "mentor up," and this man's job and words would help O'Rourke and the team remain aligned. He also found "disagreement is not disrespect in the right circumstances," and proper, ongoing communication is necessary in any mission. In Korea, O'Rourke and the platoon were on the DMZ, so if anyone went the wrong way, they could encounter live mine fields or any number of other unfortunate circumstances. Mixed signals and mixed messages had serious consequences, and he still believes that today.
"Back then, it was before email or all of our current devices, so we had typed or handwritten memos, the phone or face-to-face communication," O'Rourke says. "I saw a lot of pretty simple things get misconstrued because people wanted to send memos back and forth and didn't want to go see that person or just pick up the phone. We were running out of a relatively tiny base, so there weren't a lot of excuses for that. For me and the teams I've managed since then, I really want them to think about communication protocols and be face to face when possible so they can understand what the other person's concerns are.
"You pick up the phone, and you can hear what the inflection in their voice might mean," he adds. "Sometimes you have to write an email and they have to respond because you have to give people information. But I say if you're going point for point, back and forth and you've emailed them more than two times, pick up the phone and just talk through it. Normally, when people get together, they're going to find common ground, especially if they both are in the same company." And that is true, whether the organization is the U.S. Army or a Fortune 500 company like Conagra.
Building Confidence
Through the many lessons he learned in his military and corporate experiences, O'Rourke believes that when a leader gets to know his or her people, the leader can challenge them, find their passion, determine their expertise and skills, and how all of that intersects to lead to a great career. This belief aligns with how Conagra works with and supports its team.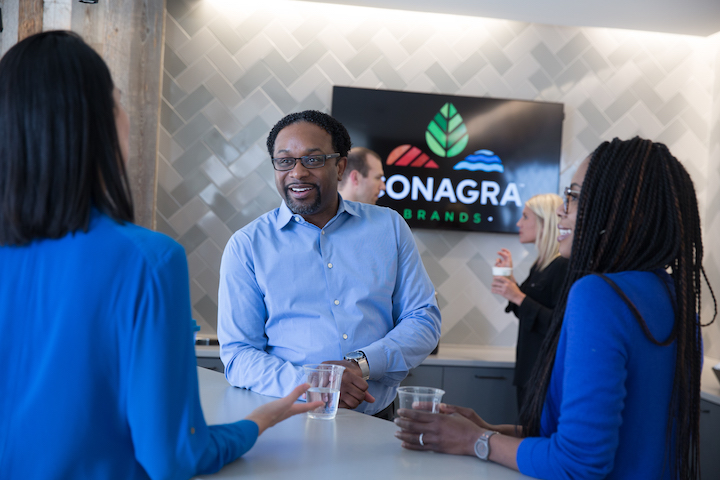 Conagra has about 550 people at its headquarters in Chicago's Merchandise Mart and a larger team at its facility in Omaha, Neb., its one-time headquarters city. O'Rourke notes it can be challenging for the teams not to see each other every day, but technology has been a boon to maintaining internal relationships.
Conagra's conference rooms, he says, are set up with high-quality audio and video equipment, including cameras equipped with smart technology that pan to whoever is speaking. As a result, O'Rourke can have a video conference between the two teams and white board an issue to develop a solution together. At the same time, the company encourages teams from each office to meet each other, have coffee and spend time together to ensure communication continues to get easier.
With strong internal communication, Conagra's people are better equipped to develop quality relationships with its supply base. "Some procurement organizations look at travel as a necessary evil," O'Rourke says. "I see it as an enabler. If my buyer understands how a supplier is running their operating line, or if they go and meet an engineer and can learn more about the technical capabilities of that supplier, that's huge. That builds confidence in the supplier. We also like to host here and bring in suppliers. But whether we go to see them or they come here, we try to make sure that we build those relationships, because that yields trust."
Trust then "accelerates everything else," O'Rourke notes. He recently was on the phone with the CEO of one of the company's largest suppliers who was working on a large project for Conagra. The CEO wanted O'Rourke to talk to him with the supplier's chairman on short notice. O'Rourke had to admit he was not ready to commit to that kind of meeting because he still needed time to get Conagra's stakeholders in line. He could do this because of the trust already established.
"He knew I wasn't gaming him because we've spent enough time together, I was just telling him I need a little more time," O'Rourke says. "I was not wavering on the commitment to do the project, but I had to make sure our R&D, engineering and operations are aligned as well. And so the trust goes – it's internal and external in procurement."
Long-Term Thinking
Conagra believes in building relationships with its people and suppliers from the start, even when costs come into play. This is something O'Rourke learned early in his career when he was working for Procter & Gamble. He was learning the procurement ropes, and went with other professionals to find a special vegetable oil for Pringles. The team was traveling around the world, meeting with potential suppliers, and they found two suppliers that could provide the oil. O'Rourke didn't see a difference between the companies in terms of logistics or quality, but one company was quoting a price that was a half-cent per pound higher. So O'Rourke asked one of his colleagues why he didn't push for the extra half-cent.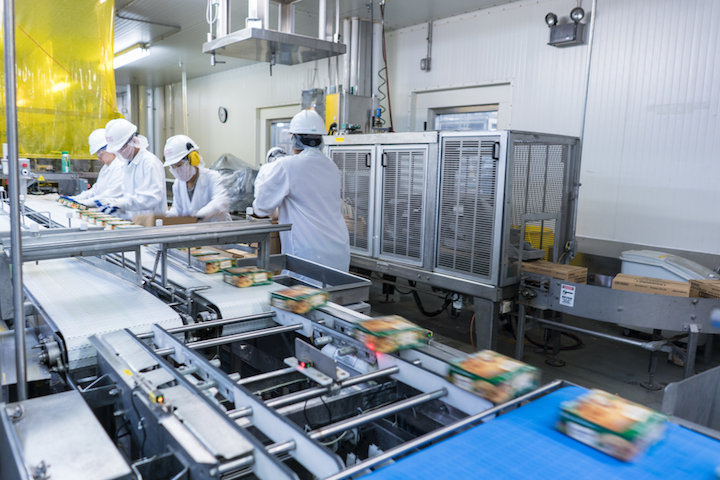 "He looked at me and said, 'Taking the last half cent off the table is not the best for the relationship,'" O'Rourke relates. "They didn't know us and we didn't know them. We could have pushed, but that might have resulted in us not getting any oil. He explained to me that over time, we would gain efficiencies and the price would harmonize. But seeking to purchase the lowest-priced material in procurement is not necessarily the best thing if margins are low and it impacts the supplier's financial viability and ability to provide the materials or service. It's about long-term thinking, and that left a lasting impression on me."
This is key especially when it comes to commodities, which is what Conagra deals in much of the time. Commodities have pricing windows, O'Rourke notes, and sometimes supply can drive demand, while other times the technical side of the market can drive it.
"Definitely, the market will vary," he says. "But if you're really trying to build a relationship and you think price is very important to a supplier initially, you want to see if you can do it. Because then, once you get delivery on the offer, you can get service, you can get quality and you can get performance. Over time, you determine what the total cost of ownership is that you want. If we pushed for that last half-cent, we probably were not going to get their best effort to get the best oil delivered to our plant, which is counter to what we're trying to do. Quality is really important, and we have to focus on that. The other way to look at it is power. When you have absolute power in a relationship, should you leverage it or not? And if you leverage it, does it cause resentment?"
He adds that creating value for all parties involved can go a long way in ensuring relationships with suppliers and vendors are secure. "I've learned some hard lessons, I've learned some good lessons, but I've certainly figured out that trust continues to be important," O'Rourke stresses. "Commitment is important to manage a relationship with that level of intensity and that frequency of engagement. We've all heard stories where suppliers have walked away from customers because they felt wronged. So communication is important, transparency is important, and I have to add it is important to educate and invest in your employees to focus on suppliers and strong relationships."
Investing in its workforce is a constant for Conagra. For example, the procurement team does a series of "101s," O'Rourke notes, to give employees a base knowledge in areas such as legal, finance and project management, or on how to read a 10Q or 10K, or how to use different SAP systems. The focus is to help everyone be more effective in their roles, so procurement offers ongoing workshops and day-long trainings. These are all taught in-house using real work examples by experts in each area.
This year, the procurement team started a development program to allow interns in their junior year of college to convert to full-time hires once they graduate their senior year. They learn the basics of the department as interns, and once they are hired, they start a rotation across three different roles in the supply chain division, such as in buying, business systems, planning or logistics. After their third rotation, they get to declare which area of the business has their strongest interest.
"It's a great way to make that investment and help retention rates when you can put a program in place like that – the people can feel that investment," O'Rourke says. "We have to invest in our people."
'Huge Enabler'
The Conagra supply chain is organized in a centralized manner. What makes it more effective, O'Rourke notes, is that his boss, Chief Supply Chain Officer Dave Biegger, is part of Conagra's senior leadership team (SLT) and reports directly to President and CEO Sean Connolly. As a result, supply chain has a seat at the leadership table.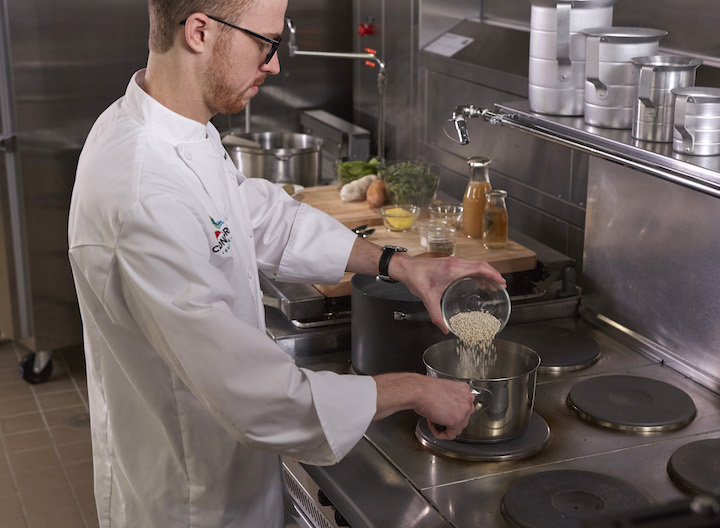 "That's a huge enabler, because when Dave meets with the SLT, you've got all the business leaders there, and finance, legal and HR are there, as well," O'Rourke says. "The alignment happens very quickly because once they work through the priorities and the decisions they have to make, the SLT is aligned and they can deploy that information to their teams. All of it cascades down, so I can speak with my team on procurement, my buyers, directors and senior directors or people who are focused on the brands."
Every month, procurement focuses on what it spends and strategies relative to the brands' pricing capabilities. It focuses on whether certain brands are planning promotions, and if any of them plan to have specials with customers such as Walmart or Costco. O'Rourke stresses the importance of his team understanding what the brands need to compete and win in the marketplace, and communication is key, but technology also helps with that.
"We have a really sophisticated tool here that was homegrown called Integrated Margin Management," he says. "What it does is by brand, it blows out the costs of goods and shows what it was a month ago or a year ago or whatever you need. So it gives us a really good trend. With pork, for example, we see inflationary pressure right now in pork, so we reviewed that last week with the meat snacks people and showed them that inflation. Now they have information to determine their go-forward strategy. I won't speak for them, but they have that visibility. And that engagement with them creates better visibility."
Conagra uses a centralized sourcing model to serve its brands because it provides O'Rourke and his team with leverage and scale to float people and work based on what's most critical to support the overall business. But it also supports the company's focus on community.
"Some of that community and teamwork comes from training packaging, ingredient, commodity and indirect buyers together and helping them understand what categories they may be interested in for their next role," O'Rourke says. "If we stayed siloed, it would be very hard to take someone out of a spend category and bring them to another area. Now, not only are they learning a new category, they are learning to have a home in the business and then there is natural dedication. For example, the animal protein team supports products like frozen meals, chili and meat snacks. So there are natural ways we plug in, but the goal is to have people be generalist as much as possible."
Encouraging Engagement
Conagra Brands has centered its supply chain on a single vision statement. "For us, it's 'One team defined by innovative solutions, differentiated by inspired people, delivering the unimaginable,'" Chief Supply Chain Officer Biegger says.
But such a vision needs strong support, and Conagra backs it up with four pillars comprising its people, its organization, its communities and its commitments. "Under each one of those four pillars, we have individual descriptor statements," Biegger says.
Those statements are declarations of what the supply chain organization aspires to become. "We focus on each declaration and figure out the work that needs to be done to make it a reality," he continues, noting that the statements were crafted with the input of a high percentage of the supply chain's team members.
Before its acquisition last year of Pinnacle Brands, the company sat down with associates at its locations in Omaha and Chicago, created sub-groups, and went through each word of the proposed vision with them. "We listened to all of the great input and then applied it, creating an even better, more relevant vision that represented our people," Biegger recalls.
This has allowed employees to break down barriers between them and take more ownership of the process. "We developed this great commitment and it drove a higher level of engagement from the organization," he says. The commitment continues to this day with employees holding sessions to discuss next steps.
"There are no silos in the supply chain or across the company," Biegger says. "You'll hear people making comments like, 'Because of our approach, I've gotten to know people and processes from other functions and in a way that I would not have otherwise.' That's an example of behavior change."
Biegger notes the company has made sure to engage people at the plant level, as well. Although plant environments can be traditional, "We're very progressive at some of the plants and are taking steps to become more so at all of our plants over time," Biegger says, explaining that Conagra Brands has started implementing high-performance organizations. "It's more of a structured approach to design how our hourly people work in the plants so they become skilled in multiple areas."
This helps the company develop autonomous teams that can take ownership of tasks and make their own decisions. "It creates a culture of ownership and offers a more fulfilling experience in the workplace," he says, noting that Conagra plans to roll this structure out location by location.
This approach will not only improve efficiency and performance, but also reduce employee turnover. "Most people tend to stay at plants where we have high-performance work system approaches because they feel a stronger sense of ownership," Biegger explains.
'A Great Session'
O'Rourke and his team have been part of the integration process since Conagra acquired Pinnacle Brands. This gave Conagra iconic brands such as Birds Eye, Duncan Hines and Wish-Bone, as well as emerging brands like Gardein, Earth Balance and EVOL. O'Rourke was at Pinnacle's Parsippany, N.J., facility every week before the end of December to help with the transition and determine each company's best-in-class operations and how to deliver value through them. Again, communication, learning from each other and getting input from a lot of people really helped the transition for the two companies. Not only did they find a big price harmonization on a key material, but they found many other opportunities for synergy.
"My team was one of the first to meet with the Parsippany team after the close, and we spent two days in a workshop learning about them, understanding how they were organized to work, and what their strategies and systems were," O'Rourke says. "We spent a lot of time helping them understand our spend categories, how we go to market, what's our strategy and who the key relationships are.
"We had a lot to learn because some of those brands were very unique to us," he adds. "It was a great session, and we came up with natural teams that would focus on synergy, integration and knowledge transfer. We spent quite a bit of time integrating, just getting a good foundation and those teams continue to meet very regularly, whether it is here in Chicago, in Omaha or in New Jersey."
Delivering Value
At the company's Investor Day in March, Biegger addressed Conagra's Supplier Excellence Program and its commitment to bolstering the company's supply chain. Conagra's goals are for the supply chain to deliver an additional $1.1 billion in value by FY 2022, continue to strengthen the supply chain to ensure successful delivery of its innovation and growth agenda, and ensure its success is driven by its culture, highly engaged people and proven, systemic approaches. "That $1.1 billion consists of $300 million in working capital, $120 million in cost-of-goods sold synergy and the balance – about $700-odd million – is productivity," O'Rourke explains. "The productivity includes all the ingredients, packaging and materials, as well as manufacturing operations, logistics, warehousing and potentially some network optimization.
"What my team is focused on, obviously, is the material side of it – the ingredients, packaging and commodities," he continues. "When I showed up about two-and-a-half years ago, the supplier excellence program was really a robust scorecard program. We had about 125 suppliers and it gave us really good engagement. Quarterly, we looked at their metrics and how they were performing, and we would get multifunctional feedback. It wasn't just from a procurement point of view, it was operations, quality and R&D. It was a great program with great metrics."
The challenge, he notes, was to know how Conagra was delivering value and more completely understand the value in its plans going forward, so it challenged itself to look into other dimensions with its suppliers. This involved looking at how its suppliers were performing over the two previous years, and almost half actually slipped in their scores, so Conagra moved to a smaller group of 60 suppliers. The goal, O'Rourke says, was to have a manageable set of suppliers who seemed motivated and engaged to drive improved performance.
A Better Customer
The next step was for Conagra to recognize and further encourage its suppliers to enhance their work. The company created awards in areas such as innovation, operational excellence and The Conagra Way, which is about suppliers that are a good cultural fit. Now, every summer Conagra has a Supplier Summit where it gives out the awards, and the company's entire SLT attends to drive engagement.
"Our CEO, Sean, kicks it off and our CFO [David Marberger] also gives a talk," O'Rourke says. "Approximately 375 people participate, and that includes Conagra Leadership. We show the suppliers all of the innovation we're going to do for the next fiscal year, and then we give them access to all of our key leaders and many of their lieutenants join as well. There's a lot of round tables and a lot of productive, relationship-building conversations.
"So we did the awards, but then we wanted to know how other industries were maximizing their supply chain," he continues. "My simple goal was to become a better customer and easier customer to deal with. In talking with two other industries – primarily pharmaceutical and automotive – they had the equivalent of supplier boards or supplier advisory councils. Suppliers were helping to build the learning agenda for the company."
Conagra went to some of its thought-leader suppliers to see if they were interested in working with the company this way, and the interest was definitely there, O'Rourke notes. As a result, Conagra gave five of the award winners a 12-month appointment to its Supplier Excellence Board. It also chose seven other strategic suppliers based on their criticality to the business. Everyone agreed to the idea, so Conagra had 12 suppliers on the board. The board only has four official votes from Conagra, so the company itself became outnumbered, but more importantly, guided by its suppliers.
"We did an open-innovation session," O'Rourke explains. "We choose what priorities we want to focus on and the size of the projects for the focus of the next year. The final vote is tallied, and the suppliers' voice is stronger than the Conagra voice. So they are telling us what they think we should work on. The first year we worked on joint-value creation, communication and the innovation pipeline. Joint-value creation and innovation were really about using suppliers more effectively. But I was chagrined to learn about our record of communication."
He found the Conagra team was not great at doing routine communication with its suppliers, and O'Rourke saw that as "a huge opportunity" to improve. For example, no supplier wants a call from Conagra on a Friday afternoon, saying it needs a different configuration on Monday morning because Conagra wasn't going to use its original order during the next week. That gives the supplier little time to run a new specification and load another truck, and it was likely to incur a loss.
"There's a cost to those change-orders," O'Rourke stresses. "We also found our demand signal wasn't always accurate, and so we could add incremental or detrimental orders quite suddenly. We found our feedback on quality wasn't always as clear and concise as it could be, even though we have a system to track that. This wasn't just about procurement, so we had operations, planning and quality folks involved. My simple value chain mentality is if there's a loss, you have to eliminate it and drive it out of the system. Not having good communication creates loss."
To resolve this, O'Rourke and others from Conagra took a group of suppliers to one of its largest frozen plants, and spent nearly two days finding ways to optimize communication and the operation, and also developing new ideas for that facility. The Conagra team learned ways to use suppliers more effectively, and this summer, it will take other suppliers to a different plant to drive out losses and gain efficiencies.
"We really focused on thinking of our suppliers as an extension of our team and as an extension of the value chain," O'Rourke says. "The alignment is amazing, and it's become clear in the organization what the priorities are and that we're going to do it. That is all incremental to operational excellence, the cultural fit and strategic fit. We still have to focus on the day-to-day work – if we can't make the product to ship to our customers, we can't sell it, for example." Today, the company regularly sets standard KPIs for its suppliers so it can measure and award performance, while also creating joint business action plans with them.
"It is a way to be more strategic with our key suppliers to make them an extension of our key supply chain and work with them on long-term goals," Biegger says, noting that these have included productivity targets.
"We've also deployed working capital reduction goals with how they can contribute by terms or inventory levels," he says. "That helps with our cash flow as a company."
Driving Innovation
Conagra's emphasis on working without silos has supported its focus on innovation. Instead of only relying on its supply chain associates to roll out products and get them on store shelves, it has brought them in at the beginning of the product development process.
"We approach innovation with end-to-end thinking from the start. We design the product while taking production capabilities and requirements into account, so production processes can be optimized from the very beginning," Biegger describes. "This gives us the ability to deliver 'a vertical start-up,' and this helps us get to market sooner." This way, when the product reaches the plant level, it has already-proven and tested processes so that the start-up itself can go more smoothly.
Conagra's goal is to cut the start-up time in half. But the approach itself has already earned a positive reception. "The reaction from the broader organization is an appreciation and value for us getting together to drive innovation as one team," Biegger reports.
The company also tries to use current suppliers as much as it can when innovating new products. "It's not that we won't go use a new supplier when we have to because the world's changing and there's things that haven't been invented yet," O'Rourke says. "But we do want to use the current suppliers and our dialogue with them that we create through the supplier excellence program to give them as much notice as we can. It's one of the reasons we show them all of the innovation at the Supplier Excellence Summit so they know where we're going, what's on trend for us and where we're going to look for pockets of growth.
"It's information to help them, but we also have transparency in the feedback we get from the suppliers," he continues. "Is anyone else going to that level of detail with their suppliers to share that much information?"
'Deep on Inclusion'
During Conagra's 2019 Investor Day presentation, Biegger outlined the four pillars of the company's supply chain: its people, organization, communities and commitments. O'Rourke explains Biegger was the champion of these pillars and brought his leadership together to determine this vision. Each member of his team held "sensing sessions" with up to 10 employees for two hours to get input and insight into the concept of the pillars, determining whether the message resonated and if not, why.
"We went deep on inclusion, and as you can imagine, we got a whole lot of feedback," O'Rourke says. "Some of it were things we had never thought of, and some of it was very reaffirming. We knew we were on the right track, so we took the feedback and made the appropriate changes. We went back to some of the peer leaders and spent an entire day deploying it in Chicago and another day deploying it in Omaha. In the morning, we had motivational speakers and guest speakers to talk about those priorities. Then in the afternoon, we did a service project to go out and get into the community. It was really about helping our employees sit back and see the art of the possible by giving them control and input into the environment they want to work in. We asked for volunteers for the priorities, and all of our initiatives are being led by employees. There is a lot of energy and they take it very seriously. It's very exciting – I've never seen this level of inclusion."
Getting multifunctional teams involved in finding new solutions to improve the business is just the way Conagra works, O'Rourke stresses. The company understands issues can be solved faster when the right people – internally and externally with suppliers – are talking and addressing various initiatives. Not only does this help Conagra remain nimble in the support of its customers, but it also helps to eliminate losses and inefficiencies. The issues could be how it orders from suppliers, how it brings in materials or how it right-sizes a pallet, but having the team involved is important.
"One of our values is broad-mindedness, which means that good ideas can come from a lot of different places," O'Rourke says. "We try to be agile – that is another value of ours – and we have a refuse-to-lose mentality. We get on with getting on, and we don't waste a lot of time. Once an idea has been right-sized and aligned, we have a go-get-it-done mentality."
SIDEBAR – Conagra Brands History
Conagra Brands combines a rich heritage of making great food with a sharpened focus and entrepreneurial spirit. Over the past 100 years, the Chicago-based company has become respected for its great brands, food, margins and consistent results as it continues to challenge and disrupt the marketplace.
Frank Little and Alva Kinney founded what would later be known as Conagra Brands in 1919 when they brought together four grain mills as Nebraska Consolidated Mills (NCM), headquartered in Grand Island, Neb. Three years later, the headquarters was moved to Omaha, Neb.
In 1940, the company began producing flour at its own mill and in 1942 got into the livestock feed business. That same year, company President R.S. Dickinson opened the first out-of-state facility in Alabama with a flour mill and animal feed plant.
To broaden its portfolio, NCM established the Duncan Hines brand of cake mixes in 1951 as a way to market more flour. Because of this successful venture, the company grew to become the third-largest flour miller in the United States.
Changing Direction
Despite NCM's success with Duncan Hines and even as more American households purchased more prepared and instant foods, NCM sold its assets in Duncan Hines to Procter & Gamble in 1956. NCM decided to go in the opposite direction of the trends, focusing on raw foods like poultry and expanding its livestock feed business.
In 1971, NCM changed its name to ConAgra Foods (the predecessor to Conagra Brands), combining "con" for consolidated and "agra" for agriculture. The early 1970s brought years of turmoil for Conagra as it lost money in the fertilizer, catfish and pet product industries. It wasn't until 1974 when Mike Harper, an experienced food industry executive, took over the firm and brought it back from the brink of bankruptcy.
Building a Portfolio
Over the next two decades, ConAgra Foods purchased more than 100 prepared food brands starting with its 1980 purchase of Banquet Foods. Banquet sells various food products, including frozen pre-made entrées, meals and desserts. The brand is best known for its line of TV dinners.
From there, ConAgra Foods focused on the frozen food business and the packaged meat industry, picking up a selection of other brands from RJR Nabisco and Beatrice Foods. ConAgra Foods invested $500 million in smaller firms in 1993 and in 1998 purchased $480 million in brands from Nabisco.
2016 was a transformative year for ConAgra Foods. It sold off the private brands business, divested JM Swank and Spicetec, and spun off Lamb Weston to become a pure-play branded foods company called Conagra Brands. Today, Conagra's iconic brands include Birds Eye®, Duncan Hines®, Healthy Choice®, Marie Callender's®, Reddi-wip® and Slim Jim®, as well as emerging brands, including Angies®, BOOMCHICKAPOP®, Duke's®, Earth Balance®, Gardein™ and Frontera® that offer choices for every occasion.
Leaving Nebraska
In June 2016, Conagra Brands moved its headquarters to Chicago from its longtime home in Omaha. Under the leadership of CEO Sean Connolly, the company's new open floor plan in the Merchandise Mart helps promote the values that the company is trying to embrace as it becomes leaner and more performance-oriented. "We've already been behaving in a way that's more entrepreneurial, more collaborative and more innovative," Connolly says. "What the physical space does is help facilitate the culture you're looking for."
The company's 170,000-square-foot office space on the 13th floor of the Merchandise Mart allows for room to grow. Conagra's headquarters features 52 conference rooms and 25 open meeting spaces. Every work station has sit-stand desks. Today, Conagra operates about 50 locations and employs more than 17,000 people. "We're transforming the way we operate to fulfill what consumers and customers want, in a smart, simple way," the company says. "We're modernizing our iconic food brands, leveraging fresh opportunities and adapting to a changing landscape – all with a culture that's ready to capture growth and drive shareholder value."
–Janice Hoppe-Spiers
SIDEBAR – Imaginative Approaches
Conagra Brands rewards its approximately 50 locations for their sustainable efforts. This past May, the company announced the winners of its annual Sustainable Development Awards, which recognizes employee-led sustainability initiatives that reduce energy usage and waste, conserve water, promote recycling and nurture sustainable business practices.
In the last 10 years, projects submitted for the awards have helped the company conserve 3.3 billion gallons of water, decrease its carbon footprint by 185,300 metric tons and save more than $236 million. "This year, 45 projects provided imaginative approaches to sustainability while also producing bottom-line business results," Conagra says.
The award-winning facilities will receive a $5,000 grant from the Conagra Brands Foundation. "Our teams continue to generate innovative methods for saving energy, water and waste in our operations and we are pleased to recognize their impact through Conagra's Sustainable Development Awards," President and CEO Sean Connolly said in a statement. "The sustainability and efficiency of our business is incredibly important to our consumers, customers, employees and investors, and I'm proud of the work we continue to do in this space."
This year's winners included its facility in Kent, Wash., which was recognized for Climate Change and Energy Efficiency. According to Conagra, the facility recognized an opportunity for energy savings by fixing compressed air leaks. "The facility is on track to save 429,000 kWh this year, which equates to $30,000 in annual savings," it says.
Its location in Council Bluffs, Iowa, also was recognized for Sustainable Business Innovation. "Conagra's R&D packaging team found that the susceptor patches used in pot pie packaging to increase the cooking heat were not necessary," it says.
The team partnered with the facility to create new packaging without the receptor, which made it recyclable. "This change resulted in a reduction of over 1 million pounds of packaging with an annual savings of $3 million," Conagra says.
The company's location in Fort Madison, Iowa, also was recognized for Waste Reduction and Recycling. Last year, Conagra Brands says, the location implemented a waxed cardboard recycling program which helped its overall plant recycling efforts by 59 percent. "With 162 tons of waxed cardboard being diverted from a landfill, this change is projected to produce nearly $30,000 in annual savings," it states.
SIDEBAR – Conagra's Green Pillars
With its proactive focus on modernizing its iconic food brands while adapting to the changing CPG market, Conagra Brands has not let sustainable initiatives pass it by. Instead, the company concentrates on providing food that is safely prepared with responsibly sourced ingredients, while also taking care of its communities and the environment.
Conagra' commitment is reflected through its four citizenship pillars, including its "Better Planet" focus. "The health of our planet and the availability of its natural resources are deeply linked to every part of our business," the company explains. "We're committed to taking action in several key areas to ensure that we make great food in an environmentally responsible way."
Through its "Good Food" focus, Conagra ensures that its food meets high quality and safety standards. "We follow rigorous food-safety practices, take a practical and realistic approach to nutrition and health, and provide consumers the resources they need to make educated food choices," it says.
The company also strives to create shared value with its stakeholders through its "Stronger Communities" focus, which it says is critical to its success. "We maintain an ethical, high-integrity culture, fuel a rewarding workplace with our timeless values and invest in areas where our offices and facilities are located," Conagra says.
Finally, with its "Responsible Sourcing" initiative, the organization holds itself accountable for how ingredients and materials are sourced. "It begins with the farms where the ingredients are grown and extends throughout our supply chain with care and consideration for the people, animals and environment all along the way," it says.
Serious Business
Conagra has created subcommittees for each of its areas of focus, notes Chief Procurement Officer and Senior Vice President Jim O'Rourke. "Each of those efforts has a leader, and we've put a team around it," he says, noting that the company places a high value on employee involvement in these efforts.
Some have volunteered to be part of these teams, which report back to a Corporate Social Responsibility (CSR) Steering Committee in which O'Rourke plays a key role. This committee engages Conagra's senior leadership team. "We take it very seriously," O'Rourke asserts.
"We spend a fair bit of time with activist investors and NGOs answering questions and helping them understand what we're doing," O'Rourke continues. "We [also] publish a very thorough corporate social responsibility report every year."
One task for the CSR Steering Committee is to develop goals and strategies for each pillar, including Responsible Sourcing. The team then leverages a cross-functional team of procurement, sustainability and social responsibility experts, whose stewardship of Responsible Sourcing is integrated into their day-to-day work.
Through the use of science-based tools, supplier assessments and its Supplier Code of Conduct, Conagra identifies, monitors and reduces environmental and social risks in its supply chain. "We manage the risks by sourcing from low-risk geographies, implementing commodity-specific procurement policies that address topics such as animal welfare and deforestation, and by sourcing certified sustainable ingredients and materials, where most impactful and meaningful to our stakeholders," the company explains.
One instance when Conagra demonstrated its focus on responsible sourcing concerned a palm oil supplier that was decertified. "That wasn't acceptable," O'Rourke recalls. "We had to go find another supplier at a premium in order to maintain our sustainable palm oil certification."
Although Conagra Brands temporarily replaced the supplier, it did not rule out working with it again. "When the incumbent supplier was cleared by the Malaysian authorities and the powers that be, we reactivated them and went back to them," he says. "We didn't walk away from them completely, but things weren't right."
O'Rourke notes that the company also works to keep its vendors in compliance by sending reminders about regulations. "[We're] asking them to fill out a survey and confirm that they intend to be in compliance based upon what we require in our contracts," he says.