Virginia, the Supply Chain State
By Mark Lawton, Senior Editor for Knighthouse Publishing
"Virginia is for Lovers," according to the state's 50-year-old slogan. That may be true, but Virginia is definitely a state for business, particularly distribution centers.
Let's start with infrastructure. Located about halfway between Maine and Florida, the commonwealth of Virginia is within one day's journey to about 45 percent of the U.S. population. To move freight, there are 70,000 miles of primary and secondary roads along with six major interstate routes. The state also has 3,500 miles of railway that are traversed by CSX, Norfolk Southern and nine short-line railroads.
The Port of Virginia has six locations to handle exports and imports. Please note that a business doesn't have to be located near the Atlantic Ocean to take advantage of the Port of Virginia. The Virginia Inland Port in Front Royal, which is only 60 miles west of Washington, D.C., allows businesses to transfer goods between truck and rail. Home Depot, Kohl's, Rite Aid and Red Bull have built distribution centers in the area and use the Virginia Inland Port.
So does Fortessa, a distributor of china and glassware. The company sources from Korea, Indonesia, Holland, Italy, China and other countries, says Debera Taylor, vice president of operations. It finds the location convenient for its access to the port along with ground shipping operations such as UPS.
To the south, the Richmond Marine Terminal transports goods by barge along the James River to or from the oceanside ports. Lumber Liquidators is among the companies that take advantage of this port. The company, which is the largest specialty retailer of hardwood flooring in North America, opened a distribution center in 2014 – in the process consolidating six smaller locations – and later expanded it. The company's distribution center supplies stores from Texas to the Dakotas and imports largely from China along with Australia and Europe.
There is also Amazon, which has multiple fulfillment centers across the state including one in Richmond. The massive 1.2 million-square-foot facility opened in 2012 and is the equivalent in size of 28 football fields. The facility ships 1 million units per day, employs 2,200 people and has 10 miles of conveyor belts.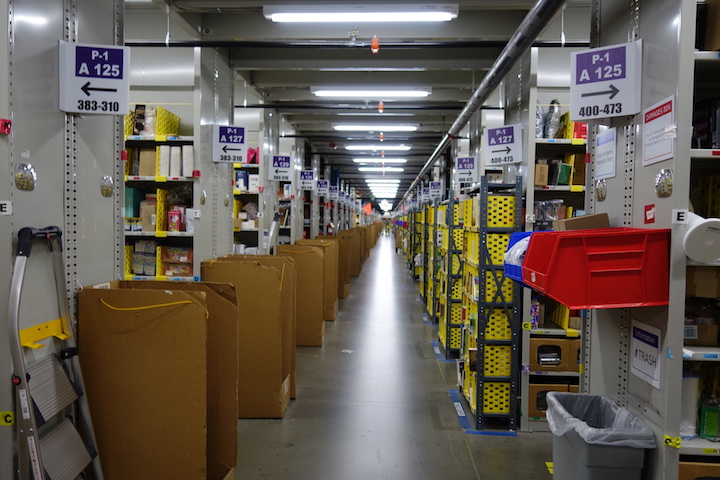 Perhaps the most impressive of the ports is the Virginia International Gateway (VIP). VIP is near completion of a $320 million, two-year expansion project that will allow the port to handle 1.2 million shipping containers per year.
Ports inspire images of longshoremen perched on top of massive cranes and some of that can indeed be found at VIP. Many of those cranes, however, are operated remotely from within an office building several hundred yards away.
Cameras mounted on the cranes allow the longshoremen to view the movement on monitors on their desks. Using joysticks and keyboards, longshoremen remotely move shipping containers. In the office building, the process resembles adults playing video games more than the movement of TEUs.