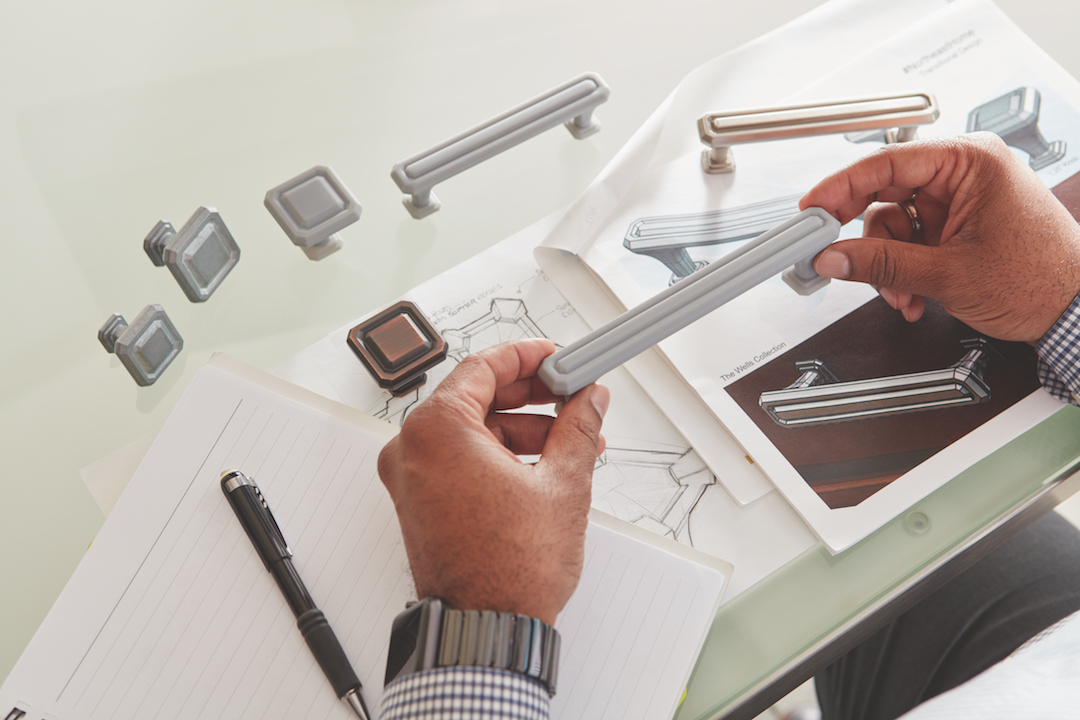 Cabinet hardware manufacturer Amerock adjusts its supply chain to succeed with e-commerce.
By Mark Lawton, Senior Editor at Knighthouse Publishing
An increase in e-commerce has led to a shift in how Amerock does business. Amerock manufactures hardware for both kitchen and bathroom cabinets and bath accessories. Some products are decorative while other products, such as hinges and catches, are functional.
The company was founded in 1929 and purchased by Newell Rubbermaid in the late 20th century. Amerock is now privately owned and is based in Huntersville, N.C.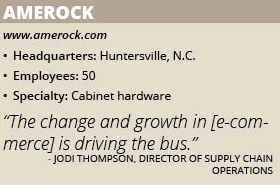 "Our growth in e-commerce has been really significant," says Jodi Thompson, director of supply chain operations. "It has dramatically shifted the way we think about supply chain and how we do business in general."
Previously, the company's non-digital clients were accustomed to longer lead times. Those customers are in the categories of co-op/retail, residential remodelers and the wholesale trade, including distributors that sell to cabinetmakers and builders.
"Our channels used to be heavily driven by distribution," Thompson says. "They were ordering pallet freight that was shipping less than truckload. It wasn't perceived as critical to have real-time data about where the product was in the supply chain."
Then came what might be called the Amazon effect. Suddenly, the growing number of digital customers wanted their deliveries much quicker.
"The change and growth in that channel is driving the bus," Thompson says. "It has had a halo effect on other channels, which are starting to operate in the same manner. B2B expectations are starting to mirror B2C expectations."
Small business owners, for example, want the same benefits in ordering from Amerock as they would get from ordering online elsewhere. In other words, "all these things that direct-to-consumer companies do very well," Thompson says. "Product availability, accurate shipping dates, e-mail with tracking numbers, updates on when the order will be delivered – at every point in the process, they want to know where the product is."
To handle those expectations, Amerock consolidated its operations into a new distribution center, and worked with UPS Supply Chain Solutions. "We did that to create a scalable solution that will support high-volume, small parcel," Thompson says.
The need was urgent. During the eight-month period between getting initial quotes from third-party logistics companies and going with UPS, small parcel volume grew by 52 percent.
The shift to parcel accelerated more rapidly than anticipated with our expansion in e-Commerce and B2C. Even within our traditional channels we find customers are carrying less inventory and are looking to leverage our inventory and logistics capabilities," Thompson relates. "This project forced us to get granular on order characteristics and order profiles and understand the nature of what was coming at us."
Amerock now commonly turns both parcel and LTL orders around within one or two days and is actively monitoring the B2C trend toward same-day deliveries. In addition, the supply chain team has taken actions to become more flexible by carrying less inventory but getting inventory replenished more often.
The consolidation and other changes were successful. Within five months of the move, Amerock reduced its order-to-shipment time by an impressive 60 percent. For all of the company's major e-commerce customers, the company turns around orders within 24 hours.
High Tech
The company now has a robust digital e-commerce team in place. That's a good thing, because while food and grocery are the fastest-growing e-commerce categories, hardware ranks third, Thompson says. "Our category is growing and growing rapidly," she says.
As part of getting digitally up to speed, Amerock is in the process of installing the ProcessWeaver platform which integrates with their ERP system SAP. ProcessWeaver will offer dynamic freight rate information at point of order placement along with sending shipping and delivery notifications and tracking to customers. In the longer term, the company plans to upgrade its B2B portal.
Amerock already has an impressive website. Filters for products make it easy to navigate and there are useful instructions on installation, promotional material, FAQs and advice columns.
Partner Suppliers
There are about 500 suppliers of cabinet hardware in Amerock's competitive space, most very small or niche. Amerock is one of seven principle branded producers and is No. 2 in market share by units.
Amerock's strengths include being extremely well known among tradespeople along with being known for its finishes and high-quality products. Also, changing cabinet fixtures is an easy and low cost way to upgrade appearances. "The brand recognition gives comfort," Thompson says.
The company offers 2,500 active SKUs with a fairly flat distribution. "It's different from where I've worked before, where 20 percent of the SKUs make up 80 percent of the volume," Thompson says.
Amerock currently uses Forecast Pro and other programs to predict demand and is researching other platforms for the future.
The company has a stable and long-term supply base. "We view them as partners and our approach is to work with them with full transparency," Thompson explains.
The supply chain team talks to its larger suppliers every week about the market, sales and forecasts, and works with those suppliers to develop priorities. Lead times, particularly for overseas suppliers, can be as long as 120 days. "I think that is the only real way to be successful with long lead times and sourcing overseas," Thompson says. "When we are providing every piece of information, if they get caught on their heels, we can hold them accountable."